Ms Louise O Flynn
Ms Louise O Flynn
Ms Louise O'Flynn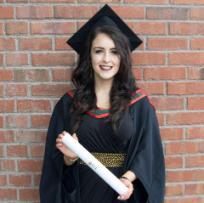 Louise works in The Department of Epidemiology and Public Health on a part-time basis. When in the Department, she co-ordinates Dissertation Support for all Postgraduate Programmes. These programmes include both the online and campus based students of the Master of Public Health, and Masters in Occupational Health. Dissertation Support is required to guide and help students who are completing a thesis for one of these programmes – this includes setting up tutorials, statistical support, deferral support, repeats support, and general dissertation queries and issues.
Louise also works on a part-time basis with UCC Health Matters – UCCs Health Promotion Initiative. Here she does everything from administration work, research, event and campaign planning, delivering events and campaigns, and everything in between.
Louise has been a volunteer with St John Ambulance since 2011, working her way from Basic First Aid training, to now holding a National Qualification in Emergency Medical Technology with the Pre-Hospital Emergency Care Council, and assisting Basic First Aid training.
Louise completed a BA in Early Years and Childhood Studies in UCC in 2014, and then the Master of Public Health in 2015 – throughout which, her main research interests were Sexual Education and Sexual Health.