Lisa Delaney
Lisa Delaney
Ms Lisa Delaney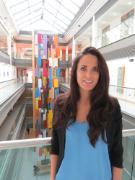 Ms Lisa Delaney
Address: Dept. of Epidemiology & Public Health, University College Cork, Western Gateway Building, Fourth Floor, Western Road, Co. Cork.
Telephone: +353 21 42205578
Email: lisa.delaney@ucc.ie
Biography
Lisa joined the Department of Epidemiology & Public Health in December 2015 as a Research Assistant. She is currently working on the HRB Centre for Health & Diet Research where she is currently assisting with the Cork and Kerry Diabetes & Heart Disease Study Phase II (Mitchelstown cohort re-screen), collaborating with various professionals to develop a national bariatric database, and conducting a systematic review on early infant feeding practices.
In January 2015 Lisa was awarded a scholarship to undertake a research project within the Department of Sport, Leisure and Childhood Studies, Cork Institute of Technology. Upon successful completion she graduated with an MSc (by research) in the thematic area of Paediatric Health and Physical Activity. Her thesis, entitled 'Project Spraoi: A strategy to improve nutrition and increase physical activity in primary school children – a randomised controlled trial', aimed to determine if a multi-pronged health intervention would have a positive impact on pupils' physical activity, nutritional knowledge and behaviour, and long-term health parameters including body composition and blood pressure.
Lisa has presented at the All Ireland Postgraduate Conference; Physical Education, Physical Activity and Youth in Sport (PE PAYS) Conference; and the Collaborative European Research Conference (CERC).
Research interests include; Non-communicable disease epidemiology; determinants and health consequences of overweight and obesity; early life determinants of nutrition and physical activity behaviours; obesity prevention strategies.