News
News
Fresher Fest Fun: Promoting Academic Wellbeing & Support with #PAWS
MCC PAWS @ UCC
On an energetic Saturday morning, the UCC campus was abuzz with anticipation as clubs and societies readied themselves to extend a warm welcome to incoming students and their parents. Dr Irene Hartigan, accompanied by a dedicated team of volunteers from My Canine Companion (MCC), ensured that an abundance of furry companions was on hand to greet all who arrived. Teachers Deirdre Prendergast, with MCC Fifi from Pobalscoil Inbhear Scéine in Kenmare, and Katie Fox, with MCC Zorro from CBS Primary School in Tralee, journeyed from Kerry to join in the festivities and support students transitioning from school to college.
Meanwhile, Letitia Hassett, with MCC Alfie from CBS Primary School in Midleton, and Anita Ryan, with MCC Oscar from Cork Stroke Support, added to the diverse mix of volunteer handlers. With a delightful surprise visit from MCC Virg, MCC Mannie and 3-month young MCC Remi & MCC Steve, the campus enjoyed the company of ten dogs and their enthusiastic handlers. In keeping with the ethos of Healthcare and in line with our commitment to a Healthy Campus, MCC PAWS @ UCC added a touch of science to the festivities. President John O'Halloran took on the role of a willing participant, donning a heart monitor to assess if MCC Jackie had a therapeutic effect.
Our diligent final-year nursing student, Linh My Troung, stood by to escalate any abnormalities, and Maeve Barrett, our talented third-year music student, made sure all participants received a well-deserved reward. Zoe Burke, an incoming QQI student, encouraged everyone to complete our survey to help shape the future of PAWS. Martha Kelly, a second-year occupational therapy student, teamed up with her lecturer Yvonne Pennisi to challenge students with a fun quiz. Could they match the headshots of MCC dogs with their names? This general knowledge quiz will be back at the end of the semester, so keep an eye out for the MCC dogs.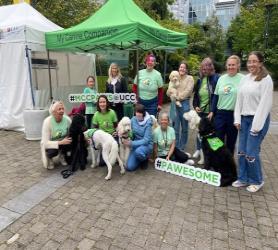 The morning wrapped up with a full house at the MCC Curl Spa in the hub. MCC trainer Tracy Doyle shared her expertise on grooming and detangling curls with MCC Maddie, ensuring that both humans and canines left looking and feeling their best. It was a day of pawsome fun, learning, and, of course, plenty of wagging tails. Thanks to Noirin Deady and the admissions team (Danielle Byrne & Nikita O'Connell) for their tremendous effort in coordinating every event and everyone involved. #PAWS #UCCFresherFest23