Online Database
Online Database
NPEC Online Databases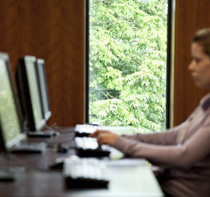 The National Perinatal Epidemiology Centre (NPEC) is conducting on-going prospective national audits of perinatal mortality, maternal morbidity and home births in Ireland. These audits provide for a robust framework for the evaluation of current obstetric and neonatal practices and allow for international comparison. Your unit's support for these national initiatives is much appreciated and valued.
In response to requests by a number of units, the NPEC has developed an online facility for electronic submission of anonymised data to an online database. Within the NPEC, all hospital and anonymised patient data will be maintained on a high-security server with access limited to relevant NPEC personnel only. The collection of data using the online databases allows the NPEC to access data in a timelier manner, in addition to providing a specific dataset for local use and assisting hospital audit at local level.
The NPEC currently operates two online databases: OpenSky and Castor EDC. The online database to be used depends on the audit you wish to fill out:
- If you wish to fill-out a Perinatal Mortality Audit, you will be using OpenSky.
- If you wish to fill-out the Severe Maternal Morbidity Audit, you will be using Castor EDC.