News and Views
News and Views
Major careers and skills programme launches at UCC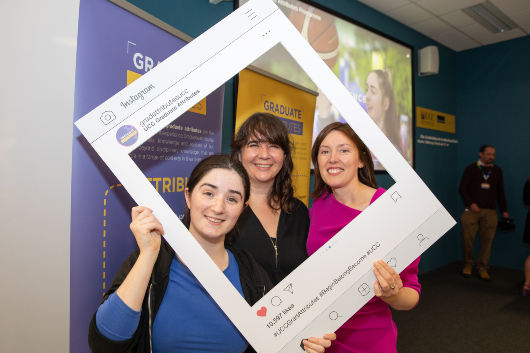 UCC launched a major careers and life skills programme in partnership with 130 schools and industry partners this week.
The Graduate Attributes Programme is the first of its kind in Ireland and aims to support students at secondary level in making the right degree choices as well as through their life cycle of study in university. The Graduate Attributes Programme will advance the development of students' academic, specialist and technical competencies, while equipping them with transferrable skills that can be applied in life-wide contexts.
National Government policy has identified challenges encountered by students in transition to higher education as contributing to high withdrawal and failure rates, with personal and system-wide implications. In addition, a lack of support for second and third year students in higher education to become 'work ready' has been identified. This programme, funded by the Higher Education Authority, seeks to respond to those issues identified within Government policy.
UCC will deliver modules to students which will include "taster" lectures, helping pre-entry students to select a degree before they come to college. This will form part of the Transition In suite of initiatives. While at UCC, students will undergo an annual skills test with the ability to obtain an e-portfolio of skills, for which they can receive a micro-credential (digital badge) on completion, and which will form part of their academic transcript. This is an example of a Transition Through initiative. In their final year at UCC, students will avail of Transition Out initiatives in preparation for the transition into professional environments or further study, delivered in close collaboration with the UCC Careers Service and industry partners.
"The Guidance Counsellor cannot do it alone. We are responding to student, policy and industry needs with what is an innovative programme" commented Professor John O'Halloran, Deputy President & Registrar, UCC. "The world of work demands advanced employability skills and we are seeking to support students in every step they make from secondary to third level education."
Commenting on UCC's Graduate Attributes Programme, Claire McGee, Head of Education Policy in Ibec stated "Increasingly, Irish industry is seeking graduates who can marry their strong technical and academic ability with key employability skills such as communication, teamwork and creativity. As people move through different careers and life stages, we never stop learning and acquiring new skills, this programme will help students to develop a solid foundation in personal leadership and prepare them to take advantage of any exciting new opportunities that come their way".