News and Views
News and Views
Academic Year 2021/2022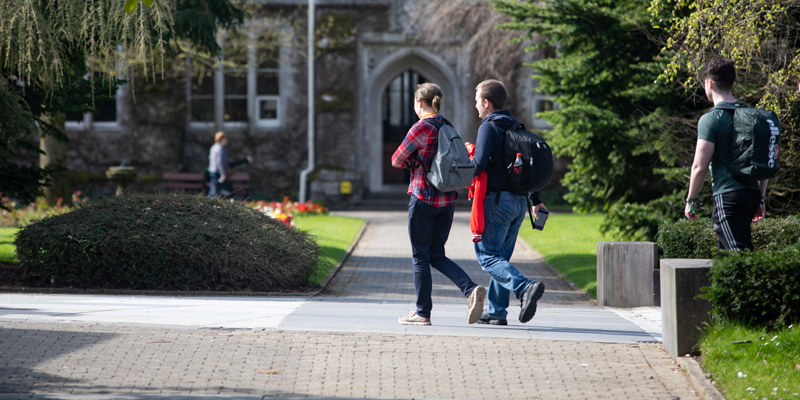 University College Cork has announced the details of the measures in place to facilitate greater on-campus activity for the forthcoming academic year.
Adopting the recommendations for the third level sector, UCC will apply the following measures from September 2021 and these will be kept under constant review by the University Management Team. For those students who have already commenced their 2021/22 Academic Year this month, the measures below will be applied from September 2021.
Term Start Dates and Orientation for 1st and 2nd Years
The 2021-2022 start date for

most taught postgraduate programmes

and

second, third and fourth year undergraduate students

is the

13 September 2021

.

The Leaving Certificate examination results will be released 3 September and Round One CAO offers will be issued on 7 September. The

start date for first year undergraduate students is 27 September 2021.

Some programmes traditionally have earlier starts and these can also be found on the

Student Examinations and Records

webpage. See

Key Dates

and

Early Start Dates

2021-2022 sections.

Online orientation resources for first year students will be available from the 7

th

September and onsite tours of campus will commence on the 13

th

September. Full details of orientation events including a dedicated first year orientation day on Saturday 25

th

September are available on

www.ucc.ie/orientation

Onsite campus tours for second year students will commence on the 1

st

September and a dedicated Year 2 event will take place on campus on Saturday 11

th

September.
Teaching & Learning (Undergraduate and Postgraduate)
Face to face teaching will be permitted with teaching spaces operating at 80% of the normal (pre-covid) room capacity. An overall cap of 200 attendees (including the lecturer) will be applied in large lecture theatres.
By way of example: in a teaching space with a normal room capacity of 100 students, class sizes of up to 80 people (students and staff) can attend for face to face teaching.
Based on the specific aspects of particular programmes, some programmes may prioritise small group face to face teaching.
Schools will communicate the specific arrangements for delivery of programmes to students ahead of the start of term.
Students will wear face coverings during lectures. Please adhere to this requirement and any other infection control measures in place of which you are informed.
Lecture durations will be reduced to ensure sufficient time for a changeover between lectures (e.g. in a traditional 1 hour slot; lectures will start 5 minutes after the hour, allow for 45 minutes of teaching time and then 10 minutes at the end for students to vacate prior to the arrival of the next class). To avoid congestion during lecture changeovers, students are asked not to take their seating prior to the designated hour slot.
For 2 hour lecture slots, we will recommend that lecturers consider having a break at the midpoint to allow all to move outside and take a break from mask wearing if needed.
Laboratories can operate at 80% capacity with the use of face coverings and other appropriate control measures.
Library
The Boole Library and Brookfield Library will operate at 80% of user capacity.

Library users will wear face coverings while in the library and the current pre-booking system will remain in place.
We are pleased to report that our libraries will open for extended periods during this academic year to ensure greater access to the facilities: Boole Library from 7 a.m. to 2 a.m. seven days a week; and Brookfield Health Sciences Library from 9 a.m. to 10 p.m. Mon-Fri, and from 9 a.m. to 5 p.m. Sat -Sun.
Reading rooms will also be made available in the Kampus Kitchen and the Mini-Restaurant. Additional reading rooms will also be made available if required.
Staff Attendance on Campus
Our staff will be available to ensure full delivery of teaching and student services from September.
Restaurants and Catering
At present, the restaurants and cafés on campus are operating a take away service. This will remain under review as Government guidance on indoor dining evolves.
Some outdoor covered spaces with benches will also be provided at the Hub, Biosciences and North Mall in the first instance.
Clubs and Societies
Club activities will be permitted within the framework of national public health guidelines.
In person events for Societies will also be permitted within the framework of national public health guidelines and proposed events will be reviewed through the Office of the Director of Student Experience and the Student Activity Safety Committee.
More detailed information on the above measures is available here. We will continue to update the UCC Covid-19 website with the latest guidance as it applies to UCC.
As we return to campus, it is important that we continue to adhere to the measures in place to reduce the risk of Covid-19 transmission including use of face coverings and good hand hygiene. Students are encouraged to:
It is an expectation of students attending placement in clinical settings that they will use the COVID Tracker App and be fully vaccinated for Covid-19 as well as the other vaccination requirements already identified to such students. Students who are not vaccinated may have limited access to clinical sites.
It is also important that any students who displaying any symptoms of Covid-19 remain in self-isolation, do not attend campus and contact UCC Student Health or their doctor.