News and Views
News and Views
'Cork Discovers' returns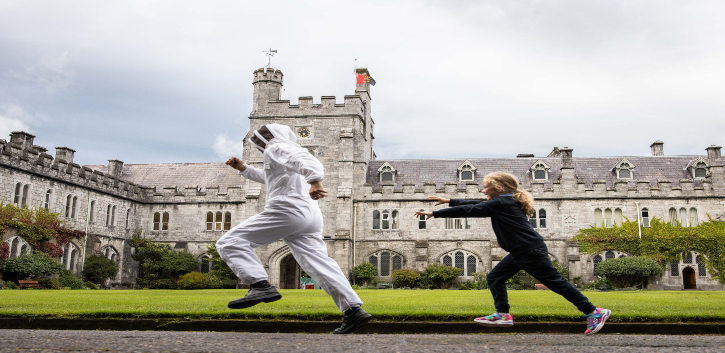 Cork will join 24 other capitals across Europe in celebrating research, with a series of free public events across the city on Friday 27 September.
'Cork Discovers' is now in its second year and is part of European Researchers' night which was initiated to bring researchers closer to the public and to increase awareness of the impact of research on daily life. Cork Discovers aims to make research accessible and events are designed for fun and the family.
"Research changes lives, communities and economies and this night is about celebrating the diversity of research in Cork. We hope the community comes out and meets our researchers and has some fun along the way." commented Professor Anita Maguire, Vice President for Research & Innovation at UCC and coordinator of the Cork Discovers project.
The Discovery Hall at UCC Student Centre where over 25 stalls will centre around culture, technology, food and sustainability. Curious Cork families are invited to search for microplastics in beach samples through a microscope, use an interactive spectrogram to see sound in full colour, and watch a 3D printer making soft cheeses.
The 'Change the World' Workshop will be open to teenagers and young adults who yearn to create positive change, in the world or in their locality, encouraging them to find if they have what it takes become Ireland's next social entrepreneur. And last year's hugely popular 'Chemistry Has All The Solutions' Workshop will invite students to perform forensic tests on a crime scene and participate in a mini-magic show.
The Cork Talks Speaker Series, hosted by Deirdre O'Shaughnessy, will invite adults to a Sustainability and Climate Change Panel with talks about the extinction of birds by Tom Reid, the future of dairy-free diets by Laurence Shaloo and a beginners guide to beekeeping by Archie Laffin. The Psychology of Crime Panel will include talks from Orla Lynch on the psychology of terrorism, Robert Bolton on why we commit violent crime and Kevin Doyle will speak about the prevailing popularity of Crime Fiction.
The Future of Us Panel will offer insights from Dirk Pesch and Kenneth Brown about the 'Smart City' - a designation given to a city that incorporates Information and Communications Technology (ICT) to reduce resource consumption, wastage and overall costs. In Cork City, there are almost 250,000 cars on our streets and over 1,000 bus journeys every day creating harmful emissions. In this talk, Pesch and Brown will discuss how data analytics can help us to consolidate these journeys and encourage new ways of transport. They will be joined by Eleanor Doyle who will be explaining cryptocurrencies and Joseph Whelan who will speak about Universal Basic Income.
Street lamps, illuminated signs, car headlamps and well-lit offices, homes – lights at night improve safety and make cities more safe and attractive, but also have a negative impact on humans, animals and plants. Natural plant reproduction is reduced because night-flying insects cannot pollinate as efficiently; newly hatched baby sea-turtles cannot find the sea due to light from near-shore buildings, and one-third of the human population cannot see the Milky Way at night.The Star Spotting Experiment will be asking even our youngest to contribute to light pollution research and giving them the tools and training required to count the stars and contribute to this Europe-wide citizens' experiment.
Other topics to celebrate and places to visit on the vast Cork Discovers programme include play and sustainability at Nano Nagle Place, archaeology at Cork Public Museum, astronomy at Cork City Hall and CIT Blackrock Castle Observatory, comedy at An Spalpin Fanach, languages in UCC's New Bar as well as walks and tours all themed around research and discovery. 'Cork Discovers' is an opportunity to learn about valuable research being carried out directly from those who work to create a positive impact on our past, present and future.
Cork Discovers is brought to you by UCC, UCC Academy, Teagasc and Cork City Council. This project from the European Union's Horizon 2020 Research and Innovation Programme. For all events see corkdiscovers.org