Faculty development - UCC staff
Faculty development - UCC staff
UCC staff from a range of professional and disciplinary backgrounds support undergraduate and postgraduate students in terms of teaching and learning, and personal and professional development in the School of Medicine. These resources have been compiled to assist staff in various aspects of these roles.
Resources for online teaching and learning
The Office of the VP for Learning and Teaching (OVPLT) oversees general teaching and learning support for all UCC's teaching staff. The Keep Teaching site was created in response to the global COVID-19 pandemic, to assist those who teach in UCC in moving teaching online. Explore some of UCC's central teaching, learning and assessing resources.
Resources for faculty involved in medical education
The Medical Education Unit has produced a number of PowerPoint presentations to assist medical faculty in UCC with some best practice regarding clinical teaching, assessment and feedback in Medical Education. The PowerPoint Presentations are narrated by MEU members and can be downloaded below.
Clinical Teaching
Feedback
Assessment
A PDF version of the above PowerPoint presentation is available below:
Please note if you need support or advice you should contact the School of Medicine instructional designer, Kieran Nee kieran.nee@ucc.ie
Supporting Medical Students in Difficulty
While medical student life is exciting for most students, it can also be challenging and distressing for some, at different time points in their course. Most students overcome the stressors presented by seeking support from their network of friends and family. However, for some, there is a need for further supports from an academic or school perspective, and sometimes professional psychological support is merited. There are a myriad of reasons why students suffer emotional and psychological distress and may present seeking support. There may be ongoing issues in the students' life or anxiety and distress can be brought on by a sudden event, e.g. bereavement. Some common issues include:
Academic stress and career dilemma (self-efficacy, wrong course, loss of joy in prospect of being a doctor, suffering under the pressure of personal and family expectations)
Health Issues (Mental Health – anxiety, panic attacks, depression or Physical Health – chronic or sudden onset of an illness)
Difficulty in navigating the clinical environment (fear, rejection, invisibility, feeling lost - not knowing the rules of engagement (what, why, where, when, how and who)
Family issues (Bereavement, financial)
Personal issues (Cultural, financial, sexuality, family, peers, sexual and relationships
Our role as educators
and staff members
It is essential that all of us who are involved with students are aware of the supports available for students and the pathways to accessing such support. As educators and staff members, it is also important that we understand our role and the boundaries in offering student support.
We can listen, we can give the student time to talk so that we understand the situation as they view it and we can signpost them to the appropriate supports. In general, supports are accessed by means of self-referral by the student. There are a wide range of supports available to students. The UCC student experience office have developed an infographic depicting the students' supports. It is available here.
Mental Health Supports
If you are worried for a student's personal safety you can make appropriate referrals for them. Brief information regarding the correct pathway and a flowchart is available in the Student Mental Health policy for staff.
Further comprehensive support and information about your role and responsibilities as a UCC staff member is available in the Student Mental Health Policy and as the university admits some students who are under the age of 18, it is also important to be aware of the UCC Child Protection Policy.
Referring students in Crisis:
Student Counselling and Development allocates a crisis session each day, during college term, for students in acute crisis. Contact Student Counselling and Development if you are concerned for a student's safety.
Boundaries
Although the health and welfare of the students is of concern to you, it is important that you do not offer treatment to the student. It is not your role as an educator to be the student's doctor. If it is an academic concern, refer the student to their module co-ordinator or year head. If the issue is non-academic, signpost them towards the many appropriate services available within UCC.
Within the Medical School, we offer a guide to the first point of contact should students wish to access support from within the Medical School: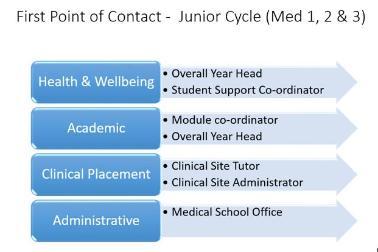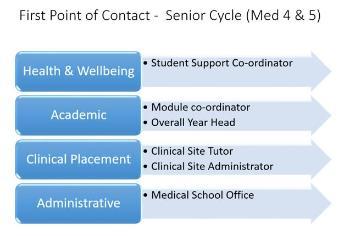 COVID-19 and student wellbeing
COVID-19 has presented students with unique challenges. Therefore, the UCC Director of Student Experience has answered some FAQs, in relation to student wellbeing in the context of challenges associated with Covid-19.
UCC also has a comprehensive and up to date COVID-19 resource online.
COVID-19 student support for MEU faculty
The process of facilitating and delivering student support will continue to run as previously in terms of the roles and responsibilities of faculty members with regard to delivery (i.e. students in the pre-clinical years will receive student support from their respective Year Heads and in the clinical years the support service will be delivered by the Student Support Co-ordinator (Dr Eileen Duggan, email: e.duggan@ucc.ie)).
However, there will be alterations regarding the mode of delivery in the context of social distancing. The Covid-19 situation continues to evolve, but as currently understood, the following alterations are anticipated:
Mentorship programme for Med 1 students
Each faculty member will mentor a small number of students -regular virtual meetings (group and or individual meetings, as required)
Meetings
Students will be requested to email for an appointment as opposed to having the ability to drop in to student support co-ordinators office

MS Teams meetings (or other UCC approved virtual platform) will be offered as well as face-to-face physical meetings

Large conference room (BHSC 2.47) will be used for face to face meetings with social distancing or wearing of masks (as outlined by government) being observed
Online material
Orientation to the support services will be virtual (Panopto)

Online student support materials will be revised, aiming to ensure that the mode of delivery is in line with best practice regarding accessibility for all students
Student Health Services
The Student Health Department is currently closed in terms of physical access. The Medical School has not yet been appraised regarding their anticipated processes of service delivery in the upcoming academic year.

Regular updates are available on the Student Health website and their COVID-19 FAQ page.
Please see the Student Mental Health Policy for Staff for further information.
Student Counselling and Development