News
News
School of Medicine, Prize-Giving Ceremony 2017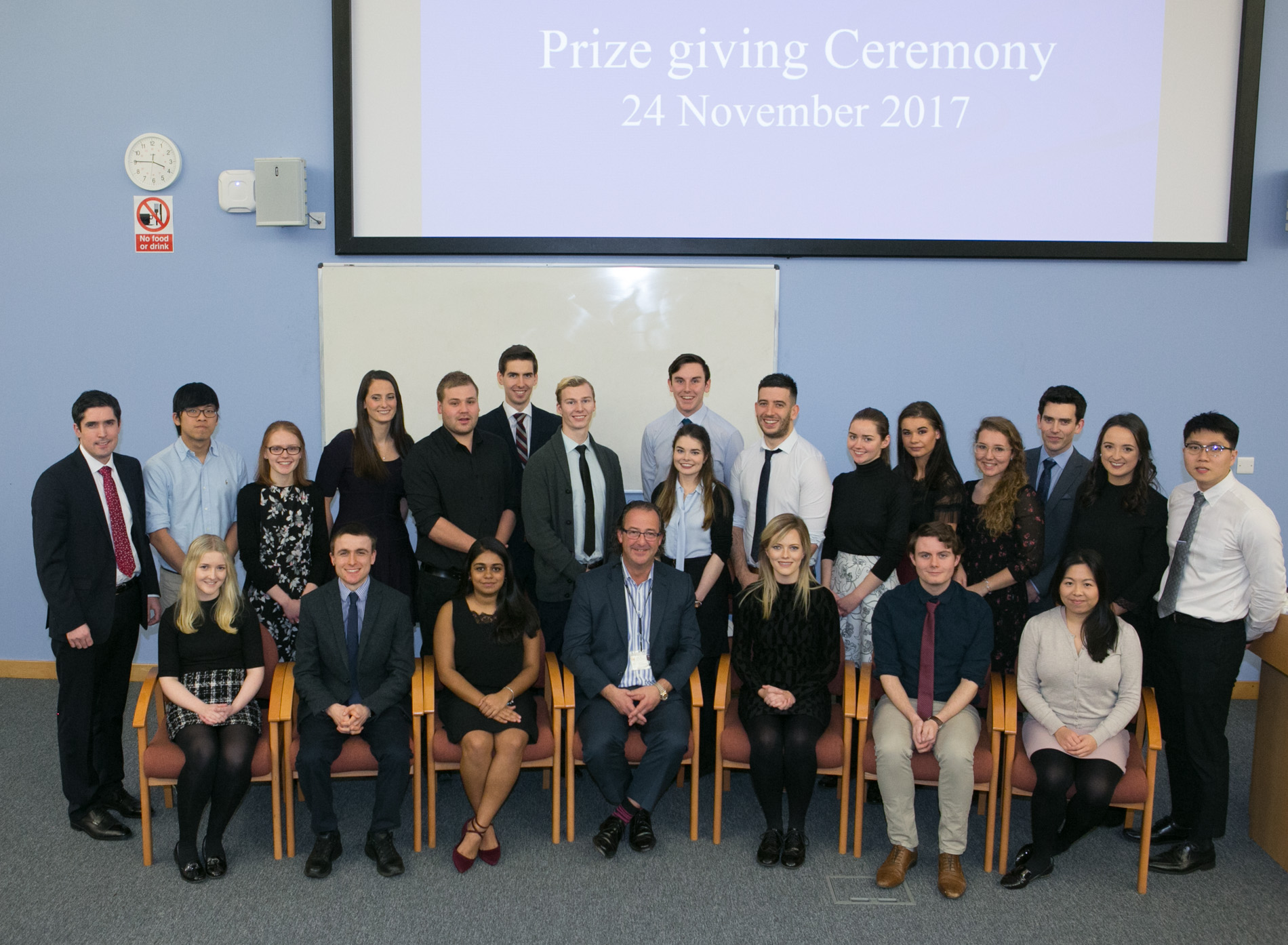 The annual School of Medicine Prize-Giving Ceremony took place on Friday 24 November, 2017 in Brookfield Health Sciences Complex.
Professor Cusack introduced himself as the Interim Dean of the School and congratulated his pre-decessor Professor Mary Horgan who has recently taken over as President of the Royal College of Physicians in Dublin Professor Cusack reported briefly on the Irish Medical Council's visit to the School during the week and thanked School staff and faculty, both in Brookfield and the clinical sites, who had contributed to the success of the visit. The Dean also had congratulatory words for Professor Ivan Perry and his staff on the launch earlier this week of the new School of Public Health.
Professor Cusack welcomed the large number of prize-winners, their families and friends and School of Medicine colleagues to the Ceremony. He congratulated the students who were here today to receive their awards and, for those prizewinners who were unable to attend the Ceremony, Professor Cusack read out their names & successes and warmly congratulated them also in their absence. He made special mention of the supporting role families & friends play in the achievements of our students.
The Dean was extremely grateful to the families, friends and benefactors for supporting and sponsoring Prizes, in particular those honouring deceased family members and past graduates of the University.
The following prizes were presented by invited guests and faculty members to the successful recipients in recognition of their outstanding achievements in the 2016/2017 academic year:
Prizewinner Name

Prize

RSVP

Holly

Acton

2017 Fielding Medal in Radiology (in absentia)

in absentia

Benedict

Blake

Dr Kay (Kate) Flynn Memorial Medal in Physiology 2016/2017

Yes

James

Carroll

Charles Donovan Prize in Dermatology 2016/2017

Yes

Wen Wei

Chionh

MacConaill Prize in Clinical Anatomy 2016/2017

Yes

Nicole

Cosgrave

The Archer Gold Medal in Psychiatry Joint Winner 2016/2017

Yes

Tadgh-Iarla

Curran

2017 Dr Fionnuala Quigley Medal

Yes

Madeline

Edwards

Aodán Ó Donnchadha Memorial Prize 2016/2017 (in absentia)

in absentia

Robert

Evans

2017 Dr. Derek McCoy Medal

Yes

Richard

Gilbert

Dr Timothy O'Toole Medal in General Practice 2016/2017 (in absentia)

in absentia

Kwun Hang Aaron

Ho

MacConaill Prize 2016/2017

Yes

Annie

Hung

Graduate Entry Medicine Second Year Prize 2016/2017

Yes

Clare

Keaveney Jimenez

The Gaffney Prize Joint Winner 2016/2017

Yes

John David

Kehoe

Dr B. Foley Medal in Microbiology 2016/2017 and
the British Pharmacological Society Prize for Clinical Pharmacology 2016/2017

Yes

Robert

Kerley

2017 Dr Pamela Gilligan Prize (in absentia)

in absentia

Patrick

Leahy

PF Fitzpatrick Prize in Epidemiology 2016/2017

Yes

Barbara

Marzario

The Gaffney Prize Joint Winner 2016/2017 (in absentia)

in absentia

Stephen

McCracken

The Gold Medal in Radiology 2016/2017 and the Pearson Medal 2016/2017 (in absentia)

in absentia

Cathriona

Murphy

Charles Medal in Anatomy 2016/2017 and the Prize in Foundations in Medicine Year 1 2016/2017

Yes

Fiona

O'Flynn

Edward Gurr Prize (Medical Students) 2016/2017

yes

Maeve

O'Brien

John Kelly Prize in Clinical Surgery 2016/2017

Yes

Shannon

O'Connor

Pamex Prize in Ophthalmology 2016/2017

Yes

Sinead

O'Riordan

The Archer Gold Medal in Psychiatry Joint Winner 2016/2017

Yes

David

O'Sullivan

Graduate Entry Medicine Second Year Certificate 2016/2017

Yes

Anna

Powell

RGG Barry Prize in Paediatrics 2016/2017 (in absentia)

in absentia

Roisin

Rynne

Dr Niamh Long MPS Memorial Medal 2016/2017

Yes

Fatimah

Sorefan-Mangou

Graduate Entry Medicine First Year Certificate 2016/2017

Yes

Lindsay

Tetreault

Graduate Entry Medicine First Year Prize 2016/2017

Yes

Robert

Whiriskey

Blayney Prize 2016/2017 and the James Donovan Medical Prize 2016/2017

Yes
Following presentation of the prizes the Dean highlighted some additional exceptional achievements by School of Medicine students:
Seán Whelan – After completing Third Year of the Medicine Programme Sean undertook a BSc (Intercalated) Neuroscience degree in the Department of Anatomy & Neuroscience and graduated with a first class honours degree. Sean was awarded the College of SEFS (Science, Engineering & Food Science) Graduate of the Year award for 2016 recognising both his academic excellence and his extracurricular activities with UCC Societies. On behalf of the School the Dean congratulated Sean on this extraordinary achievement and wished him continued success in his Final Year of the Medicine Programme.
Sinead Flanagan, Aoife Gallagher, Cian Gallagher, Shi Ying Tan, and Lindsay Tetreault – who were each awarded a Health Research Board (HRB) Summer Student Scholarship this year
Antonia Harold-Barry, Louise Kelly, Michael McInerney Michael O'Meara (in absentia), Sumitha Pandiaraja and Eoin Roche – who each received a bursary under the 2017 UCC College of Medicine and Health SURE Scheme.
The Dean also took the opportunity to publicly acknowledge recent successes in this year's HHS competition, in both Medical Science and Clinical disciplines.
Scholarships (1st place prizes) were awarded to UCC students in Anatomy, Biochemistry, Pharmacology, and Physiology - the 4th scholarship in Physiology awarded to UCC in the past 6 years! Sincere congratulations to the prize winners and their Medical Science teachers who, a few years ago, introduced significant changes to module content and assessment. The performance is consistent with the very positive appraisals of the course expressed by external examiners.
There were notable 1st and 2nd place prizes in Public Health, and several other prizes of note in a number of other Clinical disciplines.
Wen Wei Chionh - Scholarship in Physiology & Commendation in Anatomy
Colm Hannon - Scholarship in Biochemistry
Rachel Hart - 3rd Prize in Anatomy
Aine Hurley - 2nd Prize in Ophthalmology
Wanyi Kee - 2nd Prize in Public Health
John David Kehoe - Scholarship in Pharmacology
Amy Kelliher - 2nd Prize in General Practice
Patrick Leahy - Scholarship in Public Health
Sumitha Pandiaraja - Scholarship in Anatomy
Dr Anna Powell - 3rd Prize in Paediatrics
Eoin Roche - 2nd Prize in Psychiatry
Kenneth Thornton – 2nd Prize in Surgery
The School acknowledges that excellence in Clinical Sciences and Practice rests firmly on excellence in the foundation years and pre clinical subjects; the high performance of our students across the range of HHS competition is testatment to the hard work and commitment of students and teachers alike.
In short, an outstanding performance in this national competition by UCC medical students - 13 awards in total: 5 scholarships (first prize), 5 second places, 2 third places and 1 commendation. Congratulations to all.
Professor Cusack closed the Ceremony by wishing the students and graduates continued success in their promising careers ahead.