News
News
New Horizons Research Conference 2019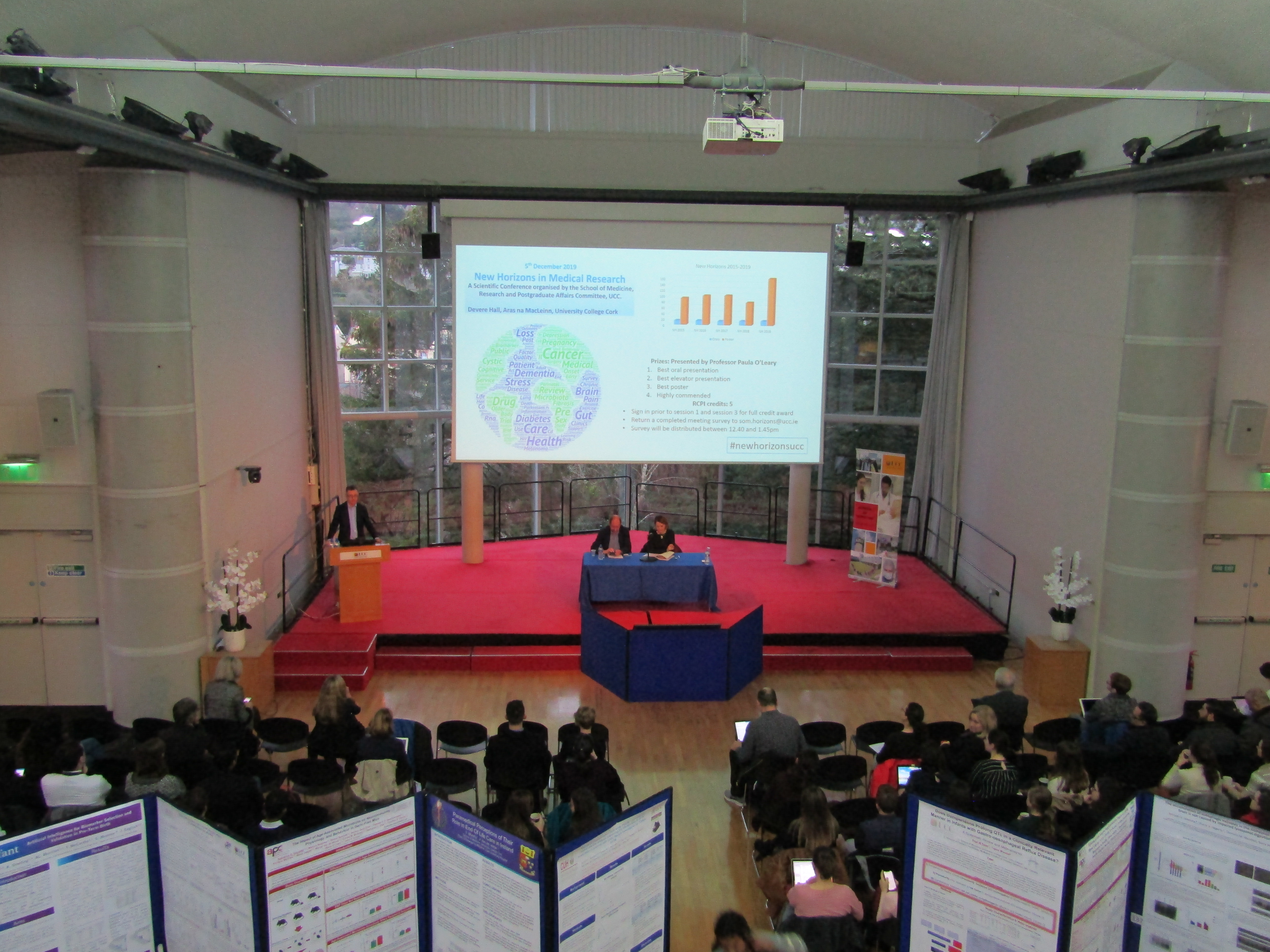 The 6th annual New Horizons Research Conference sponsored by the School of Medicine and organised by the Research and Postgraduate Affairs Committee took place in the Devere Hall, Aras na MacLeinn on Thursday, 5th of December 2019.
The conference was opened by Dr. Liam Fanning. The conference showcased the diverse range of high calibre translational research from undergraduate research, postgraduate research, post-doctoral research and clinical research, booklet available here.
The day was divided into 3 sessions. Each session encompassed a stimulating mixture of oral presentations and lectures by prominent clinician scientists and academic staff. There was also a moderated poster session with 160 posters. The Conference was awarded 5 CDP credits by the Royal College of Physicians of Ireland.
The conference concluded with a prize-giving ceremony by Professor Paula O'Leary; with awards being distributed for the overall prize of the best oral, the best elevator pitch presentation, the best poster and a highly commended poster prize:
Cathriona Murphy, School of Medicine, won the Oral prize for her presentation titled'Prevalence of Undiagnosed Obstructive Sleep Apnea in an Elective Surgical Patient Population.' O15
Andrew Mazurek, School of Medicine won the Elevator pitch presentation for his presentation titled 'A five-year retrospective review of fatalities involving novel psychoactive substances in Southern Ireland'. O7
The best poster prize was awarded toEmma Birchall, School of Medicine for her poster titled "Has there been a reduction in codeine-related intentional drug overdose presentations to Irish hospitals following national guidance in 2010?" P83
The Highly Commended poster prize was awarded to Martina Mazzocchi, Dept of Anatomy and Neuroscience for her poster titled "Gene co-expression analysis identifies histone deacetylase 5 and 9 expression in midbrain dopamine neurons and as regulators of neurite growth via the bone morphogenetic protein-smad pathway in cells overexpressing". P101
Congratulations to all winners!
Professor Paula O'Leary, Dean of the School of Medicine, presenting prizes in order:
Cathriona Murphy, Andrew Mazurek, Emma Birchall and Martina Mazzocchi