News
News
Doctor for a day - UCC Transitions Students into Medicine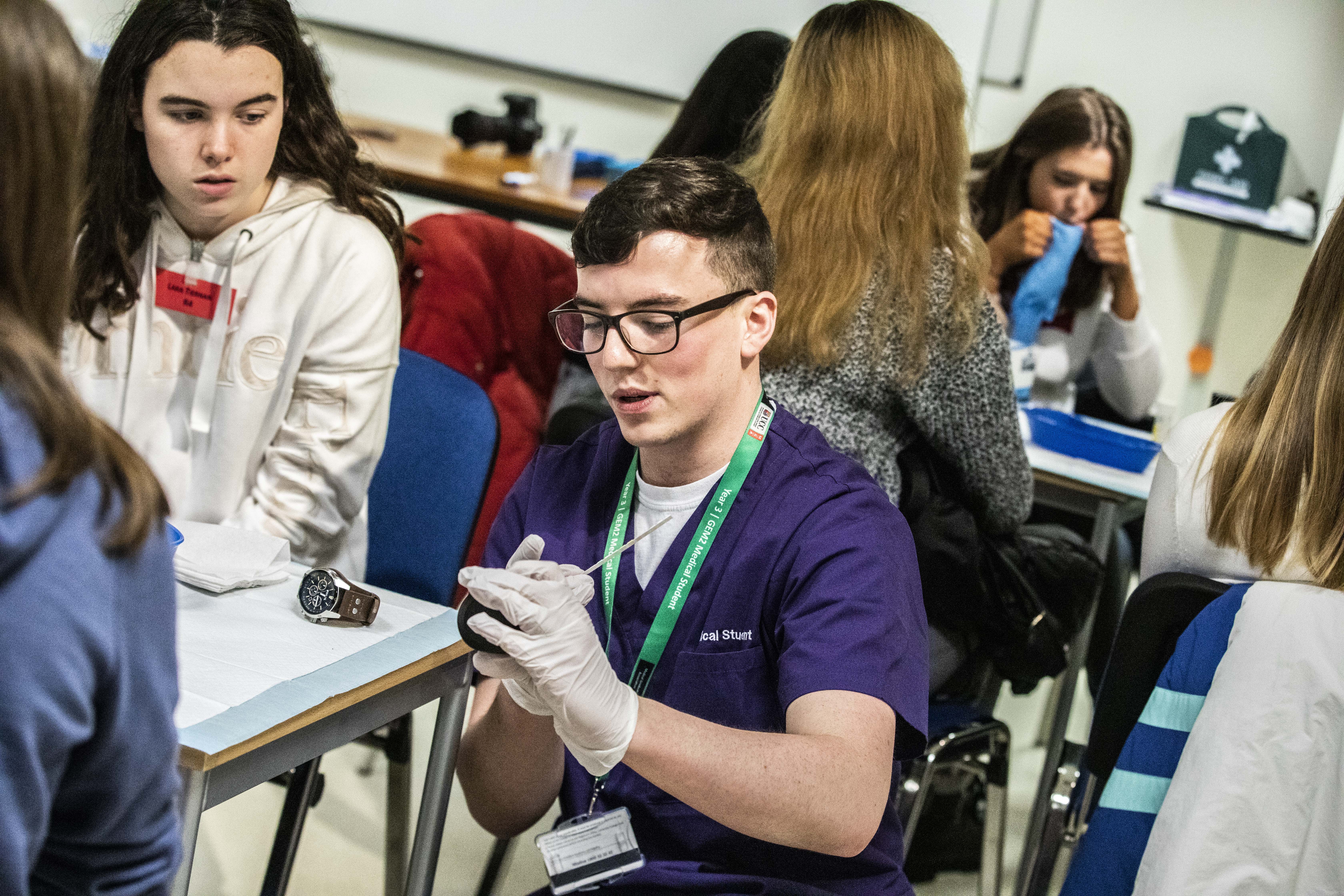 Transition Year secondary school students from across Munster will attend University College Cork's School of Medicine today to attend 'Prep-for Med.' This hugely popular programme allows young people to experience both the life and the facilities available to medical students' in UCC's School of Medicine.
Accompanied by their Career Guidance counsellors, the transition year students will be guided through Brookfield Health Sciences Complex and the FLAME Anatomy laboratory, before being put through their paces in multiple teaching stations covering areas such as resuscitation, laboratory testing and the management of acute haemorrhage. This allows them to learn first-hand how skills are taught and delivered. The afternoon programme sees the group move to Cork University Hospital where they will be hosted by Professor Mark Corrigan, Clinical Professor in Surgery. Emergency Medicine experiences, the forensic examination of a crime scene, and an opportunity to watch a Caesarean Section in real time, broadcast from the operating theatre at CUMH, are among the activities presented on the day. Professor Corrigan will give a presentation on the "Becoming a Doctor" and wrap up what will be a very eventful and inspiring day for the TY students.
Professor Paula O'Leary, Dean of UCC's School of Medicine comments that "UCC has a long and proud tradition in Medical Education. The quality of students who enter our medical programme is first class due in no small way to the excellent secondary schools who prepare those students. 'Prep-for Med' allows students from across Ireland to understand how we train our future Doctors and Clinicians and how they can aspire to a career in Medicine. UCC has led the way in developing this innovative program which showcases life in Medicine to secondary school students, and I am looking forward to seeing some of our visitors return to UCC's School of Medicine in the years ahead."
Dr Tom Hinchy, School of medicine Prep-for-med organiser comments "Irish doctors are among the most respected and capable in the world and the foundation for their success worldwide is the education our nation's young people receive at both second and third level.
This year's event will be the biggest to date. 120 students from schools around Munster will be converging on UCC Medical Education Unit and Cork University Hospital to gain a valuable insight into the life and training of Medical Students in Cork.
It is a privilege to be able to open our doors to all these potential doctors, and to show them how they will learn to be highly competent, skilled and empathetic practitioners, should they choose to study Medicine here in Cork."
for photos of the day please click Prep for Med 2020
Further information about UCC's School of Medicine can be found by visiting https://www.ucc.ie/en/medical/