News
News
2018 INMED Annual Scientific Meeting, Clinical Supervision: What works, how and why?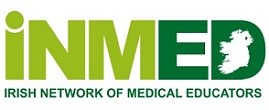 The INMED Annual Scientific Meeting will be held at the Brookfield Health Science Complex from February 7th to 9th 2018.
INMED 2018 will be a 1.5-day conference plus a full day of pre-conference workshops. The conference caters for educators of all health professions.
The deadline for receipt of oral and poster submissions for INMED 2018 is midnight, 17th November 2017. For further information and guidelines for submission, please visit the INMED website.