Medical Graduates Association
Medical Graduates Association
Medical Graduates Association
Welcome
‌The aim of the UCC Medical Graduates Association is to create links between graduates, friends and the University to benefit future students, current students and alumni. The Medical Graduates Association informs medical graduates about developments and events in the medical school, highlights class reunions, organises scientific meetings and publishes an annual newsletter. We encourage all UCC medical graduates, here and abroad, to keep in touch with the Medical Graduates Association (MGA@ucc.ie) and we look forward to hearing from you. Best wishes,
Professor Tony O'Brien, Chairperson, UCC Medical Graduates Association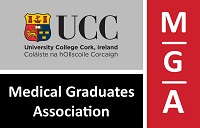 MGA Conference 2017
MEDICAL GRADUATES ASSOCIATION SCIENTIFIC CONFERENCE
November 4, 2017
UNIVERSITY COLLEGE CORK
Brookfield Health Sciences Complex G.04
Registration
http://www.uccconferencing.ie/product/medical-graduates-association-annual-scientific-conference-4th-november-2017/
The Annual Scientific Conference is a multidisciplinary graduate meeting for all medical graduates, staff and friends of University College Cork which is organised by the Medical Graduates Association Committee
CONTINUING PROFESSIONAL DEVELOPMENT POINTS pending
9.15
Registration
9.50
Professor Tony O'Brien,Chairperson, Medical Graduates Association
Welcome & Introductory remarks
10.00
Professor Patrick O'Shea, President of University College Cork
Opening Address
Chair
Mr Martin O'Sullivan
Session 1
10.15
Mr Jim Clover, Consultant Plastic Surgeon
Electrochemotherapy in the treatment of cutaneous malignancies: Cork leads the way
10.40
Dr Adrian Murphy, Consultant in Emergency Medicine
Major Trauma Challenges: From Roadside to Bedside
11.05
Dr Deirdre Bennett, Head, Medical Education Unit, School of Medicine, UCC
Clinical Supervision: what works, why and how
11.30
Coffee Break
Chair
Dr Brian Bird
Session 2
12.00
Mr Patrick Kiely, Consultant Orthopaedic Surgeon
"Thinking Straight" Kids perspective from orthopaediatrics
12.25
Mr Brendan Moran, Consultant Colorectal Surgeon
The Lottery of Life with a touch of cancer - setting up a national service for appendix tumours
12.50
LUNCH and viewing of the Art Exhibition at the Jennings Gallery
Chair:
Professor Katy Keohane
Session 3
14.10
Dr Robert Kerley, Dr Pamela Gilligan Prize Winner 2017, National Academic Intern
Final Year Project: Appropriate Use Criteria for Transthoracic Echocardiography: are they relevant outside the United States?
14.30
Dr Elena Hennessy - Prof Denis O'Sullivan Fellow 2016
Psychosocial risk factors, emotional distress and quality of life in children with type 1 diabetes in Ireland
Chair:
Professor Tony O'Brien
Session 4
14.50
Mr Carl Davis, Consultant Paediatric Surgeon
Modern Management of Congenital Diaphragmatic Hernia
15.15
Professor Seamus O'Mahony, Consultant Gastroenterologist
Medicine and the McNamara fallacy
15.40
Professor Mary Horgan, President, RCPI
Address from the President, RCPI
16.05
Professor Tony O'Brien
Closing remarks
19.00
Reception followed by Dinner
Aula Maxima, North Wing, Main Quadrangle
Pre Dinner performance by the Cór Lae Nua is a female voice chamber choir based in Cork city under the musical direction of Mr. Nicholas McMurry
Post Dinner entertainment - "Beat the Intro Quiz" with John Coulter
Refreshments €25 / Gala Dinner €60 / Refreshments & Gala Dinner €80/ Gala Dinner (table of 8) €480
MGA Newsletter April 2017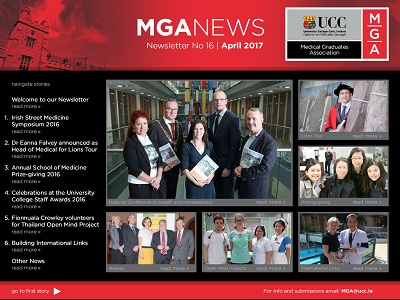 ‌
Or click the link below to access our newsletter
MGA Newsletter June 2016
‌‌‌Please click the link below to access our newsletter: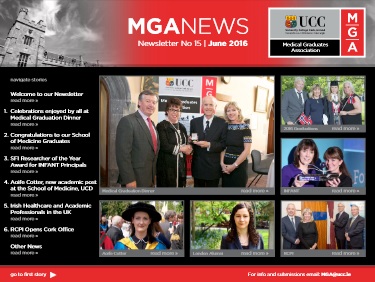 ‌
Ainsworth Scholarship 2017-18
UNIVERSITY COLLEGE CORK
AINSWORTH SCHOLARSHIPS
SESSION 2017/18
Applications for the above postgraduate Scholarships are invited, from doctors who intend to practise their profession in Ireland, primarily those who are medical graduates of University College Cork.
Full particulars of the Scholarships and of their award may be viewed at:
http://www.ucc.ie/calendar/scholarship/sch004.html (Postgraduate Scholarship section of the College Calendar).
Further details may be obtained from Professor Catherine Keohane, School of Medicine, Brookfield Health Sciences Complex, College Road, catherine.keohane@ucc.ie who may be contacted for informal discussion.
The latest date for the receipt of applications is Friday, 17 February 2017.