Research Committee
Research Committee
Director, Radical Humanities Laboratory
Committee Members
| | |
| --- | --- |
| | Chair |
| | School of Medicine |
| | School of Clinical Therapies |
| | School of Dentistry |
| | School of Pharmacy |
| | School of Public Health |
| | School of Nursing & Midwifery |
| | Representing CoMH RICUs |
| | HRB-CRF-C |
| | Health Innovation Hub Ireland (HIHI) |
| Justin Doran | Cork Univeristy Business School (CUBS) |
| Adrian Favell | Director, Radical Humanities Laboratory |
| | Director of Research Support Services, OVPRI. |
| | Biostatistician |
Committee Meeting Dates 2022 / 2023
September 27 2022
November 08 2022
December 08 2022
January 24 2023
February 28 2023
March 28 2023
April 25 2023
May 23 2023
Please submit documents to the Research Committee (to Sally Bourke ) for review 10 working days in advance of a meeting. Documents submitted for review after this timeline may be deferred until the next available meeting.
Please note, these dates are subject to change.
Announcing "from Molecules to People" 2023
Following our successful inaugural CoMH Research Conference "from Molecules to People" in 2022, "from Molecules to People" 2023 will be held on Thursday 21st September 2023 in Devere Hall, UCC.
Additional conference details will be made available shortly.
2022 CoMH Research Conference "from Molecules to People"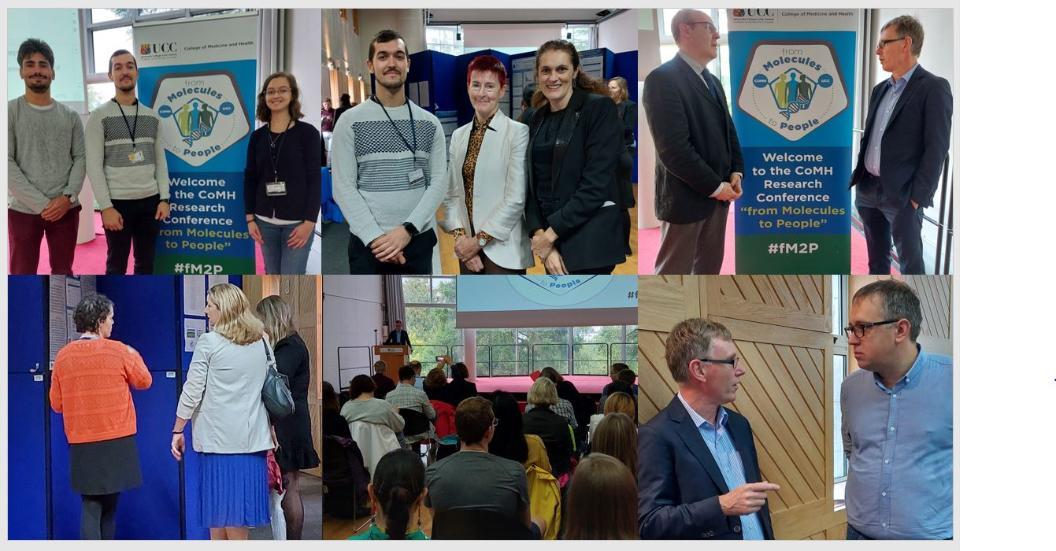 The inaugural CoMH Research Conference, "from Molecules to People", took take place on 22nd September 2022 in the Devere Hall, UCC. This highly successful Conference showcased the diverse range of basic, translational and people centric research across the College of Medicine and Health.
Read the From Molecules to People programme v2From Molecules to People programme v2
Established and ran the CiSA awards, supporting 7 clinical/academic teams to pursue new research. Held a launch event where the successful teams presented their proposed projects. This was attended by representatives from our Industry Partners who provides the funding.
Statistician Kathleen O Sullivan joined the RC to provide biostatistical support to the CiSA applicants and general support.
Invited Chairs of SREC and CREC to a meeting to discuss the processes.
Invited Helena Buffery, Head of CACSS to present the CACSS Impact Case Study Template Guidance Document. Helena was happy to give workshops on this to CoMH researchers in 2020.
Invited CRF-C to discuss their roles and processes. Discussed management of a Biobank. Suggested setting up a dedicated committee.
Invited OCLA to discuss processes and how we can best work together. Many issues discussed.
Invited Sean McCarthy to discuss and evaluate the pilot European Research Strategy that some CoMH PIs took part in. The success of the programme was discussed – we have two collaborative proposals as a result.
Discussed the Strategy Document and how the committee can drive and support CoMH goals.
Discussed the removal of EndNote subscription and alternative options. Ongoing.
Terms of Reference
UCC College of Medicine and Health Research Committee Terms of Reference
Type: Standing
Role / Purpose
The purpose of the College of Medicine and Heath (CoMH) Research Committee is to promote
and support high quality healthcare research, to facilitate interdisciplinary collaboration
across the member Schools and to foster a culture of research within the CoMH and its
affiliated healthcare institutions.
Function and Objective:
To promote high quality research endeavour within the CoMH as an integrated activity aligned
with our teaching mission.
To develop and review policies and practices to improve the quality, impact and quantity of
research activity within the CoMH, to monitor their implementation and evaluate outcomes.
To promote networking and interdisciplinary collaborative research between the member
Schools of the College.
To organise regular college-wide research dissemination and networking events.
To work with researchers and RICUs to promote and support grant applications to national
and international funding bodies.
To communicate and publicise the successes and outputs of CoMH research activities through
a dedicated public relations strategy.
To foster clinical research collaboration between affiliated healthcare institutions and the
CoMH and other Colleges within UCC.
To foster and support research and development with industry partners in the region.
To review the goals and monitor implementation of the CoMH Research Strategy.
Members and Terms of Membership:
The CoMH Research Committee membership is as follows:
1 representative from each of the Schools, with a named deputy, should that member be
unable to attend meetings.
1 representative of the APC Microbiome, INFANT, Cancer Research @ UCC and Health
Innovation Hub Ireland.
A representative of the office of the Vice President for Research and Innovation.
The CoMH Vice Dean of Research and Innovation (VDR&I)
The CoMH Vice Dean of Graduate Studies and Interdisciplinary Learning
The Research Support Officer to the CoMH VDR&I.
Membership will run for 3 years and is predicated on attendance of at least two meetings per year.
Any member absent for three consecutive meetings may be asked to resign their Committee
membership by the Chair. Membership of the Committee can be modified by the Chair; in consultation
with the CoMH VDR&I.
Meeting arrangements:
Six meetings per year or as required by the CoMH VDR&I or the Chair of the Committee. A quorate of
five members excluding Chair, will be required for each meeting. Meetings cancelled due to lack of a
quorate are to be rescheduled to take place within four weeks.
Reporting:
The committee will report to:
The CoMH College Executive Committee.
The Head of CoMH.
The Office for the Vice President for Research and Innovation.