News
News
What Lies Beneath Exhibition, Jennings Gallery UCC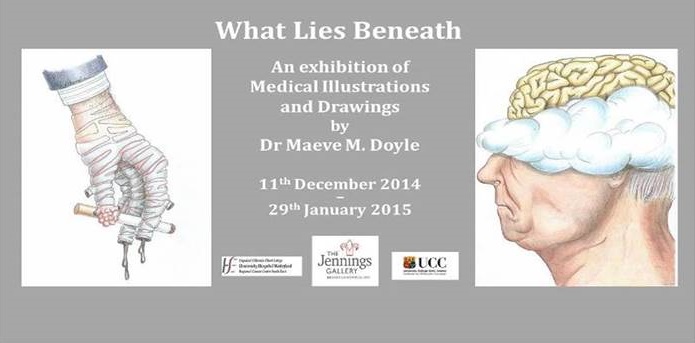 What Lies Beneath is Dr Maeve Doyle's first solo exhibition of her medical illustrations and drawings which are adapted/altered slightly to convey a message 'Anatomy with a twist, with an injection of life and fun'.
Dr Maeve Doyle is a medical graduate of Trinity College Dublin and is now a Consultant Microbiologist in University Hospital Waterford and St Luke's General Hospital, Kilkenny. She is also a senior clinical lecturer for UCC and lectures on the Orthopaedic teaching programme for RCSI.
Many of the drawings in this exhibition are from the collection of work prepared by Dr Doyle for Modern Medicine, an Irish medical journal. The drawings show 'What Lies Beneath' both in anatomical terms and when there is a disease process occurring.
The artist is a visual learner and believes in the power of the visual aid. In medical school, trainee doctors learn 'lists' of factors affecting disease. In her work, the artist tries to turn the 'list' into an image.
Dr Doyle also enjoys drawing people both as portraits and caricatures. In the caricature, she tries to incorporate in the image things that represent 'What Lies Beneath' the subject's façade.
The Exhibition opens on Thursday 11th December 2014 and runs until 29th January 2015 in the Jennings Gallery, College of Medicine and Health, UCC.