News
News
UCC, RCSI, TCD Sign Agreement to Create APPEL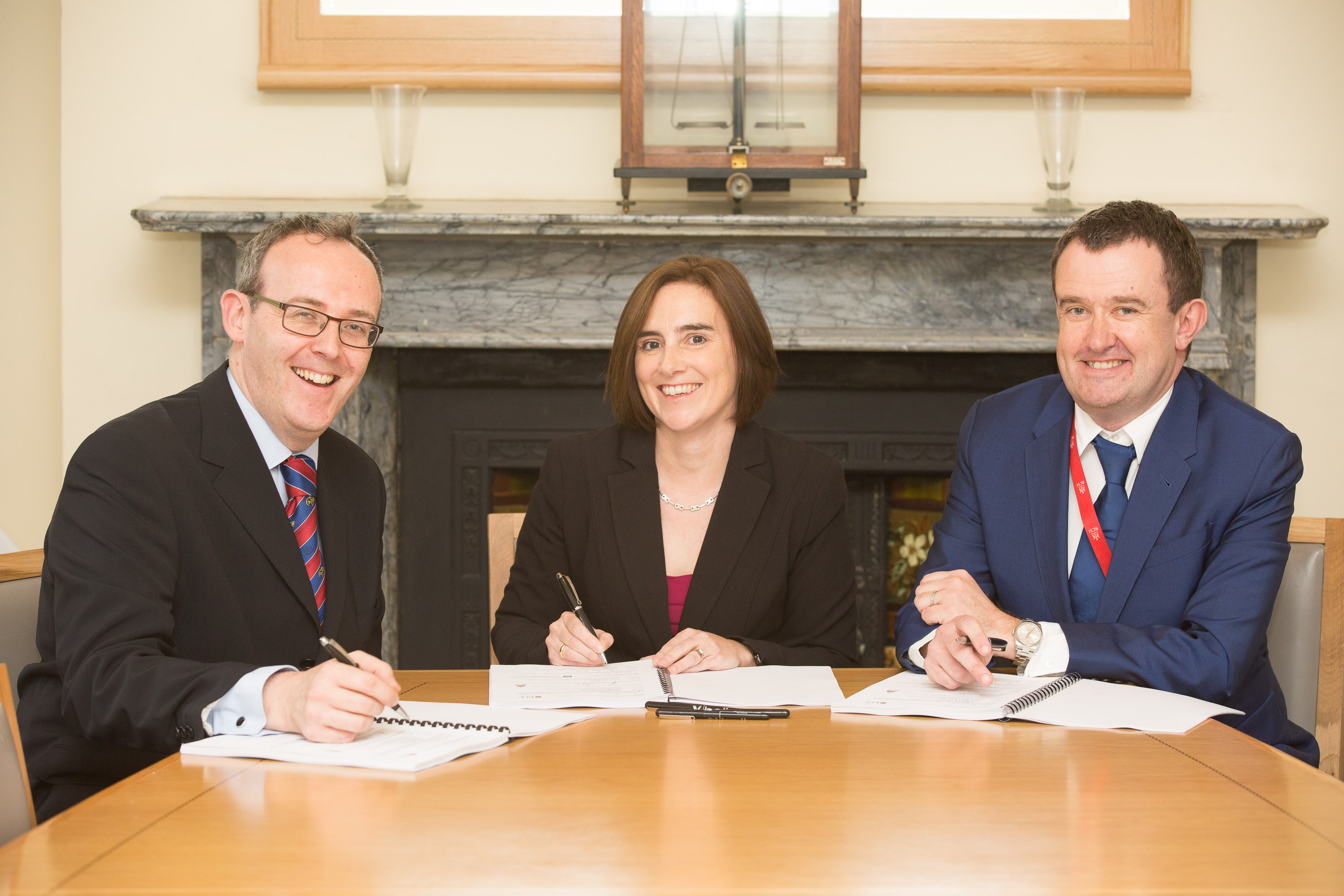 In December 2014 the Irish Minister for Health, with the Pharmaceutical Society of Ireland (PSI), launched the new 5 year Master of Pharmacy Programme (MPharm) with the goal of helping future pharmacists better meet the changing needs of the healthcare system.
The MPharm, provided by each of the three Schools of Pharmacy in Ireland, will achieve this outcome in part by integrating experiential learning into all five years of their programmes, permitting a greater level of contextualisation of knowledge over the current model of education and training.
A successful partnership between the three Schools and the providers of this training across the greater pharmacy community will be crucial to achieving this integration of experiential learning. A milestone in building this partnership was reached on the 21st of September 2015 when the three Schools signed a consortium agreement to create the Affiliation for Pharmacy Practice Experiential Learning (APPEL). APPEL will facilitate streamlined, centralised management of the experiential learning placements made available to students by community, hospital, industry, and regulatory pharmacy bodies throughout the state. By providing a single interface to the entire profession and the entire cohort of students nationally, APPEL will be able to provide trainers and preceptors (tutor pharmacists) with consistent communications and uniform training assistance while efficiently assigning students from the three schools to the available training placements.
APPEL is a partnership of the School of Pharmacy, University College Cork – National University of Ireland (UCC), the School of Pharmacy, Royal College of Surgeons in Ireland (RCSI), and the School of Pharmacy and Pharmaceutical Sciences, University of Dublin, Trinity College (TCD). APPEL is currently in the establishment phase, with offices located within RCSI and the establishment project being managed by Mr Michael Cresswell on behalf of the three Schools.
To coincide with the signing of the agreement, the Consortium has moved to appoint a National Coordinator by January 2016 to oversee the APPEL. Professor Anne Marie Healy, Head of the TCD School of Pharmacy and Pharmaceutical Sciences, remarked on this new role: "The APPEL National Coordinator will be responsible for coordinating the development and administration of the experiential learning programme within the integrated Master of Pharmacy programmes of the three schools. It is a key position that will also require the ability to engage with pharmacists, the pharmaceutical industry, and pharmacy groups in all the major practice areas all across the country."
Professor Paul Gallagher, Head of the RCSI School of Pharmacy, noted that the RCSI Human Resources department will be accepting applications for the APPEL National Coordinator position through the 31st of October 2015. "Inquiries can be addressed to Mags Browne at magsbrowne@rcsi.ie, or to ops@appel.ie," he said.
When asked about the next steps for APPEL, Professor Stephen Byrne, Head of the UCC School of Pharmacy, answered, "In 2016 APPEL will be focused on consulting with the profession and recruiting additional training establishments to share their expertise with our students. The first block of experiential learning placements will take place in early 2017, and each year after that will require more help from the profession to train multiple classes. The success of these degree programmes depends upon the quality and quantity of practical training given to our students by the professionals in the greater pharmacy community. APPEL looks forward to that engagement."