News
News
Tyndall and ASSERT present the future of technology enhanced learning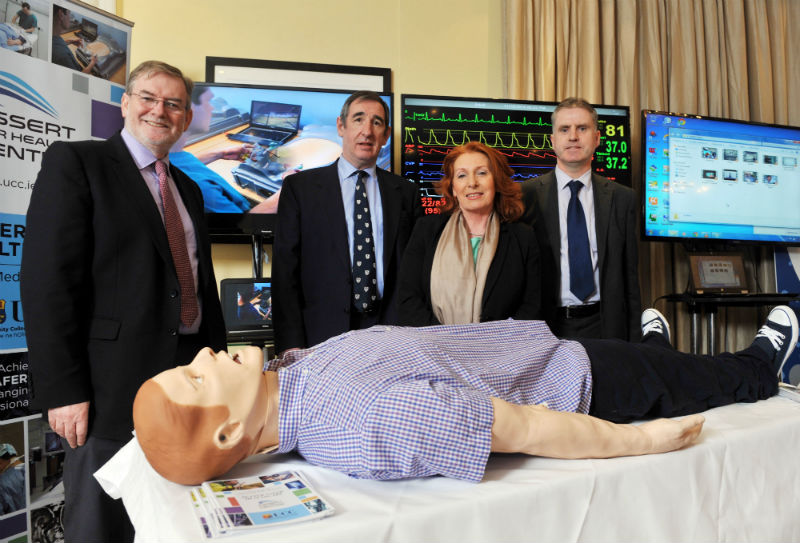 Tyndall National Institute and the ASSERT for Health Centre at UCC (Application of Science to Simulation Education Research & Training) have unveiled the future of 'technology enhanced learning' for healthcare professionals. Virtual reality, silicon and human simulators will save lives by limiting the adverse effects of invasive procedures and increase practitioners' competence.
Simulators will enable all healthcare professionals to perfect their clinical techniques and prove their competence in life-like scenarios before carrying out the live procedures on patients. Increasingly, clinicians have less access to patients and opportunities to experience real-life learning scenarios due to the EU Working Time Directive legislation and an explicit patient covenant. This technology will enable clinicians to move from a time-based to competency-based approach to healthcare and combat the current deficits is training.

The ASSERT for Health research group have demonstrated the collaborative technology at the Tyndall Technology Days, being held in Cork from the 18-20th November. They have reported on the largest clinical trial of simulation based training. Along with the Arthroscopic Association of North America (keyhole orthopaedic surgeons), they have evaluated simulation-based training in 21 separate clinical sites (including Tutfs University, Yale University, North-western University and University of California-San Francisco etc). The results showed that trainees trained to proficiency on the simulator performed 60% better (i.e., made fewer intra-operative errors) than traditionally trained surgeons.
Tyndall Technology Days: The transformative ASSERT for Health use of simulators is one of medical technologies on display at this year's Tyndall Technology Days, held in the Kinglsey Hotel, Cork. Ireland is now a leading player in the medical technology sector, employing 25,000 people and valued at €8bn in exports to the country. Today's health-themed technology day displays how ICT in health can produce a smarter future and better outcomes for patients.

ASSERT for Health: Building is underway at the Brookfield site for a new bespoke ASSERT facility, paid for by the UCC College of Medicine and Health and other strategic partners. The €8M unit will provide an education and training facility; a research centre for technology enhanced learning; an innovation hub to develop commercially viable products. The first-of-its-kind facility will provide a world-class platform for technology enhanced learning.
Speaking at the Tyndall Technology Days, Tyndall CEO, Dr Kieran Drain said, 'the project with ASSERT is one of the many exciting and potentially lifesaving innovations that Tyndall is collaborating on and displaying at this year's gathering. Not only do these technologies have tremendous health benefits to the patient but they can also deliver economic impact to the national economy'.
Director of Research, Professor Tony Gallagher of ASSERT commented: 'We are very excited to demonstrate to industry, and our research and clinical peers, that this invaluable technology significantly impacts on doctors' performance and as a result patient safety. The human simulator and technology enhanced learning represents the future of clinical procedures and lifelong learning for healthcare professionals. Proof of clinical competency through life-like simulation will be an essential aspect of surgical and clinical training, this movement will save lives and increase patient safety, which is the most important thing for all healthcare practitioners. Our data provides unambiguous evidence that simulation training will impact on better, safer healthcare'.