News
News
Prep for Med School at UCC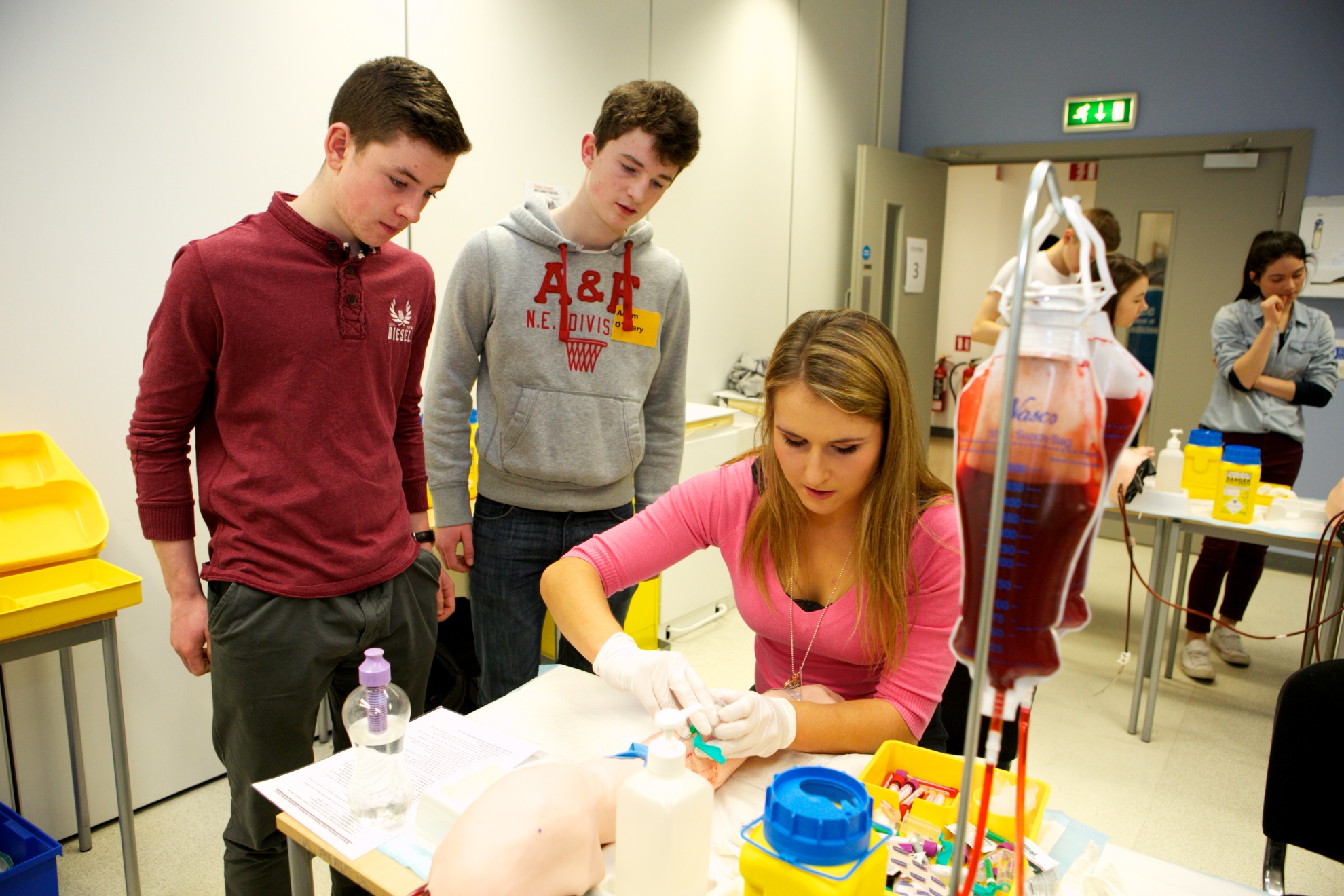 The School of Medicine, UCC hosted a successful 'Prep for Med-School' day for Transition Year students at the Brookfield Health Sciences Complex, UCC and Cork University Hospital on Friday 30th January 2015.
Prep-for-Med is a hugely popular Programme for Transition Year students where they are given the opportunity to experience what life as a medical student is really like. This year, 100 students from all over Munster attended Prep-for-Med School, accompanied by 50 teachers.
During the morning session, students rotated through specially-designed teaching stations which included clinical skills and hands-on CPR, learning how to take blood pressure, First Aid limb injury, Anaphylaxis, and abnormal cardiac rhythms. In the 'Pulses' stations, students learned how to check for brachial or radial pulse and link this up with irregular heart rhythms and electrocardiograph patterns.
One of the highlights was a session with Meti-Man HPS – an advanced 'Human Patient Simulator'. Meti-Man talks, breathes, develops symptoms and even develops a heart attack (myocardial infarction). However, Meti-Man's ventricular fibrillation responds to cardioversion ('shocking' back to normal rhythm using a defibrillator) and he is soon back to his good-humoured self!
CPR can keep patients alive until medical help arrives. At Prep-for-Med, students are given hands-on training on how to do CPR (to the beat of 'Staying Alive…'). Another highlight was the visit to the state-of-the-Art FLAME Anatomy laboratory where the latest technology combined with traditional methods are used to teach Anatomy. The students also had ample opportunity to chat to the current medical students at UCC, and eighteen Third- Year medical students organized by the very active Student Medical Society (Med Soc) helped run the practical sessions.
After lunch, the students and teachers were brought to Cork University Hospital (CUH) where they witnessed a live Caesarian Section by video-link. There were lots of gasps in the audience as they watched a beautiful healthy baby girl come into the world!
In CUH Jason Van der Velde talked about his experiences in the Emergency Response Unit. In 'CSI Cork', students learned about Crime Scene Investigation from the Assistant State Pathologist, Dr Margaret Bolster. Finally, students got a chance to discuss important ethical issues in medicine with Surgeon Louise Kelly.