News
News
NPEC publishes Severe Maternal Morbidity in Ireland Annual Report 2012 and 2013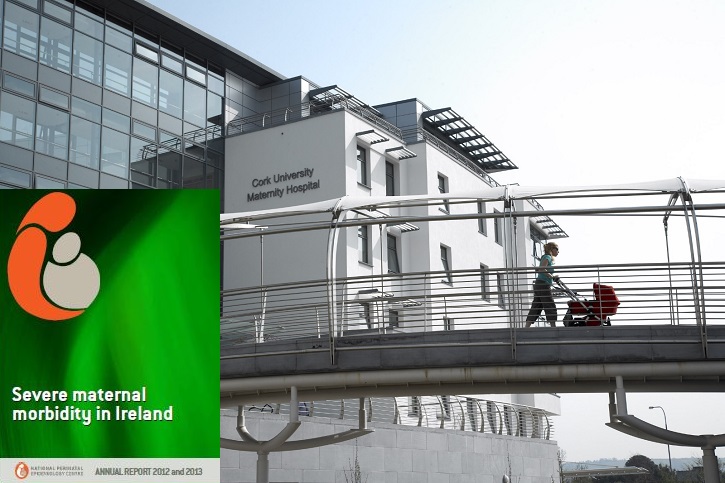 The Severe Maternal Morbidity in Ireland Annual Report 2012 and 2013 is the second report from the National Perinatal Epidemiology Centre's (NPEC) national clinical audit on this topic.
Maternal morbidity encompasses a broad range of chronic and acute conditions which may result in obstetric complications during pregnancy, labour, delivery and the postpartum period. Severe maternal morbidity (SMM) has become an important quality indicator of obstetric care and maternal welfare in developed countries although the absence of international consensus on definitions of SMM impedes comparison between similarly-resourced countries.
The audit highlights efforts made in Ireland to investigate and prevent adverse outcomes for mothers. The audit is based on the voluntary collection and provision of data by contributors within Ireland's maternity units. The participation of all maternity units is a reflection of their commitment to improving the service and outcomes for their patients.
Nineteen participating maternity units reported that 292 women experienced SMM in 2012. For 2013, all 20 maternity units in the country participated and reported 323 cases. Thus, 615 women were reported as experiencing SMM in the two years.
Core findings
The reported incidence of SMM in Irish maternity units increased from 3.8 per 1,000 maternities in 2011 to 4.8 per 1,000 in 2013. However, the incidence in Ireland compares favourably with the rate reported from the methodologically comparable national audit in Scottish maternity units. The Scottish SMM rate was 7.3 per 1,000 maternities in 2012.
Similar to findings from Scotland, major obstetric haemorrhage (MOH) was the most frequently reported SMM in Ireland (55%). MOH is defined as: Estimated blood loss ≥ 2500ml, receiving a transfusion of five or more units of blood or receiving treatment for coagulopathy.
The next most common reportable SMM event was admission to an intensive care unit or coronary care unit (ICU/CCU; 42%). ICU/CCU admission is an internationally-recognised marker for SMM, however, an increasing proportion of reported ICU/CCU cases in Ireland had no other associated SMM as defined in this audit (25% in 2011, 35% in 2012 and 41% in 2013). This finding is one of the motivations for the new NPEC Audit of Critical Care in Obstetrics which aims to establish resource needs associated with higher levels of care.
Other specific severe morbidities were relatively uncommon, e.g. renal or liver dysfunction (7%), peripartum hysterectomy (7%) and pulmonary embolism (6%).
There were 42 reported cases of peripartum hysterectomy in 2012 and 2013 giving a national rate of 0.31 per 1,000 maternities or approximately one in every 3,200 maternities. This rate is similar to national rates reported in the UK and the Netherlands of 0.41 and 0.33 per 1,000 births respectively. The majority of peripartum hysterectomy cases (81%) were associated with MOH. Eighty percent of all women who required a hysterectomy had a previous caesarean section and for most of these cases morbidly adherent placenta was a causal factor.
The lowest SMM rate, at 3.1 per 1,000, was among women aged 20-24 years. The rate increased with older maternal age. Respectively, 35-39 year-olds and women over 40 years of age had almost twice and three times the SMM rate of 20-24 year-olds.
Multiple pregnancy was associated with a fourfold increased risk of SMM. There was also evidence that being of non-caucasian ethnicity and having three or more previous deliveries was associated with increased risk of SMM. However, assessment of the association between maternal characteristics, such as body mass index, smoking and socio-economic status, and risk of SMM is hampered by the lack of available national data for the population of pregnant women in Ireland.
Over the three years of the audit, 2011-2013, there was an increase in the reported presence of obstetric consultants, senior midwives and anaesthetic consultants attending cases of MOH. This may be in response to the national guideline which recommends a multidisciplinary care approach with early direct consultant and senior staff involvement in the management of postpartum haemorrhage.
In almost all MOH cases (98.8%) it was stated that the unit had a protocol for the management of MOH and management of the MOH adhered to the protocol in 87.5% of cases.
The use of obstetric early warning charts in the monitoring of patients was reported in 75% of MOH cases in 2012/2013, a marked increase on the 45% reported rate of their use for MOH cases in 2011.
Key recommendations
Collation of an agreed national dataset from maternity services needs to be made possible in order to facilitate examination of factors influencing obstetric outcomes including severe maternal morbidity. This may be achieved through the implementation of the Maternal Newborn - Clinical Management System.
Robust clinical audit of perinatal outcomes in all maternity units in Ireland requires the protected time of clinical staff. Funding should be provided by the Health Service Executive to ensure that staffing levels allow protected time for clinical audit.
All maternity units should continue to collect and submit data on severe maternal morbidity to inform the maternity services using a multidisciplinary approach, involving consultant obstetricians, consultant anaesthetists, senior midwives and senior trainees.
For women at expected high risk of major obstetric haemorrhage, clear plans should be included in the maternity healthcare record and consideration should be given to the use of interventional radiology. The feasibility of providing such a service in all health service regions should be assessed.
While available in some units, formal counselling support should be available for all women and their partners following a severe maternal morbidity.
The report is available to download from the NPEC website.