News
News
Launch of Research Impact Anthology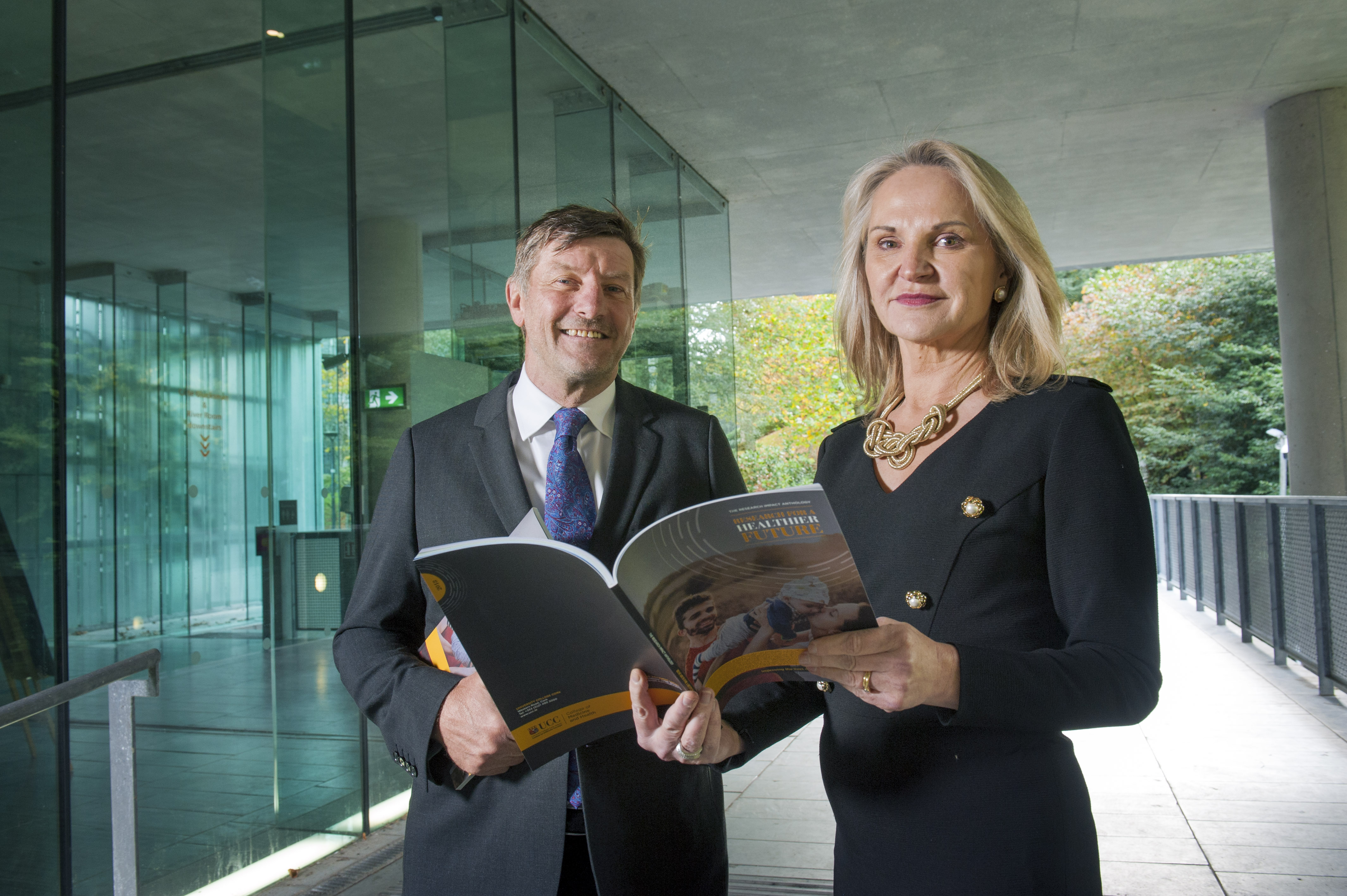 New report shows the College of Medicine and Health generated €28.5 million in research income in 2017 alone.
Furthermore, the College has generated a total €100 million in research income over the last decade.
Recent research innovations, many detailed in today's report (CoMH Research Impact Anthology), which examines the scale and impact of the College's research, include the development of the field of 'psychobiotics' (the study of how certain bacteria can benefit the brain); pioneering uses of 'electrochemotherapy' in cancer treatment and nanotechnology in gene therapy; and the development of 'smart antibiotics' to combat antimicrobial resistance.
The UCC College of Medicine and Health's economic impacts include:
College of Medicine and Health generated €28.5 million in research income in 2017 alone—€100 million over the last five years
UCC creates more primary degree health and welfare graduates than any other Irish university.
UCC College of Medicine and Health hosts several of Ireland's elite research centres, including APC Microbiome Ireland, ranked number one globally for research in antimicrobials and probiotics.
APC alone supports 270 highly skilled jobs, is responsible for €46.3 million in leveraged funding, and has 39 current industry projects.
Companies spun out from the College of Medicine and Health include Atlantia Food Clinical Trials, 4D Pharma and Artugen Therapeutics, which employ 40 highly skilled people in the local economy.
Challenges and opportunities
Professor Helen Whelton, Head of the UCC College of Medicine and Health, said the Government must ensure that Ireland's health and medical research ecosystem remains as open and attractive as possible to foreign investment, especially in the face of Brexit. This, she said, can be achieved, in part, by developing a robust national clinical trial framework:
"Ireland is globally renowned as a medical research and pharmaceutical hub. The UCC College of Medicine and Health in particular has been a massive contributor to the growth of Ireland's prestige in these areas, particularly through research centres like APC Microbiome. We are having a direct impact on the quality of life of patients in Ireland and abroad, and creating revenue for the Irish economy in the process.
"We can do more. Brexit, while a challenge, presents new opportunities for Ireland's medical and health research community. Many life sciences companies and researchers are likely to choose to relocate to Ireland, which will soon be the only English-speaking EU member state.
"To incentivise this migration, Ireland must put in place structures and systems responsive to medical and healthcare research needs. This can be achieved, in part, by developing a more robust national clinical trial framework.
"While the Health Research Board and HSE has made initial and important steps towards a more open clinical trial system, the UCC College of Medicine and Health believes that its' expansion must be fast-tracked to include a greater number of conditions and disease research areas. More opportunities for research can create highly skilled jobs and lay the groundwork for new business creation, potentially leading to tens of millions of euros in new revenue for the economy.
"An expanded national clinical trial scheme in Ireland would also act as a revenue earner for our health services. In the UK, where such a system exists, patients voluntarily referred onto trials actually generate more than €7,500 each via payments from life science companies to the NHS. Furthermore, by facilitating large-scale public trials of treatments and drugs, the HSE would also be in a better position to negotiate drug price reductions from pharmaceutical companies involved in the trials, thereby reducing the costs of its medicines budget."
The official launch of The Research Impact Anthology: Research for a Healthier Future took place on Thursday, 25th October 2018 in the Brookfield Health Sciences Complex, UCC.
Professor Jonathan Sheffield OBE, CEO of the NHS's National Institute for Health Research Clinical Research Network delivered the keynote address at the launch. Professor Sheffield has been a key instigator in the adoption of a national clinical trial framework in the UK. To date, more than 750,000 British patients have been referred onto private clinical trials via the NHS.