News
News
Dr. Gallagher Receives Satava Award for Advance Technology in Medicine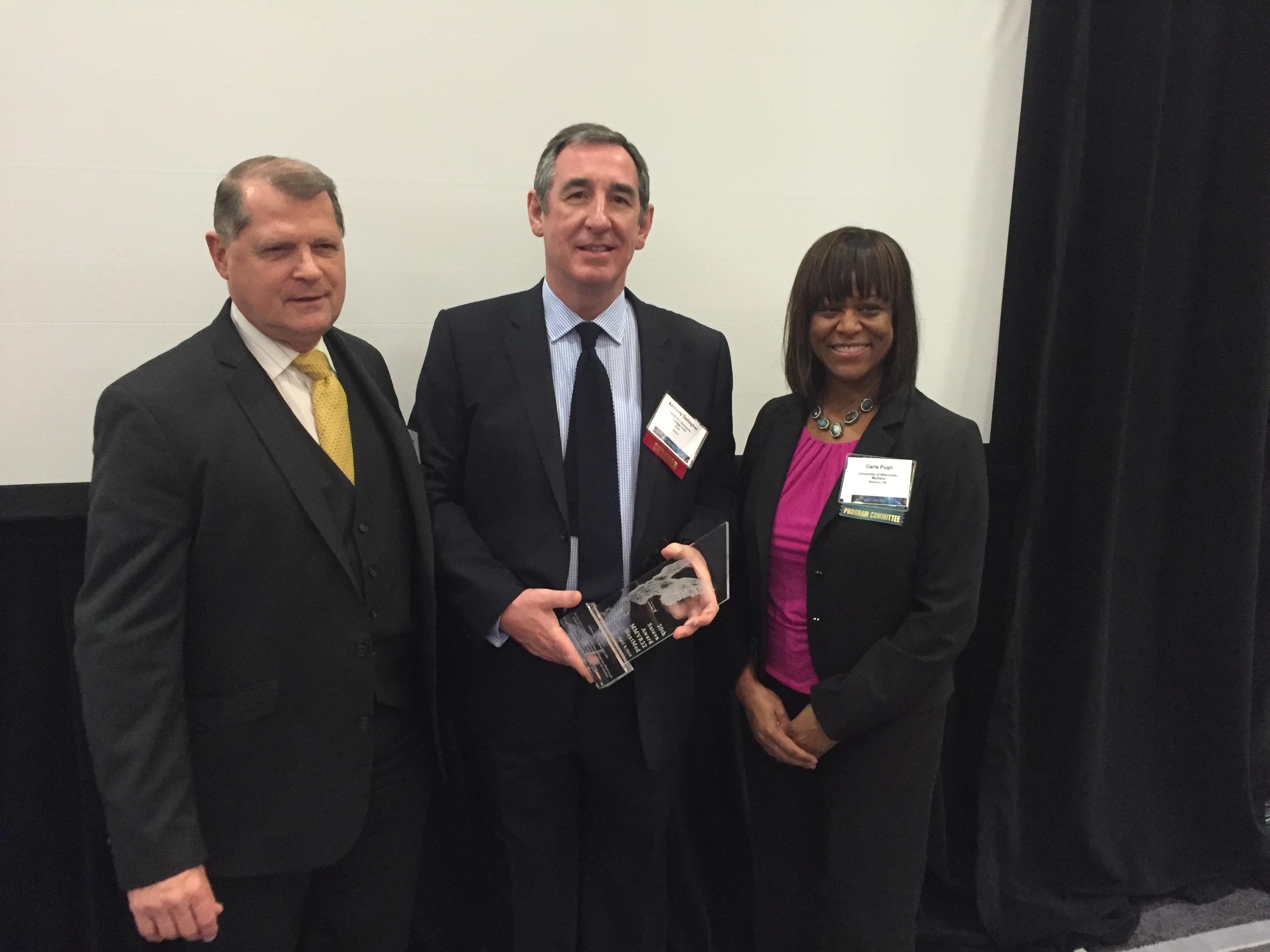 The Satava award, one of the most prestigious awards in the area of advanced technologies in medicine, has been awarded to Dr. Anthony Gallagher-- Professor and Director of Research at the ASSERT Centre, College of Medicine and Health, University College Cork.
Dr. Gallagher received this accolade at the Medicine Meets Virtual Reality (MMVR) conference in Los Angeles, California. MMVR is the leading engineering and educational forum for researchers who invent, develop, and market interactive, information-focused tools for clinical care and medical education.
Dr. Gallagher has been responsible for pioneering research on the application of virtual reality (VR) in minimally invasive and image surgery, and endovascular interventions. Over the 20 years Dr. Gallagher's research has demonstrated the power of VR as a training and assessment tool. As a Fulbright Distinguished Scholar in the Department of Surgery at Yale University in 2001, he led the project team that reported the first prospective, randomized, double-blinded study controlled clinical trial on VR. This demonstrated that VR trained surgeons performed the operation 30% faster with 6 times fewer intra-operative errors in comparison to conventionally trained surgeons. Recently, he has also completed the largest prospective, randomized, blinded, multi-centre (21 centres in the US) clinical trial of proficiency-based progression simulation training with Arthroscopy Association of North America (AANA). The results showed that proficiency-based progression simulation training produced a 56% reduction in intra-operative errors and a 69% reduction in sentinel errors in comparison to traditional training
The results of these studies have had an enormous impact on surgical training in the US. The adoption of VR and simulation as a training tool represents one of the most significant changes in surgical and medical training in the last 100 years. Dr. Gallagher states that, "VR was always going to work. All I did was combine the technology with robust clinical science. The results were even better than any of us could have imagined. At the start of the 21st century training on patients is no longer acceptable without prior simulation based training. Our research has shown that VR isn't just as good as conventional training, it is orders of magnitude better. We can produce better trained surgeons and clinicians with no risk to patients. That has to be a good thing for everybody! BUT, my research has shown that simulation based training must be more than an interesting educational experience. Effective simulation based training does not work by accident."
An Irishman from Belfast, Dr. Gallagher was educated at the University of Ulster in Belfast and Trinity College Dublin. On completion of his studies he was appointed as a Research Fellow and then lecturer at Queen's University Belfast. In 1995 he became Director of Research of the Queen's University Endoscopic Research Lab where he did much of his pioneering research on VR.