News
News
ASSERT becomes the world's first 5G telemedicine and medical robotics training centre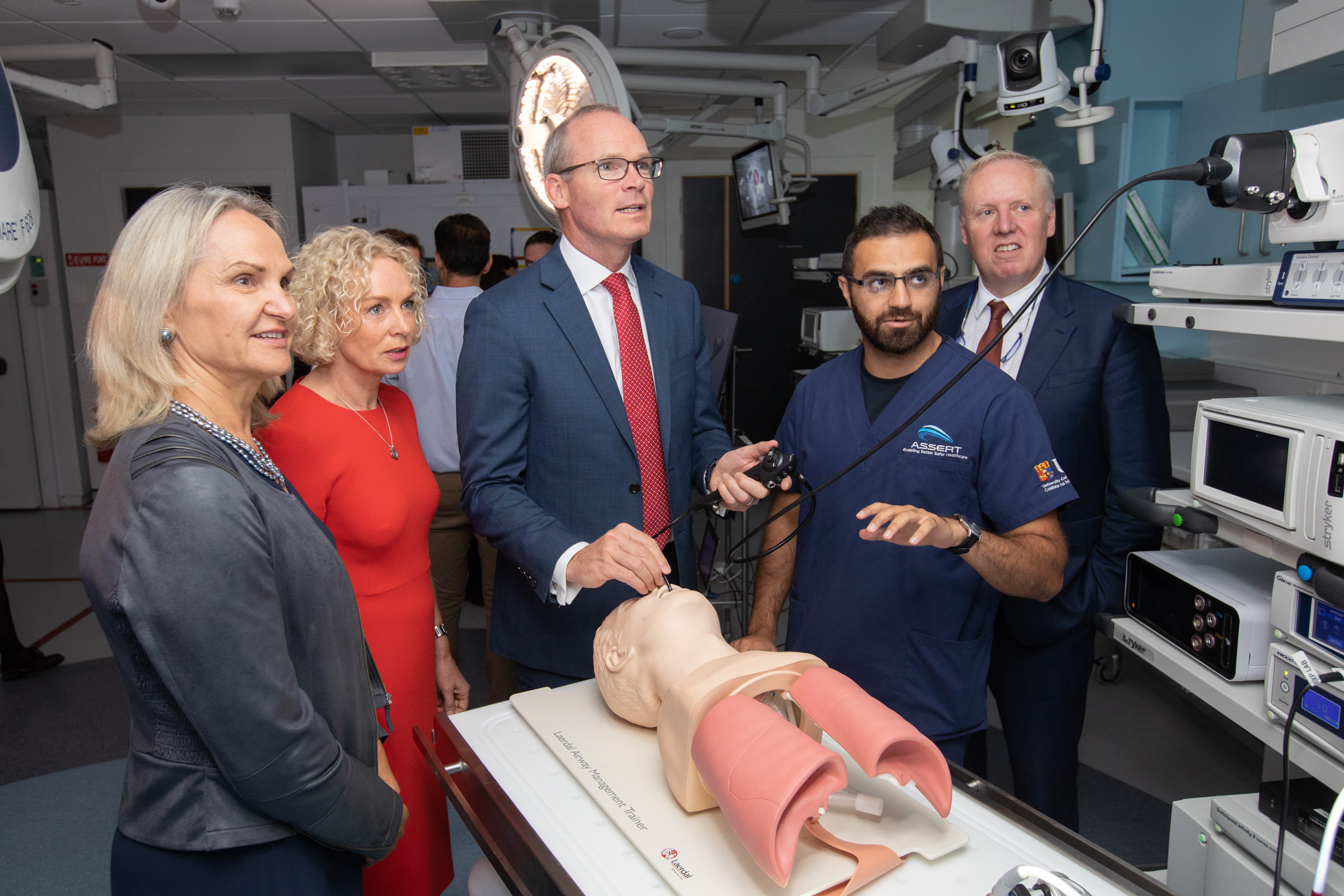 The ASSERT Centre (Application of the Science of Simulation to Education, Research and Medical Technology) at UCC has entered into a landmark partnership with Vodafone Ireland becoming the first 5G telemedicine and medical robotics training centre in the world. The announcement was made at ASSERT today, Tuesday 13 August 2019, at the launch of Vodafone's commercial 5G network.
ASSERT enables clinicians, industry and academics across a broad spectrum of healthcare research, to design, develop, deploy and trial innovative and disruptive healthcare solutions, in a simulated healthcare environment that deliver real world solutions for healthcare problems in the developed and developing world.
The ASSERT Centre showcases *real-time monitoring, *telemedicine, and *robotic surgery, integrated with wearable IoMT-based devices. This provides a consolidated ecosystem that truly digitizes healthcare to provide personalised, precise, predictive, participatory and timely healthcare that benefits patients, their care-givers, healthcare professionals and healthcare providers.
Today's ground-breaking 5G announcement is set to revolutionise healthcare delivery across Ireland and the world, with ASSERT in Cork to become a Vodafone 5G global centre of IOT excellence for healthcare and end-to-end solution development.
Vodafone's new 5G network consists of fully standardised Ericsson 5G, which is being deployed using Ericsson AIR 6488 Radio and Baseband 6639, this game-changing network Vodafone Ireland's recently acquired 5G spectrum. This game-changing network will support many other new technologies - including artificial intelligence, the internet of things, connected cities and self-driving cars.
Speaking at the event, Professor Barry O'Reilly, Director of ASSERT, Clinical Professor of Obstetrics and Gynaecology, said: "I am delighted to announce this strategic partnership. Anne O'Leary and her team from Vodafone have embraced the importance of this type of technology in healthcare innovation. 5G will revolutionize medicine with rapid connectivity of the Internet of Medical Things (IoMT). From advanced wearable technologies that will facilitate the care of patients at home, to immediate connectivity of new diagnostic technologies like handheld smartphone connected ultrasound between point of care and hospital specialists (eg at a road traffic accident and the emergency department) to remote robotic surgery.
The ASSERT/ Vodafone strategic partnership will create a Global 5G incubator for the MedTech sector to test new technologies, assess 5G functionality and roll out to clinical trials providing that bridge between clinicians, research, innovation and the MedTech industry."
Anne O'Leary, CEO of Vodafone Ireland said:
"I am incredibly proud to announce a new strategic partnership with the ASSERT Centre in UCC, Cork, a centre truly at the cutting edge of medical innovation. This is the first centre of its type in the world that will be connected to 5G. Through ASSERT, and its connection to Vodafone's 5G network, surgeons can now train to use world leading technologies that will radically change our lives and deliver solutions to healthcare problems across the developed and developing world."