News
News
APC & INFANT discoveries celebrated on An Post stamps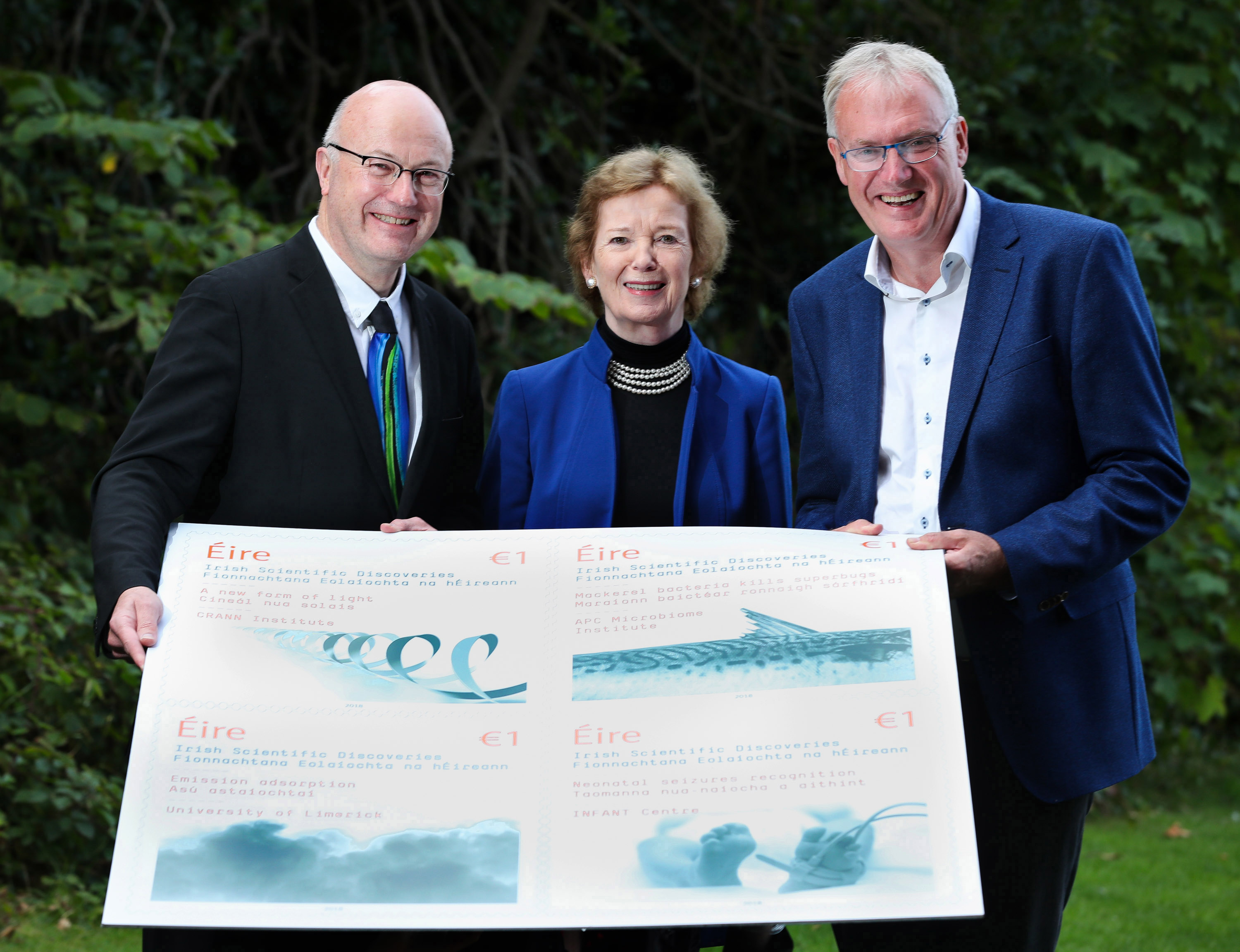 An Post has unveiled a series of four new stamps celebrating scientific discoveries in Ireland, two of which feature the UCC research centres APC Microbiome Ireland and the INFANT Centre.
Created by An Post in partnership with Science Foundation Ireland (SFI), the Irish Scientific Discovery stamps highlight recent discoveries made by scientists who work in pioneering research and development in Ireland, namely in the areas of new forms of light, fighting superbugs, emissions adsorption and predicting neonatal seizures. It is a remarkable achievement to have two UCC centres honoured in this way out of a collection of only four. Former president and climate justice campaigner Mary Robinson, Professor Luke O'Neill from Trinity College Dublin and the Director General of Science Foundation Ireland, Professor Mark Ferguson unveiled the stamps at the international Schrodinger at 75 Conference in Dublin.
The INFANT Predicting Neonatal Seizures stamp features the work of the INFANT Centre team to prevent brain injury in new-born babies. INFANT's director Professor Geraldine Boylan — the only female scientist honoured in the series and the only female director in the SFI centres — and her team Professor Liam Marnane, Dr Andrey Temko and Dr Gordon Lighbody used artificial intelligence to develop algorithms that can monitor and interpret brain signals. The algorithm can then alert medical staff if there is a problem.
The APC stamp The Fighting Superbugs stamp hails the discovery of a new antimicrobial called formicin by PhD student Fergus Collins in a team led by Professor Paul Ross and Professor Colin Hill at the APC Microbiome Ireland SFI Research Centre based at UCC and Teagasc Moorepark Food Research Centre.
Congratulations to and all involved in particular to INFANT and relevant INFANT researchers Prof Geraldine Boylan, Prof Liam Marnane, Dr Gordon Lightbody and Dr Andrey Temko (COMH and colleagues in School of Engineering, SEFS) and to all the APC team including Prof Paul Ross, Prof Colin Hill and PhD student Fergus Collins.
If you would like a stamp they're available to purchase at: www.irishstamps.ie