News
News
Access to healthcare for all explored at the 5th Irish Street Medicine Symposium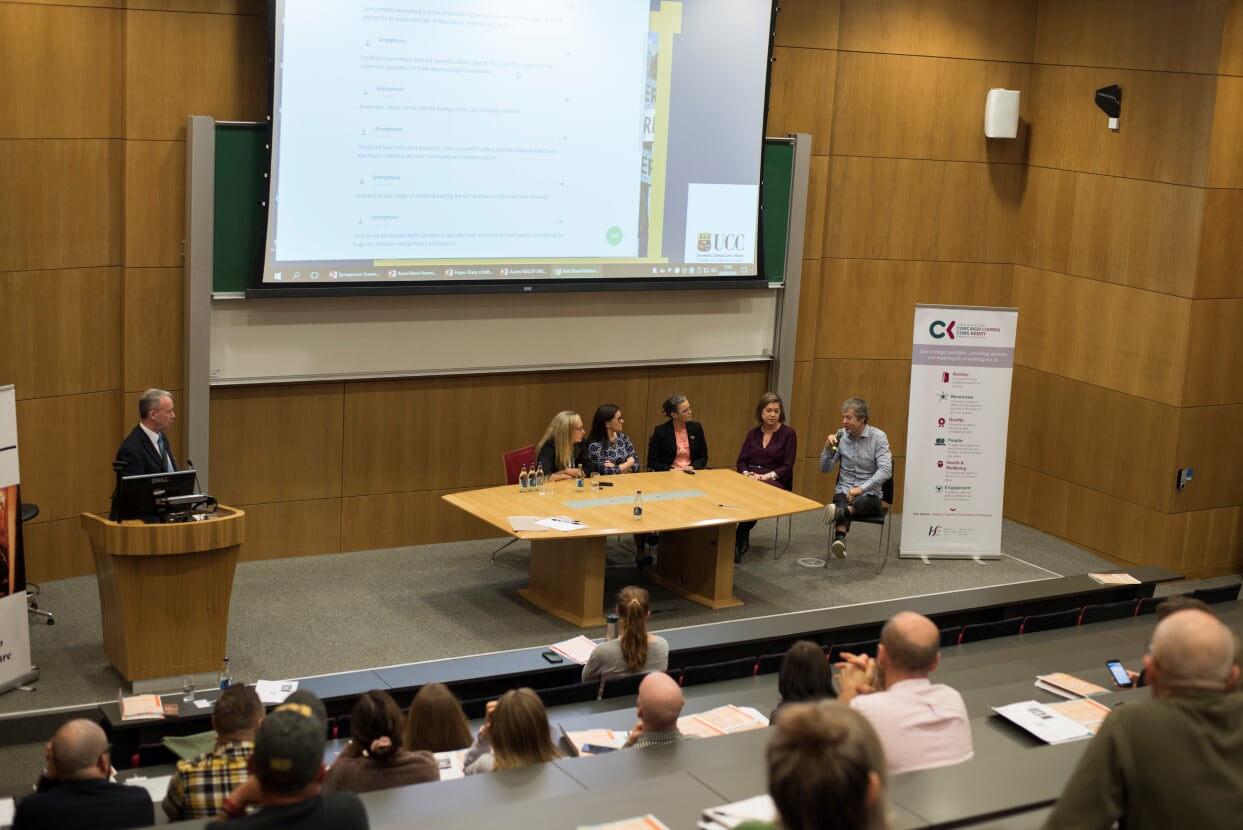 The fifth Irish Street Medicine Symposium took place on the 27th and 28th of September in the Metropole Hotel and Western Gateway Building in UCC.
With over 200 delegates, 55 presentations and 12 workshops spread across 2 days it was an interactive and thought provoking event, bringing together a growing community of health and social care workers, academics, policy makers and service users looking at ways to improve health outcomes for the most vulnerable in society. This includes those who are homeless, people who use drugs, prisoners and migrants. The homeless crisis continues to surpass predictions with recent numbers showing in excess of 10,000 people registered as homeless and accessing emergency accommodation.
Dr Fiona O'Reilly, Safetynet Primary Care, explains the sentiment behind the conference: "We believe there is power in sharing ideas and experience of what works and indeed what doesn't to improve health and access to care. This event enables networking, innovation and improved service."
This year was the conference was hosted by The Adult Homeless Integrated Team of Cork-Kerry Community Healthcare and Safetynet Primary Care with support from the Office of HSE Social Inclusion, the Department of General Practice at University College Cork and Cork City Council.
Chris O'Donnell, who experienced the trauma of homelessness for six months, spoke eloquently about her own despair and loneliness in her presentation. National Perspectives were presented by Pat Healy, National Director of Primary Care, Joe Doyle, National Social Inclusion Lead and Bob Jordan on the Housing First Initiative. The first ever hospital consultant in inclusion health medicine - Dr Cliona Ni Cheallaigh from St James's in Dublin presented the hospital experience for homeless people and evidence that what is good for the patient is good for the hospital.
Other topics covered included the developments in Nalaxone training and provision, Dublin's first intermediate care centre for homeless people, the Mobile Health Screening Unit and the new HSE Inclusion Health Hub. Updates on projects such as direct-acting antiviral hepatitis C treatments to the community in Limerick, and the St James's Hospital pathway for epilepsy care in homeless people were well received.
Opening Saturday, Prof John O Halloran Deputy President and registrar of UCC discussed the joy of learning and set the tone for a discussion on the benefits of academic community partnerships
Complex needs, barriers and solutions highlighted benzodiazepine detoxification in community and specialist services, the effects of vicarious trauma on staff, and the work of specialist youth homeless project workers in Limerick. Pragmatic Research looked at how we do research and code homelessness in data collection. Palliative care, services for women and practical cardiovascular initiatives showed that high quality comparable care can be delivered in difficult circumstances.
Quickfire sessions covered issues from ECGs in methadone prescribing, wound care, podiatry, Hep C eradication and trauma exposure to acupuncture and children living in homelessness.
Workshops ranged from the pragmatic, looking at issues with appointment-based healthcare services, nalaxone and hospital community homeless liaison services, to the clinical on contraception and antenatal care, epilepsy, dental, DVT, psychological issues in refugees, to the more creative with the highly interactive " Theatre of the Oppressed". The concepts of addiction recovery, trauma informed care and human rights-based approaches were also explored.
Prof Colin Bradley of the Department of General Practice, UCC was delighted to support this event again, as it resonates closely with learning about the complex relationships between social deprivation and health that are explored in General Practice Teaching and Research.
Over the two days, attendees worked together to combat service fragmentation, share information and innovations that break traditional ways of working, and created effective health care solutions for the most challenging cases and situations. The symposium was an excellent networking opportunity which inspired collaboration and information-sharing between delegates. Attendees were encouraged to move away from the insular ways of working, and devise solutions together to improve health outcomes for the most disadvantaged in society.
Key themes of the event also highlighted the issue of high prevalence of mental illness among the homeless population, and the relatively new understanding of the role trauma has to play in addiction and exclusion. The issue of migration and vulnerability sees the 'global homeless' in the form of asylum seeker and other migrant groups appear in increasing numbers in emergency accommodation requiring agencies expand their remit to include this emerging vulnerable group.
Developing this street medicine community and fostering wider links with mainstream services to improve outcomes is the prevailing ambition of the symposium and the organising committee, led by Dr Fiona O Reilly, is already planning next year's event.
For more information see: