News
News
A New Dawn for Health Care in the South and South West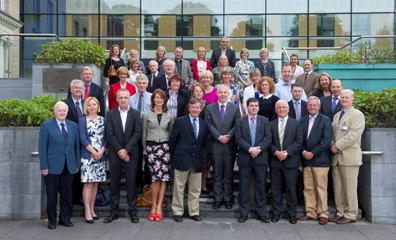 On 1st July 2013, at the invitation of Dr. Michael Murphy, President UCC, Health Managers and Senior Clinicians from hospitals in the new South/South West group gathered at the College of Medicine and Health UCC, for the inaugural meeting on establishing an Academic Healthcare Centre (AHC) model for the new South/South West Hospital Group.
An update on progress around the country was presented by Prof. John Higgins, Head of College, Medicine and Health. Dr. Colman Casey, Director Research and Industrial Liaison, College of Medicine and Health, UCC and Prof. Joseph Eustace, Director of the HRB Clinical Research Facility (CRF) also made presentations to the group on the Health Innovation Hub and the CRF.
Discussions focused on the importance of growing the linkages between the Hospitals and the University and developing a collective ambition to deliver an AHC model in the South/South West hospital group.
Dr. Michael Murphy commented: 'An Academic Healthcare Centre is a mutually beneficial partnership between a University and a Healthcare provider. Over time it will change how our hospitals relate to each other and integrate within the academic sector.'
An AHC will form a single entity to provide a fully integrated structure for delivery of patient care, teaching, research and innovation. In particular an AHC model would:
lead to improved safety and quality of care for patients

become an international brand for excellence in research, innovation and clinical care

facilitate the treatment of a higher volume of patients, thus improving the quality of outcomes

allow for greater co-ordination in clinical service planning for both acute and community care services

better organize the clinical teaching of students in our hospitals

create a world-class platform for education, thus attracting and preparing the brightest students
Attendees were taken on a tour of the state-of-the-art teaching and learning facilities, including simulation suites, in Brookfield, the Western Gateway Building and the Cavanagh School of Pharmacy building. Following the visit Prof. John Higgins commented: 'The energy and commitment of our colleagues in the South/South West group was extremely uplifting. I am optimistic we will successfully establish an AHC that will deliver the highest quality of care for our patients.'‌‌