News Archive
News Archive
Chemistry Postgraduate Graduation - Summer 2016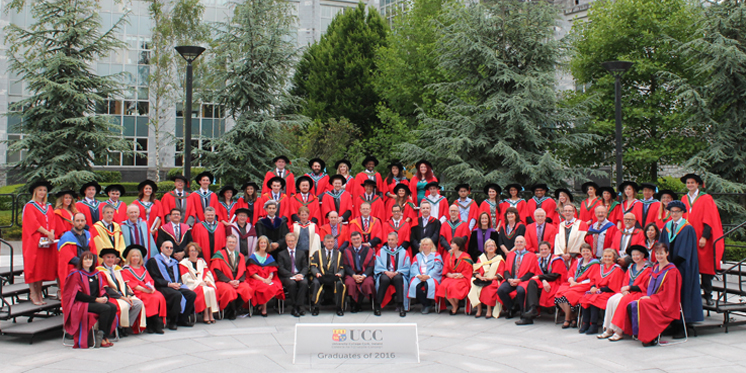 This morning saw 13 Chemistry students graduate with Ph.D. degrees.
The students involved carried out their research in the Chemistry Department, Tyndall Institute and the School of Pharmacy. Details of all students, their supervisor names and thesis titles are listed below. Well done to all.
Name
Supervisor(s)
PhD Thesis Title
Dr. Jovanna Arndt

Prof. John Wenger
Characterisation of atmospheric single particles in industrial and regional background environments using aerosol time of flight mass spectrometry.
Dr. Denis Beecher

Prof. Anita Maguire &
Dr. Dan McCarthy
Chemoenzymatic routes to enantiopure hydroxytetrahydrofurans: muscarine and its analogues.
Dr. Atul Chaudhari

Prof. Michael Morris
Fabrication of sub-10nm lamellar structures by solvent vapour annealing of block copolymers.
Dr. Michele Conroy

Prof. Justin Holmes
Prof. Peter Parbrook
Less strain, more gain: Nano-patterning III-N thin films.
Dr. Anushka Gangnaik

Prof. Justin Holmes
Electron beam lithography assisted high-resolutionpattern generation.
Dr. Colm Glynn

Prof. Colm O'Dwyer
Development and characterisation of solution processed vanadium oxide and transparent metal oxide thin films.
Dr. Patricia Hanlon

Dr. Stuart Collins
The application of aryne chemistry and use of alpha-diazo carbonyl derivatives in indazole synthesis with biological evaluation.
Dr. Roisin Kelly

Prof. Justin Holmes
Modifying germanium nanowires for future devices: an in situ TEM study.
Dr. Micki Mithchell-Waseh

Dr. Alan O'Riordan
Development and optimisation of photonic crystal based nanosensors.
Dr. Elaine O'Sullivan

Dr. Florence McCarthy
Synthesis and evaluation of novel ellipticines as potential anti-cancer agents.
Dr. Michael Reen

Dr. Tim O'Sullivan
The development of novel chiral tethers for controlling intramolecular aryl-aryl coupling and their application in the synthesis of gomisin M1 and analogues.
Dr. Fiona Spellissy

Dr. Dara Fitzpatrick
The investigation of heavy metals and particulates absorbed on particle filters exposed to vehicle emissions at road level.
Dr. Hannah Winfield

Dr. Florence McCarthy
Synthesis and evaluation of novel functionalised indoles as anticancer agents.
Click Here to view photos from the graduation event.