News
News
UCC Executive MBA Class of 2015-16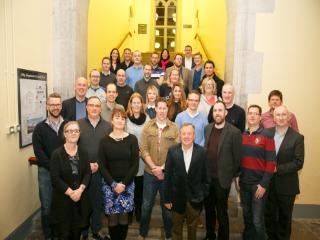 Congratulations to our class of 2015-16 who finished their studies in December.
Next stop, the graduation ceremony on 23rd February!
The 2015/16 UCC Executive MBA class of 28 students finished their course of study in December, following a busy and very rewarding four semesters over two years, where they combined their busy managerial roles with executive-level, graduate management educational discovery.
Many of the students have committed to continuing their engagement with the programme through working with the MBA Charitable Trust, an organisation made up of UCC Executive MBA alumni that work with local charity organisations on a pro-bono basis, offering advice and guidance on management and strategy issues.