News
News
UCC Executive MBA Celebrates 35 Years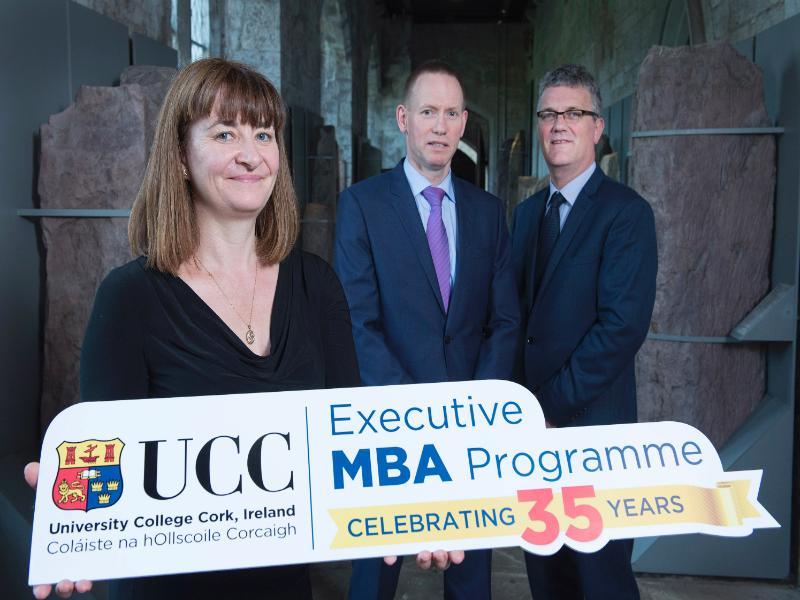 On the 12th May the UCC Executive MBA celebrated 35 years of leadership education in UCC, with a gathering of current students, graduates and members of the teaching team, past and present.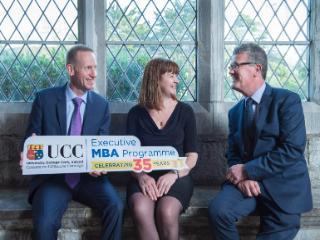 The UCC Executive MBA had its first intake of students in 1981 under the academic directorship of Leonard Wrigley, Professor of Management, who introduced case study learning to UCC's management education offering.
To date nearly 500 people have been students on the programme. They have come from a wide range of backgrounds – business, science, ICT, finance, public administration, sports science, policing, health services, engineering, and the pharmaceutical sectors.
They have worked in a wide range of organisations – multinationals, indigenous, family businesses, start-ups, private sector and public sector.
Students have come to the UCC Executive MBA from all over the island – Cork, Kerry, Limerick, Waterford, Sligo, Longford and Dublin.
They have gone on to populate the ranks of Ireland's business leaders.
The UCC Executive MBA is now one of Ireland's leading management education degree programmes, in terms of student numbers and graduate numbers, and in terms of its innovative curriculum offering and the talents of its teaching team.
Its continued success is a credit to its academic leadership since 1981, the valued contribution of the members of its teaching team and the calibre of its students and graduates.
The programme is currently recruiting for the January 2017 cycle and looks forward to the next 35 years as it fulfils its mission of providing Leadership Education for a Knowledge Economy.
Notable graduate attendees on the night were Jim Clarken, CEO of Oxfam Ireland, Gary O' Donnchadha, Assistant Secretary at the Department of Education & Skills, Conor Healy, CEO Cork Chamber, Dr. Fergal Barry, President, Galway-Mayo Institute of Technology.
The speakers on the night were Prof. John O' Halloran, Vice-President for Teaching & Learning, Dr. Joan Buckley, UCC Executive MBA Academic Director, Mr. Pat Roche, Corporate VP, Moog Inc., and Emeritus Prof. Sebastian Green.