News
News
UCC Executive MBA Bologna Study Visit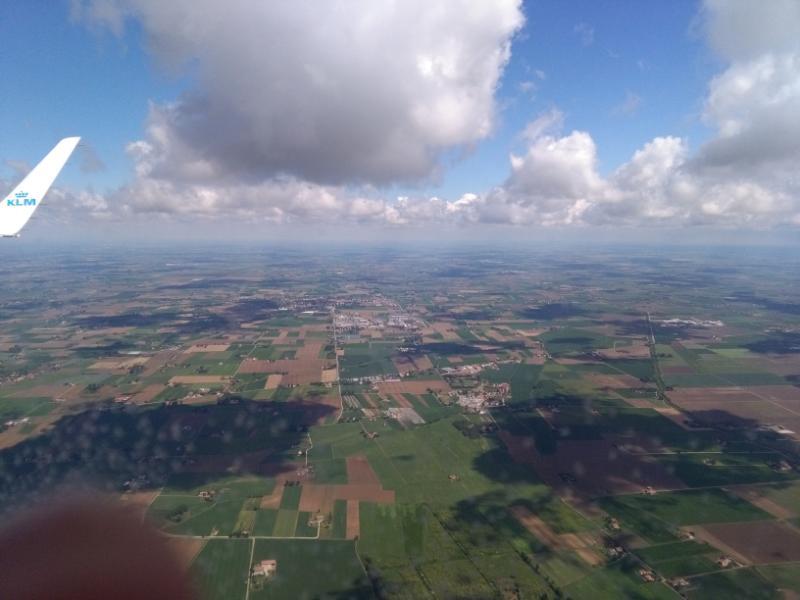 The UCC Executive MBA class recently returned from a very successful Study Visit to Bologna.
‌
UCC Executive MBA Study Visit to Bologna 25th-28th April 2016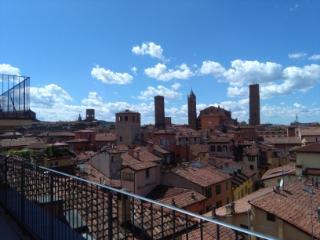 The UCC Executive MBA class recently undertook a study visit to Bologna, in the Emilia Romagna region of Italy.
The region is well known for its automotive and motorcycle industries, food production and ceramics production. It is a leading region in Europe in terms of entrepreneurship, innovation and economic dynamism. Regional GDP per capita is well above the EU average. In Emilia-Romagna the business sector is largely based on SMEs. There are over 420,000 active enterprises in the region.
The purpose of the visit was to examine the role that economic clusters play in the continued success of the region as an industrial powerhouse and how institutional public-private sector cooperation has created a favourable climate for business.
In particular the class utilised Michael Porter's concept of the Diamond of National Advantage in order to frame their explorations.
The students explored the area's world-renowned automotive companies, by visiting the production lines at Lamborghini and Ducati, two high-marque brands that are at the heart of the automotive cluster in the "Motor Valley". The cluster produces one third of exports from the region, to a total value of 15.6 billion Euros, and is very oriented towards the international markets, Europe in particular.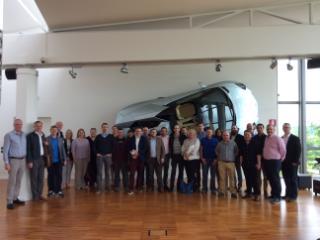 Pic: Class at Lamborghini
They learnt more about the Ceramic industry cluster based in the city of Sassuolo, by visiting industry leader Fincibec/Monocibec.
Ceramics from the region are exported all over the world, with an annual production of over 600 million square metres, equal to approximately 13% of world production and 43.3% of that of the European Union. Almost 65,000 people are employed within the ceramics cluster in the area.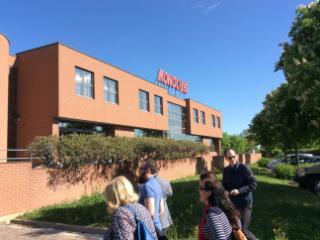 Pic: Monocibec
They visited COESIA, where they found out more about importance of the packaging machinery manufacturing cluster.
The packaging industry is an important production specialization in the regional mechanical engineering cluster and numbers 563 local businesses with a total of 13,780 people employed.‌
One of the highlights of the visit was a visit to the MAST Foundation, a cultural and enterprise centre, where concepts underpinning Corporate Social Responsibility were discussed.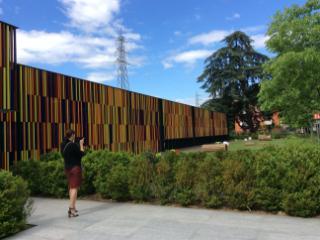 Pic: MAST Foundation
To round off our journey the class visited the Universitá Di Bologna to learn more about the challenges to, and responses of, the broader Italian economy, as well as meeting with representatives of FAV (Fondazione Aldini Valeriani) an industry organisation tasked with integrating technical knowledge with managerial culture.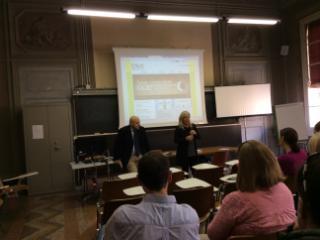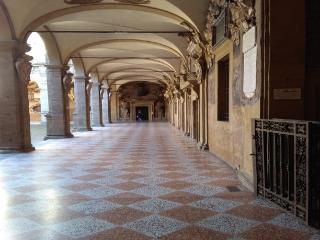 Pics: University of Bologna