News
News
MBA Charitable Trust Ball - 24th February 2017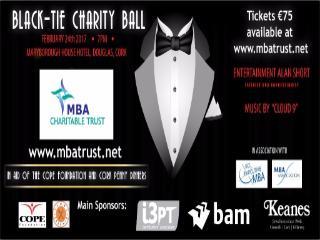 The 3rd MBA Charitable Trust Ball will be held on the 24th February 2017.
The biennial MBA Charitable Trust Charity Ball is coming up again this February 24th.

We are looking forward to another great event.

The ball is a great opportunity to catch up with classmates or organise a reunion.
This year's supported charities are Cork Penny Dinners and The Cope Foundation.
Tickets can be purchased at www.mbatrust.net

Date: Friday February 24th

Venue: The Maryborough Hotel & Spa, Douglas, Co. Cork

Time: 7pm

Tickets: €75
The MBA Charitable Trust was set up in 2012 by the Executive MBA class of UCC.
The idea was formed when a number of the teams in the class were asked to work with charitable organisations and found that as business people they could re-direct the same creativity typically used to generate profits towards social good.
​
The initiative is largely run by MBA graduates and students but welcomes assistance and support from anyone who feels they can contribute to our chosen charities.
​
Our Vision
A society where individuals in business are inspired to make a positive contribution.
​
Our Mission
The MBA Trust is an initiative dedicated to helping the under-served in society by stimulating people's creative capacity to lead meaningful lives.