A pitch-perfect move
She has 12 All-Ireland GAA move titles to her name and is the CEO of the Federation of Irish Sport. Jane Haynes discovers why Cork woman Mary O'Connor is using her insight and passion spearhead to the 20x20 campaign, to create a cultural shift in the presentation and perception of women's sport in Ireland.
There was a time when Mary O'Connor was desperate to fit in with the boys. So much so, that on one occasion – unbeknownst to her mother – she wandered into a hairdressing salon and asked for a boyish crop.
Already a member of the camogie team in her native village of Killeagh, this sports-mad little girl decided to join up with the local hurlers to get more game-time, and she hoped that by looking more like 'one of the lads' she might quell the jibes inspired by the removal of her helmet.
Through dedication, devotion to her county, and a passion for sport, she went on to represent Cork at the highest levels, retiring in 2011 with 12 All-Ireland titles and a career that any athlete would envy.
But this outstanding athlete had only begun to make her mark in that world: having participated for years in a sphere that viewed women's sport as secondary to men's, she is now spearheading a national movement called the 20x20 campaign, to bring equality between female and male athletes; to make this the norm in Ireland.
Mary has walked the talk, so to speak. Between playing inter-county camogie and football, and spending a decade in games development with The Camogie Association, she has been both affected and frustrated by the gender politics of sport in Ireland.
Having stepped into the role of CEO of the Federation of Irish Sport, she threw her full support behind the 20x20 campaign – the brainchild of marketing agency Along Came A Spider – which seeks to create a cultural shift in the presentation and perception of women's sport in Ireland.
With the backing of media organisations and key sporting bodies and figures, the goal behind 20x20 has been to increase media coverage of women's sports, attendance at women's games, and female participation at all levels of sport by 20% each, by 2020.
"Women – definitely in Gaelic games – tend to be very humble and put things down to luck. We'd never talk ourselves up," says Mary.
"I should have spoken up more in interviews about the value of women's sport, but I didn't. Looking back on it now, I think it was because I was solely focused on enjoying what I was doing and being the best that I could be.
"But now that I'm retired, I want the next generation of women to feel that they're being well-rewarded for giving their all – in terms of how they're looked after, how they're supported, how they're recognised. I think that's what female athletes want; to be recognised, to be rewarded with good facilities – the basics they need to succeed, or even just the basics of being given the platform to be treated equally."
The mantra of the 20x20 campaign is: If She Can't See It, She Can't Be It. And a year into the campaign, proof of its impact is there for all to witness. Some 71 National Governing Bodies and Local Sports Partnerships have signed up to the 20x20 campaign. Separately, Sport Ireland has now secured additional funding for women's sport, meaning that 40 national governing bodies of sport will be able to invest extra money, solely towards the development of women's sport.
The "ferocious" hard work of the NGB's, LSP's, the sponsors and media partners of the 20x20 campaign has also helped hugely with changing outdated attitudes, along with the support of the public who are engaging so powerfully with the content, points out Mary.
"We're in the very initial stages of this movement – of women's sport finally getting a tangible piece of recognition via mainstream media, among their male peers," she explains.
"It's about having that constant stream of news; people talking about women's sports. And from the Federation's point of view, we can really see the change in people's attitudes. The public have been voicing their support of the campaign via social media and by going to matches, by talking about games, and by criticising as well – that's important."
Mary recalls the overwhelming reaction to the sight of 35 young girls marching onto the pitch at Croke Park for the Dublin v Mayo All-Ireland semi-final, holding aloft a flag that bore the distinctive black-and-red symbol of the 20x20 campaign. It was an incredible moment for everyone watching at home and inside the stadium – not least for Mary.
"It goes back to the mantra of the campaign: If She Can't See It, She Can't Be It. It's also about saying: the more we see women on mainstream TV as athletes, as people who are physically and technically talented at what they do, the more it will be taken seriously – and the more attitudes will change, and the more conversations will be had," she adds.
Mary's inherent sense of pride underpins her dedication to the campaign, her own work, her family, where she's from – and of course, her county. She admits to feeling "energised" simply by casting her mind back to pre-game in the Cork dressing room.
"I want the next generation of women to feel that they're being well rewarded for giving their all – in terms of how they're looked after, how they're supported, how they're recognised" – Mary O'Connor
"We used to have a saying: 'we are Cork'," she recalls, "and that wasn't out of arrogance; it was about the pride of representing."
Indeed, anyone who has met Mary or even just heard her speak will know that arrogance is the last trait you could associate with her. In fact, this 12-time All-Ireland champion is almost achingly modest. Take, for example, the story of her reaction to being invited to receive an honorary doctorate from UCC in 2012. Mary recalls being on her way out to camogie championship training when she opened the letter: "I thought it was someone having a joke off me!" she laughs.
"I put the envelope into my office in my house, closed the door, went training and didn't think any more of it. I think it was August when someone from UCC rang me up and asked if I was going to accept. I couldn't believe it!"
The following September, she was presented with the degree of Doctor of Arts, alongside fellow sporting legends Brian Cody and Denis Irwin. It's a day that Mary won't forget – not that staff at Croke Park, where her conferring cap is on display, would let her; some now refer to her as "Doc".
It wouldn't be her last day walking through the hallowed Quad, though. During her time working with the camogie association, she discovered a passion for volunteerism, and, having retired from professional sport, she decided that she was ready for the next challenge. She enrolled in the MA in Voluntary and Community Sector Management at UCC in 2014, graduating two years later.
"It has benefitted me so much," says Mary, "and not just by having the academic qualification. It made me realise that once you apply yourself to something, you can do it, regardless of your own perceived ability."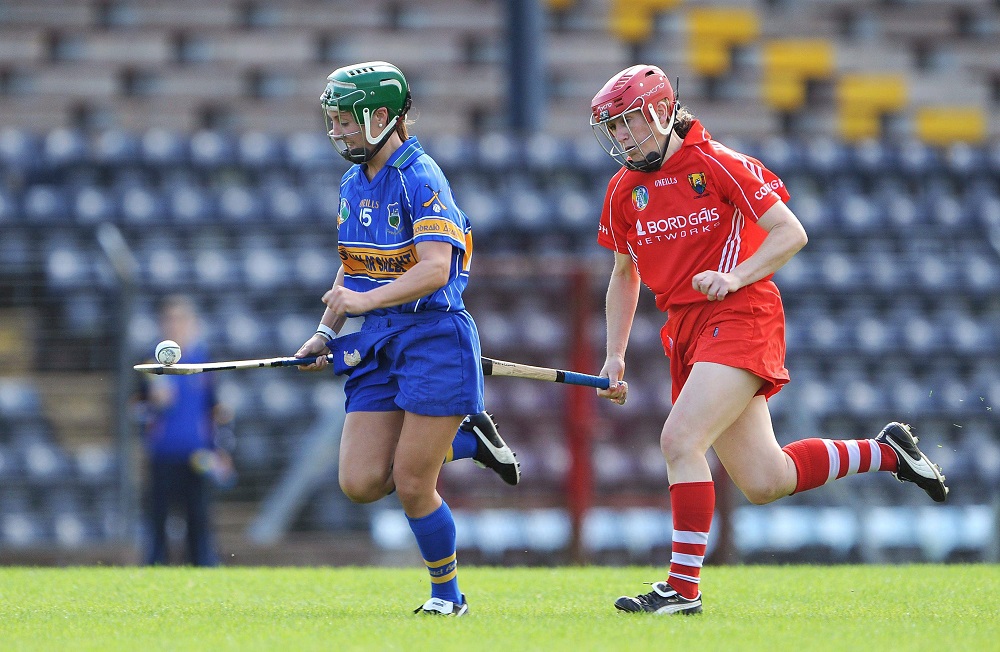 Her passion for volunteerism continues to burn bright. Just this past summer, she achieved a goal she set for herself when she initially took up her role at the Federation of Irish Sport two years ago, by successfully establishing the 32-county Volunteer in Sports Awards.
While as CEO of the Federation of Irish Sport she is central to the discourse around the 20x20 campaign right now, the remit of the organisation's role in the world of Irish sport, and the social issues embedded within, is vast. Following the launch of the National Sports Policy last year – the first ever in the country – the federation is focused on using its influence to drive change in other areas.
As well as ensuring that funds are utilised to hit the policy targets regarding diversity, ethnic minorities and gender, the federation hopes to progress a proposal to see 4.2% of the sugar-sweetened tax invested in sport – and getting people more active – while another proposal is aimed at using a portion of the betting tax levy increase to fund an education programme around the danger of gambling.
Ensuring that sport is continually funded and that actions are being delivered upon is particularly important in today's climate, says Mary: "The one thing I've noticed in the last while is that sport naturally develops emotional and physical well-being as well as adding societal value. But sport is now being tasked with some of society's issues and challenges; and while the sporting world will embrace that, it must also be supported, in order to embrace it."
With 20x20, the melding of Mary's experiences as a decorated Cork player and as CEO of one of Ireland's highest sporting bodies gives her not only a unique insight into her work, but an opportunity to 'raise issues' where previously she may not have felt so empowered.
"I'm doing my best to ensure that women feel that they can speak out and that they will be supported; that it's OK to question things. And if they do question things, that they feel that questioning is valid and that they can be supported in that," explains Mary.
"I don't think people should be afraid to have conversations. And they will get rebuked and told that women aren't as good as men, but that's not the argument we want to have; the argument we want to have is around what are the support mechanisms for women and girls in sport in Ireland and how can we help women of all ages and abilities get value from being involved in sport and physical activity.
"It has evolved greatly since I was playing. It's getting better. We have a long way to go – I know that – but this campaign has really struck a chord with people."
Follow this link to find out more about sport at UCC.
Related articles
In this issue
By topics