Urban Space and the Body
Urban Space and the Body
Urban Space and the Body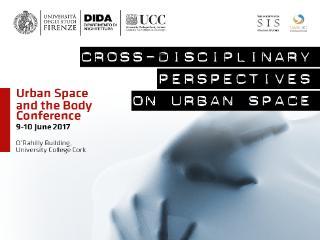 URBAN SPACE AND THE BODY
An International Conference of the "Cross-Disciplinary Urban Space" Network
9-10 June 2017
University College Cork
Organizers: Silvia Ross (UCC) and Giulio Giovannoni (Università degli Studi di Firenze)
KEYNOTE SPEAKERS:
GILLIAN ROSE, Professor of Cultural Geography, The Open University
SERENELLA IOVINO, Professor of Comparative Literature, University of Turin
Cities consist of much more than the built environment and the physical space they occupy: they are experienced by and through the body. As humans, we inhabit, traverse and construct our urban space, shaping the city, as it, in turn, shapes us. This interdisciplinary, international conference seeks to explore the many ways in which the city is perceived by the body and how urban space influences the corporeality of those who pass through or abide within it. As part of the 'Cross-disciplinary Approaches to Urban Space' network, this two-day conference investigates the ways in which different disciplines engage with the body and urban issues, in areas ranging from architecture, urban planning, literature, film studies, geography, history, linguistics, philosophy, art history, sociology, drama and theatre studies, anthropology, among others.
REGISTRATION
All participants and attendees must pay the fee which covers the two days and is used to defray catering and administrative costs. Registration is online only as we will not be in a position to accept cash on the days of the conference itself.
Please register using the link below at your earliest convenience and no later than Friday, 2 June 2017.
http://www.uccconferencing.ie/product/urban-space-and-the-body/
DOWNLOADS, LINKS (INCLUDING PROGRAMME)
Urban Space and the Body Programme PDF
CONFERENCE DINNER
The conference dinner will be held at Jacob's on the Mall on Saturday, 10 June at 8.30 p.m. This is one of Cork's best restaurant venues and the food is largely local and of excellent quality.
See http://www.jacobsonthemall.com/
Cost is €35 (which covers 10% service charge and administrative costs) and those who wish to attend must pay in advance via the registration web site above. Sample menus are available online but may change on the day. Participants can select either the Meat/Fish menu, the Vegetarian menu, or the Vegan menu (but can't mix in between them). Individuals will be responsible for any additional orders (e.g. drinks) plus the 10% service charge on extra orders on the night.
ACCOMMODATION AND TRAVEL
Accommodation:
We do not have accommodation associated with the conference so we urge you to make your own arrangements as soon as possible. Some accommodation information is available here: http://www.ucc.ie/en/visitors/stay/local/
The B&Bs listed on this site are all in close proximity to UCC.
Travel:
Information on travel to Cork and directions to UCC can be found here:
https://www.ucc.ie/en/visitors/getting-here/
CONTACTS:
For further information, see http://www.ucc.ie/en/italian/conferences/urbanspaceandthebody/ or please contact: conference@crossdisciplinaryurbanspace.com or s.ross@ucc.ie

WEBSITE and SOCIAL MEDIA
Please also see our website and join our facebook page dedicated to the 'Cross-disciplinary urban space' research group:
http://crossdisciplinaryurbanspace.com/
https://www.facebook.com/crossdisciplinaryurbanspace/
We also encourage delegates to join the conversation following our Twitter account @urbanspacenet and using the hashtag ‪#urbanbodynet in tweets about the conference.
In addition, if any of the participants wish to assist our social media team during the conference, please PM @pfdorado in advance (familiarity with the use of tweetdeck needed).
SPONSORS:
Sponsored by: Department of Italian, University College Cork; Dipartimento di Architettura, Università degli Studi di Firenze; CASiLAC [Centre for Advanced Studies in Languages and Cultures, UCC]; Society for Italian Studies