News
News
Connections: Exploring Acquired Brain Injury through the Medium of Dance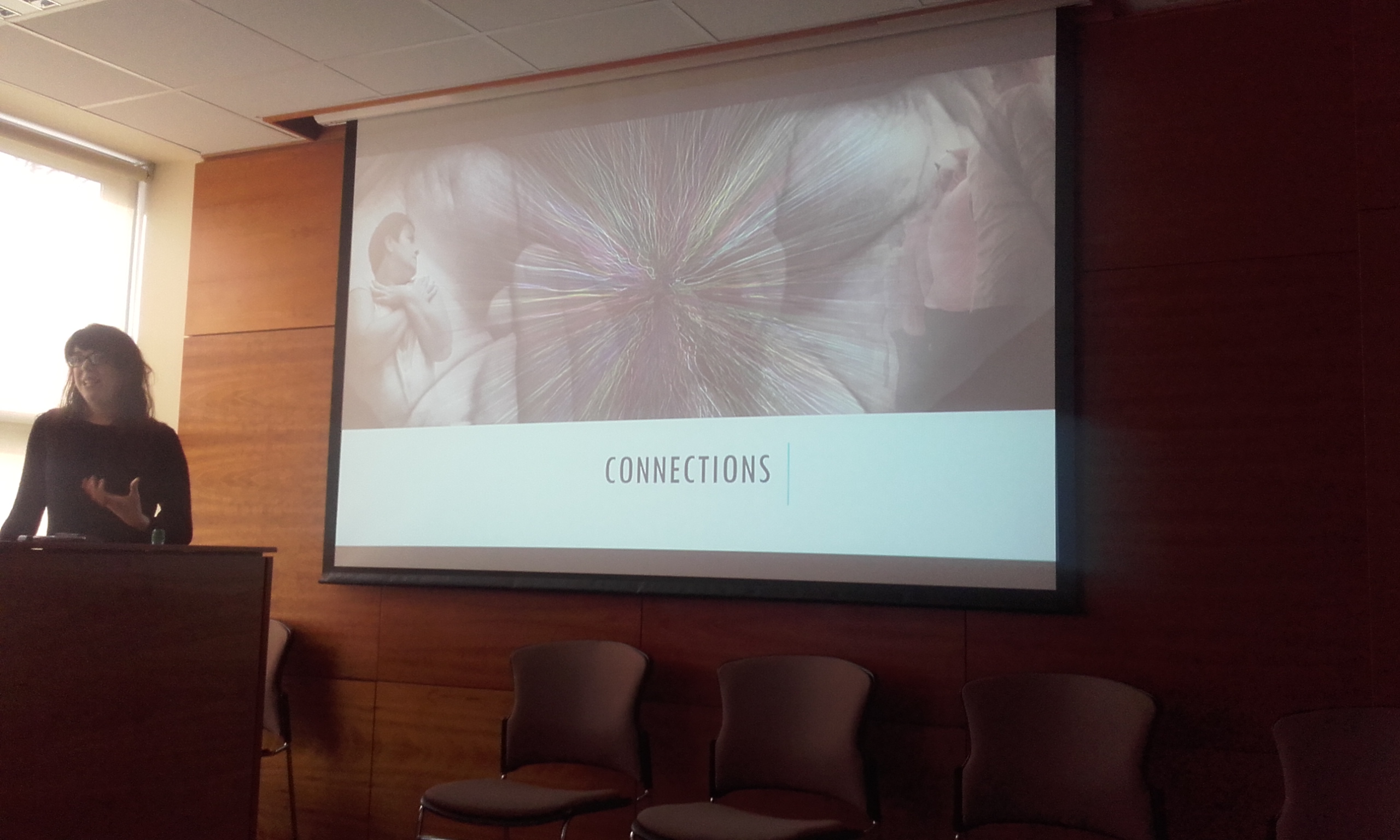 The ISS21 Disability and Mental Health Research Cluster held a seminar, supported by ISS21 and the CACSSS Research Fund, on the theme of dance and acquired brain injury on 25th February 2016. The key contributors were Inma Pavon (UCC), Paula Larkin (Headway) and contributing dancers on the Connections project.
Connections is a contemporary dance collaboration between choreographer Inma Pavon, interactive artist Trevor Furlong, and a group of women with acquired brain injury from the Headway rehabilitation service in Cork. Born from a desire to explore the changes in perception, senses and communication that occur when there is damage to the neural pathways and connections in the brain, this collaboration is a visual and auditory exploration of the personal and collective journeys the dancers have been following since acquiring a brain injury. Today's presentation will focus on giving an overview of Inma's work with the women participants and Paula Larkin's inspiration behind the project. Through the work through movements, each dancer was given the freedom to communicate with their body so much more than words alone could ever allow. Building on the final note of 'Hope', the dancers come together as a group, symbolising the connection that binds them together and gives them the strength and positivity to look beyond the trauma of brain injury and into a hopeful present and future.
Inma Pavon is a dance and movement lecturer in Drama and Theatre Studies, UCC. Born in Spain, she trained in Ballet and Contemporary Dance, earning a BA in Physical Education. She pursued her passion for Contemporary Dance in Ireland, and in 2003 received a first class honours in the MA in Contemporary Dance Performance from the University of Limerick. She was then selected for the ICNWP'07 (Irish Choreographers New Work Platform 2007) under the mentorship of Wendy Houstoun, a former dancer with DV8 Physical Theatre Company, UK. In 2007/08, she joined the Daghdha Dance Company Mentoring Programme and received a bursary award by Dance Ireland/the Arts Council with which she was able to develop her choreographic work under the mentorship of artist Amanda Coogan. In her work she blends her interest in performance, choreography, collaboration, and teaching. Her recent collaborations include: HEADWAY (working with people with brain injuries), Performance Artist Amanda Coogan in the RHA Dublin, Patricia Klich (PhD, UCC) in The Guest House, Solo dance 'Soliloquy' with cellist Eimear Reidy in the Firkin Crane and The West Cork Arts Centre and Contemporary dance teacher with Cork Youth Ballet Company under the direction of Sinead Murphy, Cork School of Dance. Inma is also a PhD candidate in UCC, completing a practice-based enquiry into the use of Chance procedure as a creative tool in the making of new dance theatre choreography. Inma also teaches on the Certificate in Contemporary living in UCC where she uses dance and body language as a medium of expression.
Paula Larkin is a rehabilitation training officer at Headway Cork. She is an acquired brain injury and disability specialist. She also has a background in community arts, social advocacy, and is a writer, editor, project manager, and political scientist specialising in development education, peace studies and women's history. She is the co-ordinator of ' Connections', a contemporary dance project choreographed by Inma Pavon, with audio-visuals by interactive artist Trevor Furlong, performed by dancers with acquired brain injury. This project was supported by the Firkin Crane Dance Theatre and funded by the Arts Council of Ireland and Cork County Arts Office.