News
News
Women entrepreneurs take top awards at UCC's SPRINT Awards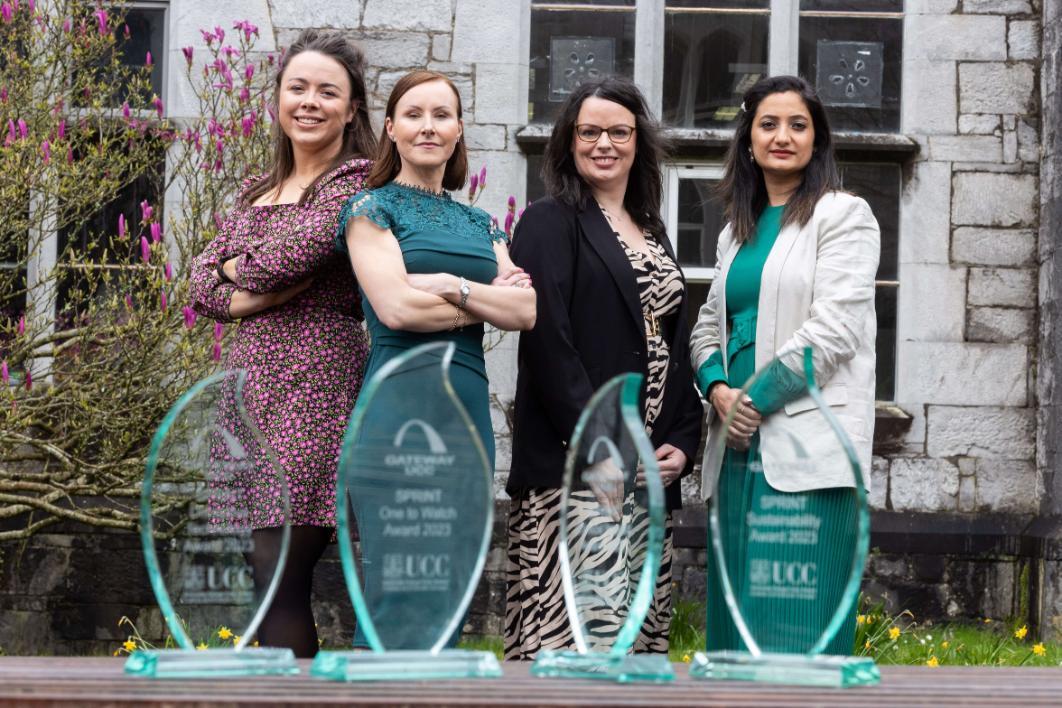 Women researchers won all accolades at the 2023 GatewayUCC's SPRINT Awards.
The awards celebrate the commercialisation of research to address key health, social and environmental issues.
GatewayUCC supports researcher-led start-up and spin-out companies.
A new technology to enhance performance in electric vehicles, a new approach to green food packaging and a supplement to improve maternal health are among the award-winning projects at the SPRINT Awards 2023. Women researchers were awarded the top accolades in all categories at the annual awards.
The awards celebrate innovative technologies led by early-stage start-up companies on the SPRINT accelerator programme. In 2022 – 2023, 50% of participants are women founders which represents the largest cohort of women founders in the programme to date.
Since the inception of GatewayUCC in 2011, supported companies have raised in excess of €50 million of public and private investment and supported over 75 start-up and pre-start-up companies based on IP from the university. These IP based companies have contributed more than €25 million a year in salaries to the local economy.
Addressing the awards ceremony, Head of GatewayUCC and Director of SPRINT Accelerator Programme, Myriam Cronin said: "Once again we gather to celebrate the achievements of our researchers from across the University who have begun their start up journey here on the SPRINT Accelerator programme, bringing the total number of participants to 80."
"Statistically, 80% of these participants continue on the pathway to attract funding from Enterprise Ireland and investors, bringing their new ventures to market. We are delighted to have the largest intake of women founders in the programme's history this year."
Vice President for Research & Innovation at UCC, Professor John Cryan said: "Congratulations to the SPRINT award winners for 2023, and the fantastic contribution to the programme made by female researchers and entrepreneurs this year. Today we see a sample of innovative research at UCC, resulting in potentially game changing impacts that aligns with the strategic plan of the University. SPRINT accelerates the movement of research out of the laboratories and into commercial application. Our ambition in the University is to create an Innovation Culture and Entrepreneurial Campus, underpinned by an ethos of creativity and discovery."
Keynote speaker Shemas Eivers, angel investor and serial founder, added: "I believe passionately in the idea of Angel investing as a means of securing emerging talent in Ireland. It is vital to support these companies at an early stage to help them grow. I really enjoy engaging with researchers on the SPRINT programme, continuing my learning experience. I would recommend it to anyone as a fantastic adjunct to your career."
The winners of the 2023 GatewayUCC Sprint Awards are:
SPRINT Clinical Impact Award 2023 – Dr Siobhain O' Mahony, APC Microbiome Ireland
SPRINT Disruptive Technology Award 2023 – Dr Brenda Long, UCC School of Chemistry, Environmental Research Institute & Tyndall National Institute
Dr Siobhain O' Mahony's project FemmeBiome will support a mothers' well-being during pregnancy and postpartum to reduce the burden of stress on body and mind and improve overall health for mother and baby. FemmeBiome's oral supplement will harness the signalling pathways of the microbiome-gut-brain axis, which Dr O' Mahony has identified as playing a key role in maintaining well-being and physical health.
To counteract the issues of fuel costs, fuel security and the damage that fossil fuels create in the environment, it is imperative to leave oil and coal in the ground and transition to clean and renewable energy sources. An alternative option is to use fuel cells, powered by hydrogen. Dr Brenda Long has developed a new catalytic technology which will enable a 32% improvement in performance in electric vehicles. This new technology has the potential to change the fuel cell landscape offering a cheaper, cleaner alternative to battery Electric Vehicles.
SPRINT Sustainability Award 2023 – Dr Shivani Pathania, Teagasc
SPRINT One to Watch Award 2023 – Dr Julie O' Sullivan, APC Microbiome Ireland
More than 90% of the food businesses in Ireland face multiple challenges such as food waste reduction, operational efficiency, and production automation. Additionally, 68% of SMEs are working towards reducing packaging use. Dr Shivani Pathania's technology offers a solution that addresses these issues and supports the United Nations Sustainability Development Goal 12 - ensure sustainable consumption and production patterns. The clean green packaging technology introduces a modified atmosphere into the plastic pots, preserving and extending the shelf life of the food products, without the use of plastic film/sleeve.
1 in 5 children and 1 in 10 adults in Ireland will get Atopic dermatitis (AD). AD is the most common chronic inflammatory skin disease, with a lifetime prevalence up to 20% and substantial effects on quality of life. Led by Dr Julie O'Sullivan, SkinCoat's technology treats AD, with potential to alleviate antimicrobial resistance. SkinCoat's technology can alleviate the symptoms of skin conditions like AD for patients who are seeking an alternative to conventional treatments e.g. antibiotics, using antimicrobial peptides that are mined from the human skin microbiota.
The SPRINT Programme was developed to help spin-out and start-up companies overcome challenges they may encounter when starting their businesses. On the programme, pre and early-stage start-ups work with successful business mentors who help the researchers and founders to bring their business from idea stage through to the eventual commercialisation of the product or service. The SPRINT programme is sponsored by Enterprise Ireland, Bank of Ireland and Cork City LEO and Cork City Council.
The state-of-the-art incubation programme at GatewayUCC provides a uniquely supportive ecosystem for start-ups through its programme of business supports. Such supports include mentoring and business coaching, access to financial advice and start-up funding, specialist seminars, workshops, introduction to venture-capital opportunities, business angel networks and access to UCC's network of researchers and academic departments. Office and wet-lab incubation facilities are also available.