News
News
Spandan 2019, Sep 8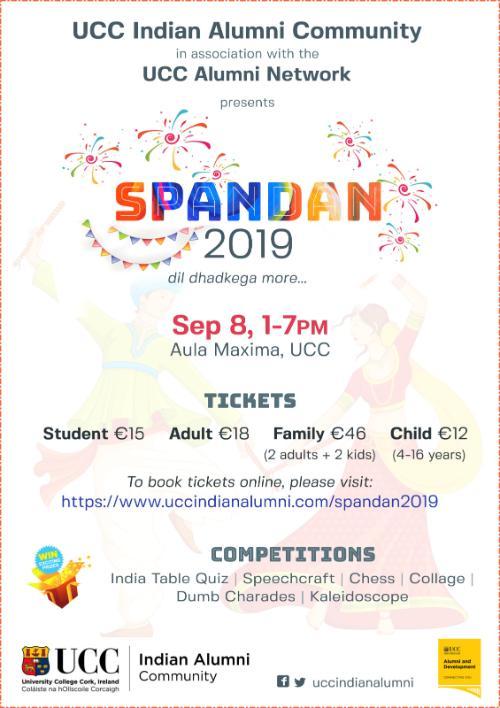 The UCC Indian Alumni Community in association with the UCC Alumni Network cordially invite you to "Spandan" — our annual fundraiser and networking event.
Funds raised will be used to conduct CV workshops, reunions and networking sessions where current students can interact with the alumni. Event is open to the public and is kid-friendly. Photos from last year's event can be viewed on our Facebook Page.
Event details
Date: Sep 8, 2019, 1-7PM
Venue: Aula Maxima, UCC
Tickets (includes dinner, early bird prices until 25 Aug)
Student €15, Adult €18, Family (2 Adults and 2 Kids) €50, Child (4-16 years) €12
Book your tickets: https://www.uccindianalumni.com/spandan2019
Dinner (6:30 PM)
Starter, Main course and a dessert. Vegetarian & Non-vegetarian options, papadums.
Competitions
India Table Quiz, Collage, Dumb charades, Chess, Kaleidoscope and Speechcraft.