News
News
Plastic Free July
Every July VOICE takes part in an international movement: Plastic free July.

This challenges us to live our daily lives without plastic. This sort of challenge shows us both the ubiquity of plastic in our everyday lives but also how many alternatives there are when we are forced to look.

Some easy wins include refillable washing up liquid, using soap instead of bodywash and buying loose where possible.

It definitely takes a little bit of organisation, but it's an eye opening challenge.

Are you already taking part? Share your stories with Voice!

This year marks an important moment though, as the EU Single Use Plastic Directive came into force at the start of the month. The Directive attacks single use plastics through a series of targets and measures including:
Banning the 10 most common items found in the marine environment including plastic cutlery, straws, balloon sticks and cotton buds
Ban on Styrofoam cups and plates by 2021
Responsibility for cleanup of packaging to be put onto producers by 2024
A 90% collection rate of plastic drinks bottles by 2029

Requiring a 25% recycled plastic content for plastic drinks bottles by 2025 and 30% by 2030.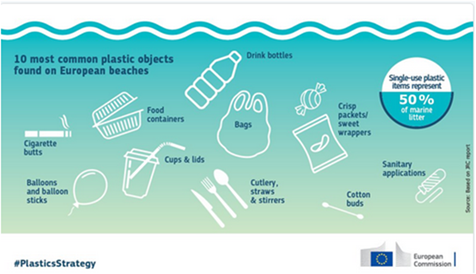 For more on this story contact: