News
News
OUTing The Past Festival- March 1st & 2nd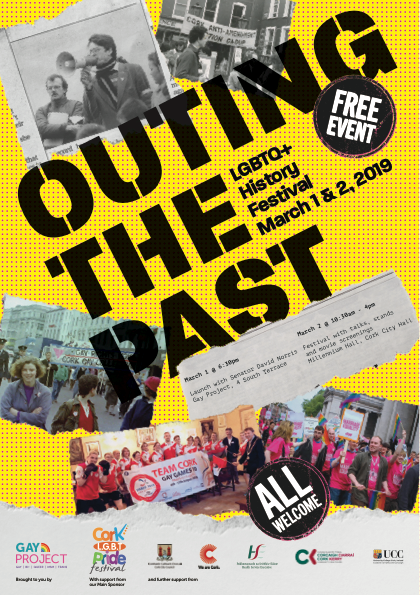 On 1&2 March 2019, Cork Gay Project will be hosting OUTing the Past, a LGBT+ History Festival that will be free to all. According to Pádraig Rice, of the Cork Gay Project, "We are very excited to announce that we will be hosting OUTing the Past, popular history festival, on 2 March 2019. This will be the first time that the international LGBT History Month will be celebrated in Cork in a significant way.
The festival themes are peace, reconciliation and activism. It's striking that Ireland's first National Gay Conference - held in Cork in 1981 - called on activists and community members to make the commemoration and celebration of LGBT history a priority. It affirmed 'the necessity for gay people to discuss and develop a sense of our own history'. The conference called for historians 'to conduct research into the as yet, unwritten history of gay people in Ireland'. We are now ready to answer this call in Cork."
The UCC LGBT+ Staff Network will be actively participating with several of our members presenting or giving talks throughout the event.
The festival kicks off on Friday, 1 March 2019 at 6.30pm when Senator David Norris will launch the event at the offices of Cork Gay Project on 4 South Terrace, Cork.
The main event will take place on Saturday, 2 March 2019 between 10.30am and 4pm with talks, stands and movie screenings in Millenium Hall in Cork's City Hall.
The full schedule is as follows:
LGBT+ History Festival | Saturday, 2 March 2019 @ 10.30am - 4pm
Millenium Hall, Cork City, Cork, T12 T997

Setting the Scene - Corks LGBTQ+ History @ 11am - 12pm chaired by Diarmuid Scully, UCC LGBT+ Staff Network


Colourful Connections: Cork LGBT Community Activism by Orla Egan
Voices from The Cork Folklore Project's LGBT Collection by Dermot Casey

Youthful activism @12pm - 1.15pm chaired by Fiachra Ó Súilleabháin, UCC LGBT+ Staff Network

Made Grá the Law: A History of the Student Movement's Campaign by Laura Harmon
Afternoon Tea Explosion by Cathal Kerrigan, UCC LGBT+ Staff Network
Screening of Chloe

Lunch, Stands and Showcases @ 1.15pm - 2pm
From Local to Global | Part i: Stories from the North @ 2pm - 4pm chaired by Mary O'Rourke, UCC LGBT+ Staff Network

Queers Dancing with the "Terrorists" by Jeff Evans
The Faithful Underground: Gay Christian Activism in Northern Ireland 1976-2016 by Richard O'Leary

From Local to Global | Part ii: International Solidarity @ 2pm - 4pm chaired by Pádraig Rice

A short history of LGBT History Month by Steve Boyce
The History of the Gay Games by Viv Woodcock-Downey & Leviathen Hendricks
Screening The Fifth

Close with performance by Choral Con Fusion

Social Event: Free finger food and good company at "The Poor Relation Grocery and Pub", Parnell Place, Cork
Download the Outing the Past Poster and Programme
All are welcome!
Published by the Student Support Team, International Office.
For more on this story contact:
If you'd like to contact the LGBT Staff Network, our primary point of contact is the network email address. You can email the network in confidence to lgbtnetwork@ucc.ie, or if you want to contact an individual, you can contact our co-chair Mary O'Rourke via email at mary.orourke@ucc.ie (or by phone on extension 3609).