News
News
Glucksman Gallery wins prestigious European award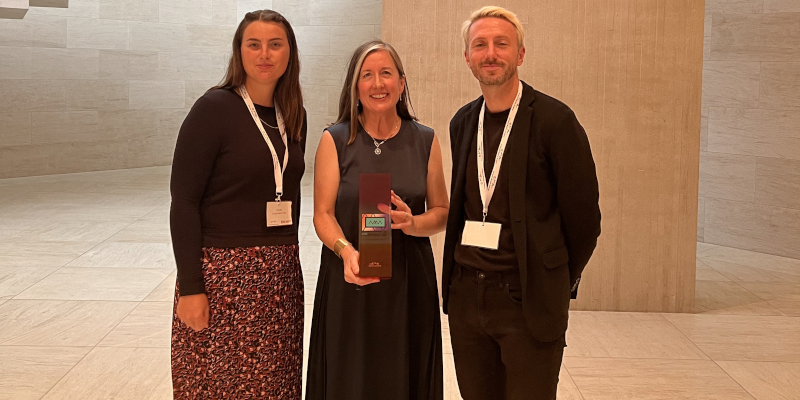 The Glucksman Gallery at University College Cork was announced as European Art Museum 2022 at a gala ceremony at MUDAM (Museum of Modern Art) in Luxembourg over the weekend. Speaking from the event, Professor Fiona Kearney, Glucksman Director, said, "Myself and the team are hugely honoured by this prestigious award and the recognition it gives to an Irish museum among our European peers."
UCC President Professor John O'Halloran congratulated the Glucksman, saying "UCC is one of the most forward-looking places of cultural research and creative risk-taking in the world, and I am very proud to see the artistic ambition and impact of the Glucksman achieved on an international stage. I congratulate Fiona Kearney and her team on the innovative programmes that they have developed at the gallery and this richly deserved recognition of their creative work".
The Glucksman places sustainability and inclusion at the centre of their policy and activities, which is also reflected by the award-winning building, designed by O'Donnell + Tuomey architects. The Glucksman team has developed digital programmes and carried out large-scale projects onsite, in the gallery spaces, as well as offsite, in public spaces. These projects have enabled participants from marginalised and rural communities such as travellers, refugees, LGBTQ+ and families experiencing homelessness to find a way to express and visualize their thoughts and opinions on important societal issues through creative agency.
The judges said "excellence in curatorial practice, collections care and audience engagement constitute the core values of the Glucksman. The staff has realized impressive results with their projects, which serve as an inspiration for museums all over the world. The museum brings communities and artists together, to explore, visualise and express their thoughts and opinions on important societal issues. The Glucksman prioritises its role as a civic institution that enables creative agency among diverse communities and is therefore well-deserving of the Art Museum Award."
The Glucksman is a contemporary art museum on the campus of University College Cork that presents exhibitions and art programmes for all ages and abilities, supported by the Arts Council of Ireland and private philanthropy. It is open 10-5pm, Tuesday to Saturday and 2-5pm, Sundays. Admission is free and all are welcome.
For more on this story contact: