News
News
Free Mindfulness Day, 20th March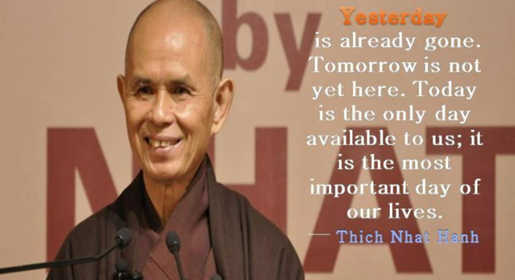 A Day of mindful practice and meditation with monks of Plum Village in the tradition of Thich Nhat Hanh .
We are privileged to welcome back the monks of Plum village to UCC to lead a day of Mindfulness meditation and practice. Mindfulness is deeply rooted in ancient Buddhist traditions. In recent years scientific research has linked mindfulness practices to a range of health benefits, in particular for help with anxiety, depression and stress-related conditions.
Thic Nhat Hanh, the internationally recognised spiritual leader, poet and bestselling author on Mindfulness and peace, founded Plum Village in 1982 to create a healthy, nourishing environment where through the practice of daily Mindfulness, people can learn the art of living in harmony with one another and with the earth.
"At Plum Village we weave mindfulness into all our daily activities, training ourselves to be mindful throughout the day while eating, walking, working, or enjoying a cup of tea together."
(see https://www.youtube.com/watch?v=u9V4cKTffLU)
Join us on this free day of Mindfulness, suitable for both beginners and those with established practice. Drop in or stay all day. We will love to welcome you to share some moments of Mindfulness.
Mindful Walking
Take my hand.
We will walk.
We will only walk.
We will enjoy our walk
without thinking of arriving anywhere.
Walk peacefully.
Walk happily.
Our walk is a peace walk.
Our walk is a happiness walk.
Then we learn
that there is no peace walk;
that peace is the walk;
that there is no happiness walk;
that happiness is the walk.
We walk for ourselves.
We walk for everyone
always hand in hand.
From "Call me by My True Names – The Collected Poems of Thich Nhat Hanh", Parallax Press, 2005.
With thanks to Maura O'Neill, Student Wellbeing Coordinator (wellbeing@ucc.ie)
For more on this story contact:
If you need any support please remember that we are here to help. You can contact us on the details below.

Suzanne Buckley, Student Support Officer

Natalie O'Byrne, Student Support Team
Tel: 021 490 4723