News
News
Chinese Spring Festival Gala Feb 18th 2019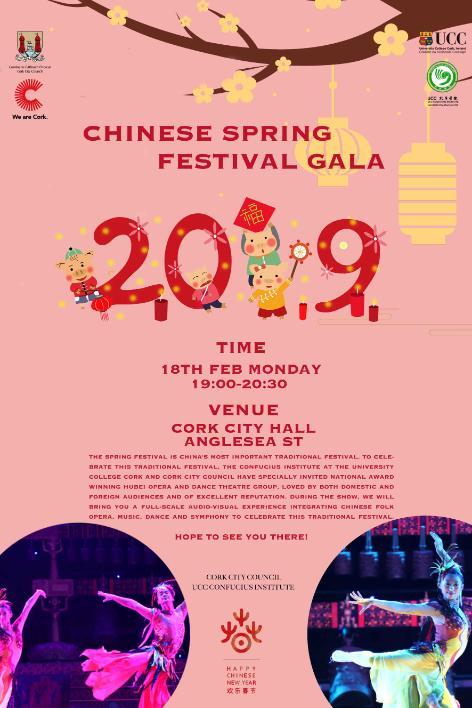 We would like to cordially invite you to our UCC CI Spring Festival Gala to be held in the city Hall on Feb. 18th 2019 .
To celebrate the New Year of the Pig, UCC Confucius Institute will be hosting its 2019 Spring Festival Gala in conjunction with The Cork City Council in the Cork City Hall on Feb. 18th 2019 between 19:00 to 20:30. The tickets can now be booked online www.eventbrite.ie .
The Spring Festival is China's most important traditional festival. To celebrate this traditional festival, the Confucius Institute at the University College Cork and Cork City Council have specially invited talented and award winning Hubei Opera and Dance Theatre group to give a performance. The group have been on tour of over 60 countries and will be making their debut show in Ireland.
The Gala will feature artistic diversity of traditional Chinese dance, arts and instrumental performances, and it will also feature acrobatics, Peking Opera and the world heritage act of sword dance. During the show, we will bring you a full-scale audio-visual experience of Chinese culture.
The event is FREE ADMISSION!
For more on this story contact:
Qi Qi
UCC Confucius Institute