News
News
Careers Workshop, Monday September 17th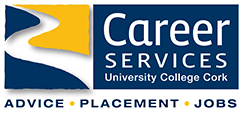 Build Your Career in Ireland Workshop. Gain valuable insights on developing employability skills in Ireland as an international student of UCC.
Date: Monday September 17th, 2018
Time: 6pm to 7.15 pm
Venue: Western Gateway Building G04
Are you an international student of UCC? Would you like to know about…
On-campus work experience?
Graduate opportunities and recruitment methods used?
Visas and Hosting Agreements?
Skills shortages in Ireland?
"Start-Your Own Business" opportunities in UCC and Ireland?
The graduate recruitment cycle in Ireland?
Don't miss this timely opportunity to learn from speakers from the following organisations:
The Irish Universities Association (Euraxess Office)
McKesson
Boston Scientific
Berkley Recruitment
UCC Career Services
Blackstone Launch Pad
IGNITE
More information here: https://www.ucc.ie/en/careers/careerevents/
https://www.ucc.ie/en/media/support/careers/UCCCareers8ppAutumnTermBrochureV7.pdf
For more on this story contact:
This event has been organized by Deirdre Parker, UCC Career Services.