News
News
36 Hours in Cork, Ireland (and Beyond)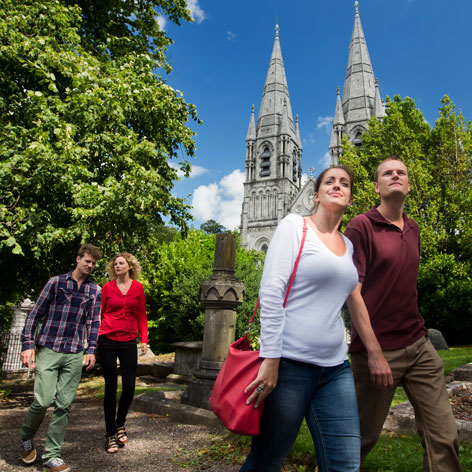 Don't overlook Ireland's second city, with its many churches, pubs, local beers and an increasingly diverse array of restaurants.
Travelers who fly in and out of Dublin often overlook Ireland's second city, but this southern settlement is well worth a full weekend of its own. While the "rebel city" is famously proud of its Irish heritage, these days you'll also find Asian, African and Middle Eastern outposts popping up along the River Lee. Locally brewed Beamish and Murphy's once filled nearly every pint glass in town, but a surge in newer craft breweries means there's an array of enticing new beers to pair with the vibrant selection of food at Cork's diverse restaurants. After the surprise of Hurricane Ophelia barreling through this fall, Cork has recovered and is ready for the holiday season, when the streets are glowing with Christmas lights, outdoor food stalls and even a Ferris wheel offering sweeping city views.
FRIDAY
1. 4PM. SOMETHING OLD, SOMETHING NEW
Stroll the well-manicured campus of University College Cork, founded in 1845. A stately corridor fronting the neo-Gothic Main Quadrangle Building houses the largest publicly displayed collection of Ogham stones (free). Dating to the 5th century, these oversized carved rocks are the earliest written source of the Irish language. Much more recent Irish handiwork is shown at the college's Lewis Glucksman Gallery (suggested donation, 5 euros, or about $6). The dramatic timber-wrapped building, designed by the Irish architects Sheila O'Donnell and John Tuomey, houses seasonal visual art exhibitions like "Outposts," which explores issues surrounding global borders with work from the likes of Mexican artist Teresa Margolles and Palestinian Larissa Sansour (through March 11).
2. TAKE ME TO CHURCH
The high density of churches combined with an increasingly secular population make Ireland ripe for those who take over former houses of worship for nonreligious purposes. A welcome example is Triskel Arts Center, in a restored neo-Classical church in Cork's center city, where guests settle into pews under a soaring ceiling and stained glass windows for film screenings and live musical performances. The historic site, where Cork's first church was built a millennium ago, also includes an art gallery, while in the basement there's an 18th-century crypt that visitors can gaze into through a cleverly designed glass viewing box.
A colorful streetscape in Cork. Credit Darren McLoughlin for The New York Times
3. CHAAT ROOM
Soppy curry fries are lapped up nightly in many a pub throughout Ireland, but the authentic South Indian cuisine on hand at Iyer's is something altogether different. At this pint-size spot, with just 10 seats and a chalkboard menu, the chef-owner, Gautham Iyer, serves up an Ayurvedic menu in which local seasonal vegetables take center stage. The daily changing options usually feature an innovative take on chaat, a traditional Indian street snack — a crunchy mix of fried dough and chickpeas — topped with fun extras like pistachio and wild garlic chutney. Save room for desserts — Mr. Iyer's wife, Caroline, bakes creative concoctions like masala chai brownies. Dinner for two runs about 35 euros.
4. 10PM TAKE FLIGHT
Trade the bright flavors of India for the dark, swanky interior of Elbow Lane Brew & Smoke House, a restaurant with an in-house nanobrewery. Their license requires that you order something to eat, but even the olives that come with a flight of three house-brewed beers (9.90 euros) will do. Following the ancient German Reinheitsgebot or beer purity law, the additive-free brews are made from just water, barley, hops and yeast, but that doesn't mean they're short on flavor. Don't miss the Arrow Weisse, a refreshing, citrusy take on Bavarian-style wheat beer.
The well-manicured campus of University College Cork, founded in 1845. CreditDarren McLoughlin for The New York Times
SATURDAY
5. 9 A.M. LAUNCHPAD
It's not a trip to Ireland without lots of big breakfasts, with sausage, rashers and blood pudding, but it's worth a pause on meat to start your day healthfully at The Rocket Man Food Co. After debuting at farmers' markets in 2012, this local business is now based at a small counter spot in the center of the city. Breakfast is your choice of porridge, yogurt or bircher — an oat-based cereal — and if those options sound dull, they're made succulent with savory toppings like poached plums and house-made granola (4 euros). There are also fresh-pressed juices and an enticing array of salads later in the day.
6. 11 A.M. FAIR PLAY
Be optimistic and plan for sunshine at Carousel, where the Irish-designed sundresses feature whimsical fabrics adorned with images of seaside attractions like sailboats, kites and flamingoes — and, for good measure, umbrellas (from 59 euros). Guys should pop around the corner to Salingers, a modish men's shop. Made-to-measure suits are on hand along with more casual dapper duds, like a tricolor striped raincoat from the Swedish brand Stutterheim. While in the shopping mind-set, skip the chintzy, shamrock-adorned tourist shops in favor of Mother Jones Flea Market, a treasure trove of overstuffed aisles where vintage "Guinness for Strength" ads and Irish road signs (from 14 euros) are scattered among the rows of religious figurines and rusted candy tins.
7. 1PM COASTAL JAUNT
Drive 30 minutes south of the city center to Kinsale, perhaps the most picturesque seaside town in County Cork. The narrow streets are lined with charming boutiques like Mamukko, where Hungarian brothers Levente and Attila Magyar sell coastal-inspired gear like messenger bags "upcycled" from reclaimed sails. After shopping, grab one of the small tables at the front of the Bulman bar to dive into fish and chips (14.50 euro) with a view of the harbor; if it's a month with an "r," there are also native Irish oysters bathed in leeks and Gruyere (15.50 euros). Just up the hill, Charles Fort (5 euros) is a well-preserved, 17th-century, star-shaped military fortress offering an illuminating view of the harbor's history, along with magnificent vistas of the entire town.
Elbow Lane Brew and Smoke House. Credit Darren McLoughlin for The New York Times
8. 6PM FARM EAST
While Kinsale has long been known as a seafood destination, it's lately earning its stripes as a farm-to-table favorite with inventive spots such as three-year-old Bastion. Start with prosecco on tap, mixed in cocktails like the Hugo (with fresh mint, pomegranate and elderflower; 7.75 euros), and stay for a delectable dinner. Nearly every item is made in-house or locally sourced, from the tempting loaves dressing up the bar — Guinness sourdough with treacle butter so light and airy you'll have a whole new view on treacle — to gorgeously plated dishes like foie gras with poached rhubarb, mustard leaf and brioche croutons. Dinner for two runs about 100 euros.
9. 10PM SERIOUS SIPS
Quail eggs are stacked in a cocktail glass above the dark wood bar, near a cache of red candy-striped straws, a duality that hints at what's in store at Cask, a classic cocktail bar with more than a dropperful of whimsy. The painstakingly prepared drinks (from 10 euros) combine local liquors like poitin (a traditional Irish distilled spirit) with flavors both trendy (white balsamic shrub seltzer) and playfully uncool (lime sherbet bitters).
The interior of St. Fin Barre's Cathedral. Credit Darren McLoughlin for The New York Times
SUNDAY
10. 9.30AM BAKE AND BREW
Irish-roasted coffee beans form the basis of espresso drinks (2.90 euros) at Alchemy Coffee and Books, a hip neighborhood cafe set along the revitalized bohemian strip of Barrack Street, just south of the River Lee. The walls are lined with overflowing shelves of used books, and there are rotating exhibitions from local artists, but the heavy hitters are the savory pastry offerings, daily-baked options like house-made rolls stuffed with goat cheese, wild garlic pesto and caramelized onions (4 euros).
11. 11AM SISTER ACT
The Nano Nagle Place heritage experience (7.50 euros) relates Cork's history within a recently restored complex of historic buildings. They are filled with exhibits revolving around the life of Nano Nagle, an 18th-century nun who founded seven schools for poor children in Cork, along with a convent built for the Ursuline Order here in 1771. The engaging interactive exhibits paint a gripping picture of life for impoverished Catholics under British rule, while the grounds are dotted with pristine outdoor gardens where new plantings mix with antique ironwork.
12. 1PM BROTH APPEAL
Takashi Miyazaki cooked at a ritzy Japanese hotel before marrying an Irish woman and setting up shop in a former Chinese takeout spot where the offerings have been kicked up several notches. Marked by a towering street-facing geisha mural and a striking wooden doorway, his namesake Miyazaki has just six stools and an open kitchen, but a buzzy international crowd streams in and out. They're drawn by the chef's signature dashi, an umami-fied broth made from kombu seaweed and bonito flakes and used in udon and soba noodle soup (12.50 euros) as well as delectable donburi rice bowls (from 10.50 euros) topped with breaded pork cutlets, thinly sliced beef, or chicken simmered with egg. Nab one of the coveted stools and people-watch through the street-facing windows in between scrumptious slurps.
LODGING
Walking distance from most of Cork's center city sights, the River Lee has modern rooms with full-length windows overlooking the river, and a tranquil waterfront terrace at the Weir bar and restaurant. Rooms from 125 euros.
A serene retreat near the University College Cork campus, Hayfield Manor is a five-star property with an old-world aesthetic, walled gardens, antique details, and afternoon tea. Rooms from 209 euros.
Source: https://www.nytimes.com/interactive/2017/12/14/travel/what-to-do-36-hours-in-cork-ireland.html