News and activities
News and activities
3:00 PM, 22 Oct 2019 - 5:00 PM, 22 Oct 2019, Environmental Research Institute, Room G1.28
---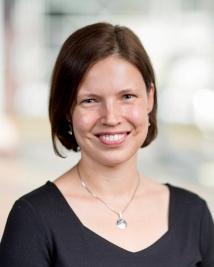 The Imagining2050 team is delighted to welcome Prof. Evelina Trutnevyte from the University of Geneva to the coming Research Seminar on the theme of 'Citizen Engagement-Envisioning Energy Futures'.
Event Organisers: Prof. Brian Ó Gallachóir, Dr Niall Dunphy and Dr Alexandra Revez (Imagining2050/UCC)
Programme: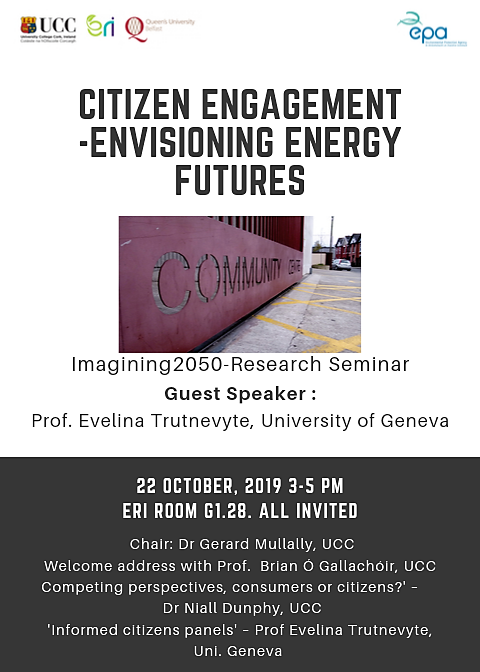 Download Programme here:Seminar Flyer and Programme
Download Seminar Synopsis here: Citizen Engagement-Envisioning Energy Futures
Guest Speaker Biography: Evelina Trutnevyte is a tenure-track Assistant Professor and head of the Renewable Energy Systems group at the University of Geneva. Evelina is an energy systems analyst and modeler, specializing in renewable energy systems, socio-technical approaches to energy transition, as well as in energy decision making under deep uncertainty and at science-society interface. She is an engineer by training and has completed her PhD studies at ETH Zurich, Chair of Natural and Social Science Interface. She also brings experiences from University College London (UCL) Energy Institute, Carnegie Mellon University, and three different departments of ETH Zurich.
For further details please contact Alexandra Revez: alexandra.revez@ucc.ie
All welcome-No registration required. Organised by Imagining2050