Forthcoming Publications
Forthcoming Publications
During her lifetime Jennifer O'Reilly was urged by her students and fellow scholars to collect her scattered essays for interested readers, but she did not live to do so.
When she died in 2016, Dr O'Reilly left behind a body of published work in three areas of medieval studies: the writings of Bede and his older Irish contemporary, Adomnán of Iona; the early lives of Thomas Becket; and the iconography of the Gospel Books produced in early medieval Ireland and Anglo-Saxon England. In these three areas she explored the connections between historical texts, artistic images and biblical exegesis. The aim of the three volumes, to be published simultaneously in 2019, is to realise that ambition. Seen together, the essays gathered in these books highlight her distinctive approach to historical sources, and her substantial contribution to our understanding of England and Ireland in the Middle Ages.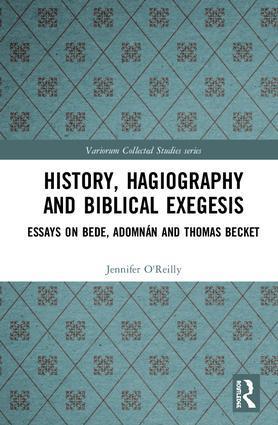 History, Hagiography and Biblical Exegesis: Essays on Bede, Adomnán and Thomas Becket, eds. Diarmuid Scully, Tom O'Reilly and Máirín MacCarron (Routledge: Variorum, 2019)
Table of contents
Bede
1. Introduction to On the Temple
2. Islands and idols at the ends of the earth: exegesis and conversion in Bede's Historia ecclesiastica
3. Bede on seeing the God of gods in Zion
4. The multitude of isles and the corner-stone: topography, exegesis and the identity of the Angli in Bede's Historia ecclesiastica
5. St Paul and the sign of Jonah. Theology and Scripture in Bede's Historia Ecclesiastica
6. Bede and Monothelitism
7. The image of the Mediator in the work of Bede
Adomnán
8. Reading the scriptures in the life of Columba
9. The wisdom of the scribe and the fear of the Lord in the Life of St Columba
10. Adomnán and the art of teaching spiritual sons
11. Columba at Clonmacnoise
12. The Bible as map, on seeing God and finding the way: pilgrimage and exegesis in Adomnán and Bede
Thomas Becket
13. Candidus et rubicundus: an image of martyrdom in the lives of Thomas Becket
14. The double martyrdom of Thomas Becket: hagiography or history?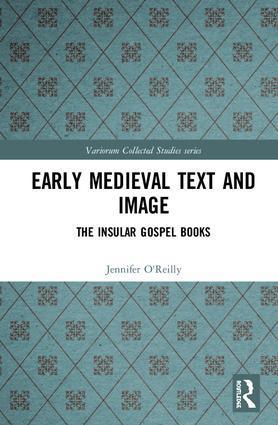 Early Medieval Text and Image: The Insular Gospel Books, eds. Carol Farr and Elizabeth Mullins (Routledge: Variorum, 2019)
Table of contents
Insular Gospel Books
1. Early medieval text and image: the wounded and exalted Christ
2. The Hiberno-Latin tradition of the Evangelists and the gospels of Máel Brigte
3. Gospel harmony and the names of Christ in Insular gospel books
4. Patristic and Insular traditions of the Evangelists: exegesis and iconography
5. "Know who and what he is": the context and inscriptions of the Durham Gospels Crucifixion image
6. The image of orthodoxy, the mysterium Christi and Insular Gospel books
7. St John the Evangelist: between two worlds
8. Seeing the crucified Christ: image and meaning in early Irish manuscript art
9. The St Gall Gospels: art and iconography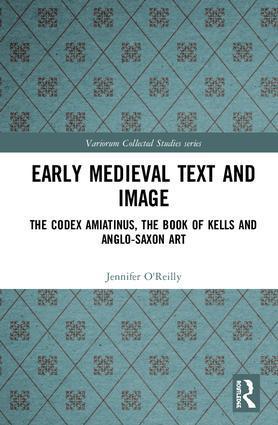 Early Medieval Text and Image: The Codex Amiatinus, the Book of Kells and Anglo-Saxon Art, eds. Carol Farr and Elizabeth Mullins (Routledge: Variorum, 2019)
Table of contents
The Book of Kells
1. The Book of Kells, folio 114: a mystery revealed yet concealed
2. The Book of Kells and two Breton gospel books
3. Exegesis and the Book of Kells: the Lucan genealogy
4. Entry on the Book of Kells, folios 29 and 34
5. Two pages from the Book of Kells
6. The Book of Kells, folio 114
7. The body of Christ in the Book of Kells
The Codex Amiatinus
8. The library of Scripture: views from Vivarium and Wearmouth-Jarrow
9. Celtic art and the Gospel
10. The art of authority
11. "All that Peter stands for": the romanitas of the Codex Amiatinus reconsidered
The Anglo-Saxon and Later English Traditions
12. An Anglo-Saxon portable altar: inscription and iconography
13. St John as a figure of the contemplative life
14. The rough-hewn cross in Anglo-Saxon art
15. Text and image in Anglo-Saxon Benedictine reform
16. Signs of the Cross
17. The medieval iconography of the two trees in Eden