Professor Mary Ryan
Professor Mary Ryan
Professor of Romance Languages, 1910-1938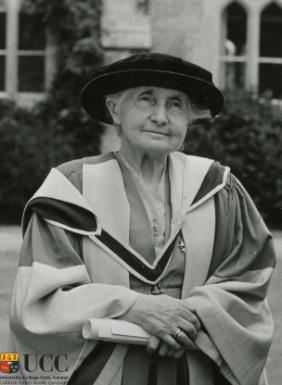 Mary Ryan is the first female professor on the island of Ireland. (Photo (detail): taken on the occasion of the NUI honorary conferring in 1952. UCC University Archives, OCLA, UCC.)

Biography
Mary Ryan was born on 14 December 1873 at 4 Thomas Street West (off Henry Street), Cork. Her parents were Edward Ryan (b. Co. Tipperary; d.1932), soap and candle manufacturer, and Matilda O'Connor (married 16/02/1871). Prof. Mary Ryan made a bequest of €1,778 to the University for the purpose of endowing a summer holiday scholarship or a scholarship of short period for the study of French in France, named the Edward and Matilda Ryan Scholarship in memory of her parents. Ryan's siblings were Sir Thomas Ryan (Director-General, Indian State Railways); Sir Andrew Ryan KBE CMG (held high-ranking positions in British consular service, also a Cork graduate and whose son Edward, MA BL, became Professor of Common Law and Dean of Law at UCC); and Archbishop Patrick Ryan OP (in religion Father Finbar), archbishop of Port of Spain, Trinidad.
Mary Ryan died on 16 June 1961 at her home, 'Gortalough', Rochestown Road, Douglas, Cork.[1] [2] She is buried in St Joseph's cemetery, Cork.
An obituary was published in the UCC Record with two photographs.[3]
Education
Mary Ryan attended the newly opened St Angela's College, Patrick's Hill, Cork (Ursulines) for her secondary education. She was an exhibitioner and gold medallist in the Intermediate examinations. She had an outstanding academic career. In 1891, she matriculated Royal University of Ireland (RUI); in 1892, she finished 1st Arts with honours and as an exhibitioner, likewise in 2nd Arts with honours and an exhibitioner. She spent time during 1892-3 in Germany and France (Ursuline convent, Berlin; and the Dominican convent, Neuilly-sur-Seine, Paris). In 1895, Mary Ryan graduated with BA Hons (RUI), 1st place and an exhibition. Then she held a Junior Fellowship (RUI) and taught at St Mary's University College, Dublin, and St Angela's College, Cork. She graduated MA in 1896 (RUI).
Career
During 1898-1901, she was a Junior Fellow in Modern Literature (RUI). During her tenure, she was member of the Board of Examiners of RUI in Modern Languages. Then Ryan was an Intermediate Board examiner in French (1902-8). On 21 October 1909, she was appointed Lecturer in German at UCC.[4]
Then on 25 June 1910 at meeting of the National University of Ireland, Mary Ryan was appointed Professor of Romance Languages at UCC.[5] She signed the Roll Book at the beginning of the new academic year on 24 October 1910. The title of the professorship later changed to 'French'. Professor Ryan retired in 1938.
At University College Dublin, the first female Professor was Mary T. Hayden (Modern Irish History) in July 1911 and at University College Galway it was Mary Donovan (History) in 1914. The first female professor at TCD was Frances E. Moran in 1925 (Reid Professor of Law, 1925-30; Professor of Laws, 1934; Regius Professor 1944) and at Queen's University Belfast, Kathleen M. T. Atkinson (Ancient History) in 1964.
Awards
In 1935, Mary Ryan was awarded the Ordre national de la Légion d'honneur (full name in English: National Order of the Legion of Honour) by the French government (Third Republic) – the first Irish woman to be so honoured.[6] Photographs of her wearing the star in 1952 are in the University Archives, OCLA, UCC (detail of one shown here).
Mary Ryan is the first Irish woman to be awarded the French Legion d'Honneur (there are five degrees of the Order – it is not clear yet which one Ryan was awarded). No single list of recipients is available.[7] The other Irish women who have received the honour are Mary Lawlor (2014, Frontline Defenders), Máire Geogheghan-Quinn (2014) and Professor Grace Neville (2015, also of UCC).
In 1952, she was awarded an honorary DLitt by the NUI at UCC.[8]
Publications
Articles
The Faust legend and Goethe's Faust, The New Ireland review 20 (Oct 1903), 88-102
Literature in education, Irish Educational Review (Apr 1909)
A French woman of letters, Irish Educational Review (Jun-Jul 1909)
Holy Cross Abbey, County Tipperary. With an account of Abbot Luke Archer, d. 1644, Journal of the Ivernian Society 2 (Sept 1909), 1-13
Ethical teaching in French schools, Irish Educational Review (May 1910)
Francis Thompson, ein katholischer Dichter, Hochland (Munich) (Dec 1910)
A European traveller in 1517, Irish Educational Review (Jan 1911)
Some recent works on the Reformation, American Catholic Quarterly (Oct 1911)
How they spread good literature in Germany, Irish Rosary (Feb 1912)
A moralist and his friends, Irish Educational Review (Jan 1913)
Some novels of a century ago, Irish Educational Review (Feb 1913)
From Florence to Constantinople, Irish Rosary (Apr 1913)
In and about Stamboul, Irish Rosary (May 1913)
Some women of the fourth century, Irish Educational Review (Aug 1913)
A German nun at the Reformation, Studies 2:8 (Dec 1913), 384-401
A fourth century woman traveller, Irish Ecclesiastical Record (Oct 1915)
Woman's place in social work, C.T.S. Annual (1916)
Medical missions for women, Irish Rosary 20 (Jul 1916)
The centurion's journey, Irish Rosary (Jan 1917)
Charles Péguy in his prose, Dublin Review (Jan 1918)
A criticism of a critic, Irish Rosary (Jan 1918)
A light set in a candlestick, Irish Rosary (Jul 1918)
A Dante discovery, Studies 10:39 (Sept 1921), 425-436
Contardo Ferrini: scholar and saint, Studies 17 (Sept 1928), 369-383
René Bazin 1853-1932, Studies 21 (Dec 1932), 627-634
The Catholic University of the Sacred Heart and its founder, Studies 23 (Dec 1934), 634-648
Ludovico Necchi, Studies 24 (Dec 1935), 642-653
Alfred Noyes on Voltaire, Studies 26 (Jun 1937), 281-295; repr. Dublin: Browne and Nolan Ltd., [1938]
Saint Francis Regis, Studies 28 (Mar 1939), 85-97
Some impressions of Albania, Studies 28 (Jun 1939), 293-302
Random recollections, Cork University Record 5 (Christmas, 1945), 15-19
Clandel: poet of love, Studies 42 (Winter 1953), 440-445
Paul Claudel, Studies 44 (Summer, 1955), 143-150
Obituary, Professor E. M. O'Sullivan, U. C. C. Record 32 (Easter, 1957), 11-15
Plus articles and reviews in the Dublin Review, Irish Educational Review, Blackfriars, Month, and Irish Rosary
Books
Dr Agnes McLaren (1837-1913) (Catholic Truth Society, 1915)
The intellectual life: its spirit, conditions, methods, by A. D. Sertillanges; translated from the new French edition by Mary Ryan (Cork: The Mercier Press, 1946). Most recent repr. 1978.
Our Lady's hours: an introduction to the little office of Our Lady (Cork: Forum Press, [1941?]; 2nd ed. (Cork: Mercier Press, 1946)
Out of the depths: notes on the office of the dead (Cork: Forum Press, [1943])
Introduction to Paul Claudel (Cork: Cork University Press, 1951)
The Mary Ryan Scholarships are awarded annually to language students by the College of Arts, Celtic Studies and Social Sciences.
The Mary Ryan Seminar Room is located in the O'Rahilly Building, UCC.
In 2010, the College of Arts, Celtic Studies and Social Sciences, UCC, created a film celebrating the centenary of Mary Ryan's appointment as professor. This included a tribute from Mary Robinson, former President of Ireland. Please note that research after 2010 revealed that there were earlier female professors on the island of Britain.
Sources
Newspapers and serials: Cork Examiner, Irish Independent, Irish Times, Skibbereen Eagle, Cork/ U.C.C. Record
National Archives of Ireland: 1901 and 1911 Census, 1956 Will Calendar
IrishGenealogy.ie: General Register Office records
Bryan, Deirdre, 'Mary Ryan', Dictionary of Irish Biography, in James McGuire and James Quinn (eds) (Cambridge: Cambridge University Press, 2009) (http://dib.cambridge.org/viewReadPage.do?articleId=a7874, accessed 16/07/2019)
Cork University Record 8 (Christmas 1946): photograph with her brother, Archbishop Ryan, facing p.14.
Harford, Judith, 'The Admission of Women to the National University of Ireland' Education Research and Perspectives 35:2 (2008), 44-56
MacCurtain, Sr M. Benvenuta, 'St Mary's University College, (Dublin)', University Review 3:4 (1963), 33-47 (https://www.jstor.org/stable/25504608. Accessed 16/07/2019)
Macken, Mary M., 'Women in the university and the college: a struggle within a struggle', in Michael Tierney (ed.), Struggle with fortune: a miscellany for the centenary of the Catholic University of Ireland 1854-1954 (Dublin: Browne & Nolan, 1954), 162.
Murphy, John A. The College: A History of Queen's/University College Cork, 1845–1995 (Cork: Cork University Press, 1995)
Teehan, Virginia, 'An Irishwoman's diary', Irish Times (28 June 2010), p.13
Y.S., 'Professor Mary Ryan', Cork University Record 6 (Easter 1946), 17-18; photograph, facing p.41
Notes
[1] Ryan's paternal grandfather, Patrick Ryan, came from Gortalough, Co. Tipperary, see National Library of Ireland, Genealogical Office: Ms.111a, p.75, 'Copy of grant of arms to Edward Ryan of Ronayn's Court, Rochestown, Co. Cork, son of Patrick Ryan, Gortalough, Co. Tipperary, Nov. 28, 1911'.
[2] Death notice: Cork Examiner, 17/06/1961, p.2. Probate of her estate worth £29,321 was granted on 02/10/1961.
[3] UCC Record 37 (Easter 1962), pp5, 21–5, with photo (p.21) and wearing academicals (p.29).
[4] 'National University', Irish Times, 22/10/1909, p.8.
[5] 'Irish University', Cork Examiner, 27/06/1910, p.4.
[6] 'Legion of Honour. Distinction conferred on Cork Lady', Cork Examiner, 15/07/1935, p.6; 'Dublin Letter', p.8.
[7] Possible information at Archives nationales, Paris, BB/33: Ministère de la Justice - Légion d'honneur (1814-1936) and individual dossiers of candidates in files BB/33/60/1 to BB/33/60/51.
[8] http://www.nui.ie/college/docs/HonGradsList.pdf; Photos: p.29, UCC Record 37 (Easter 1962); University Archives, OCLA, UCC (with her brother Patrick (in religion Fr Finbar) and nephew Edward Ryan.
© University College Cork 2020