Michael P. Mortell
Michael P. Mortell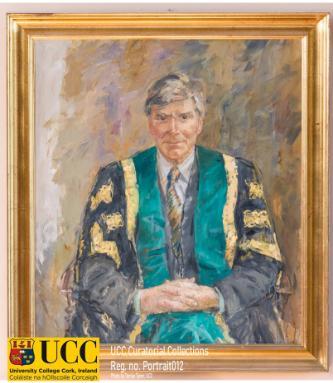 Michael P. Mortell MSc MS PhD, President, University College Cork 1989-1999
Michael Philip Mortell (1941-present) a native of Charleville, Co. Cork, was educated at the Christian Brothers' Secondary School, Charleville. He studied for his primary degree in Mathematics and Mathematical Physics at University College Cork where he was awarded a BSc (1961) and undertook postgraduate work in Applied Mathematics also at UCC, MSc (1963), and later California Institute of Technology (Caltech) where he was awarded a MS (1964) and PhD (1968) for a thesis on "Waves on Shells".
As an applied mathematician Mortell is recognised for his research in the area of non-linear acoustics. With a colleague he identified in 1973 a functional equation later called The Standard Mapping which is of fundamental importance in understanding mathematical CHAOS.
Michael Mortell was appointed a tenured Associate Professor at the Center for the Application of Mathematics at Lehigh University, Bethlehem, Pennsylvania (1967-73), and returned to UCC in 1973 as Statutory Lecturer in the Department of Mathematical Physics. At UCC, he was appointed Registrar in 1979 and also held the position of Professor of Applied Mathematics. He held these positions for a decade until he was appointed President in 1989. His research activities continued during his time as Registrar and President. Following his presidency, Mortell served as Personal Chair in Applied Mathematics from 1999 until his retirement in 2006.
As President Mortell initiated and oversaw a rapid expansion of the campus, not only in student numbers and funding but in increasing the physical campus space available by almost 50% and spending on buildings and capital projects. During his tenure student numbers increased from 6,000 to 12,500 and staff from 1,000 to 1,800. Twenty-five acres were added to the 45-acre campus through land purchases and new buildings during his tenure included, buying land at Brookfield, College Road (now the site of the Brookfield Health Science Complex); the greyhound track, Western Road (now the site of the Western Gateway Building); and IDA land at the North Mall, as well as the completion of Áras na Mac Léinn, the O'Rahilly Building, Castlewhite Student Residence, the provision of the Granary Theatre and the improvement of clinical science facilities and additions to the Dental School and initiated the planning and funding of the Biosciences Building. Other capital projects included: acquisition of the Good Shepherd Convent and grounds; acquisition of the former male hostel at St Vincent's, Sunday's Well; and securing planning permission for the development of the Mardyke Sports Arena. During Mortell's tenure, research revenue increased to be the largest among the universities in the State. There were major developments in Microelectronics, and Food Science and Technology. All professorships, but one, were filled and thus enhancing UCC's 'social' capital. He also established Cork University Foundation, the University's professional fundraising agency, which raised significant private funding. The University Art Collection was enhanced and new works were commissioned for the University grounds and Cork University Press was upgraded during this time. Collectively, these major developments laid the foundations of the modern 21st century University.
Michael Mortell has been awarded Honorary Doctorates by the University of Dublin (LLD 1992), Queen's University of Belfast (LLD 1995), University of Limerick (LLD 1995) and Lehigh University (LLD 2008). He was a member of the Senate of the National University of Ireland and the UCC Governing Body amongst other commissions and boards.
Sport played a key role in Mortell's early life. He captained the University College Cork hurling team, won three Fitzgibbon medals and in his five years as a member he was central in UCC's first ever triumph in the Cork Senior Hurling Championship, in 1963. Mortell was also a member of the Cork Senior Hurling Team.
Based at the School of Mathematical Sciences, University College Cork, Michael Mortell continues to participate in University life and contributes to research and publishing in applied mathematics. He is author and co-author of more than 50 research papers and two books on applied mathematics.
The portrait of Michael P. Mortell is on display in the Aula Maxima, UCC.
University College Cork © 2020