Henry St J. Atkins
Henry St J. Atkins
Henry St J. Atkins MSc DSc MRIA, President, University College Cork 1954-1963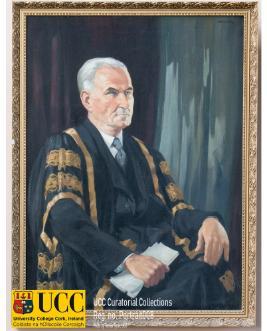 Henry St J. Atkins was born on 19 March 1896 at Tyrone Place, Friar Street, Cork, to Patrick Atkins (shoemaker) and his wife Agnes Egan.[1] He received his early education at the North Monastery, Cork, and was awarded a BSc (1915) and MSc (1923) from University College Cork. After teaching at the North Mon (where he introduced Gaelic games),[2] Glasgow and Presentation Brothers', Cork, he taught mathematical physics at UCC during the 1926-7 academic year. Atkins was then appointed Professor of Mathematics at St Patrick's Training College for Teachers, Drumcondra, Dublin in 1927. He then returned to his alma mater on his appointment to the chair of mathematics at UCC in 1936 which he held until his appointment as President. During his tenure, NUI travelling studentships were gained by graduates of the department in 1942, 1945, 1951 and 1954.
In his role as Registrar 1944-54 in succession to Dr Alfred O'Rahilly, Atkins was actively involved in University governance as a member of the UCC Governing Body and as a member of the Senate of the National University of Ireland. Atkins touched on the federal nature of the National University of Ireland in his installation speech as President in 1955. He served as a member of the Finance Committee of both bodies. During this period he was particularly associated with the promotion of the new Electrical Engineering Department including the construction of the building in 1952 (on that part of the former gaol site which had been handed over to UCC in the late 1940s[3]) and an additional storey was added in 1963.
Henry St J. Atkins was elected President by the senate of the National University of Ireland on 28 October 1955. On 6 November 1955 Atkins was the first President to be formally installed. This was following a brief interregnum presided over by the Very Rev. Prof. James O'Mahony OFM Cap., as Acting President.[4] The installation ceremony is described in detail in the Cork University Record including the names of those on the platform in the Aula Maxima under the portraits of 'an already impressive group of former Presidents'. He was the first President not to live in the accommodation on campus that had been available to all previous presidents. It was converted to provide much-needed space for class-rooms and administrative offices. In 1958 Atkins travelled to the USA seeking funding from philanthropic sources. Although unsuccessful at the time, this was a pioneering move which presaged the future. However, he was able to persuade US medical registration bodies to continue to recognise UCC medical qualifications and under his tenure a full-time chair of medicine was created. There had been a Faculty of Dairy Science at UCC since the 1920s and now Atkins sought expansion into a Faculty of Agriculture. This was not achieved but he laid the groundwork for the future development of food science at UCC.
The 1950s was a decade of economic depression in Ireland and UCC was affected like everywhere else. A long period of under-funding now meant that accommodation for the work of staff and students was inadequate. This was examined by the Commission on Accommodation Needs of the Constituent Colleges of the NUI that published its report in 1959. The Commission was sympathetic to the College's case but unfortunately it was to be a few decades before significant improvements were made in the facilities or university estate. During Atkins presidency the contract for the new Science (now Kane) Building was awarded but, as noted by John A. Murphy, there was no open competition.[5] Although UCC is nondenominational under its charter, Atkins proclaimed in 1959 that it was a Christian and Catholic university.[6]
He was awarded an honorary degree of Doctor of Science from the National University of Ireland (1955) and was elected a member of the Royal Irish Academy (1957).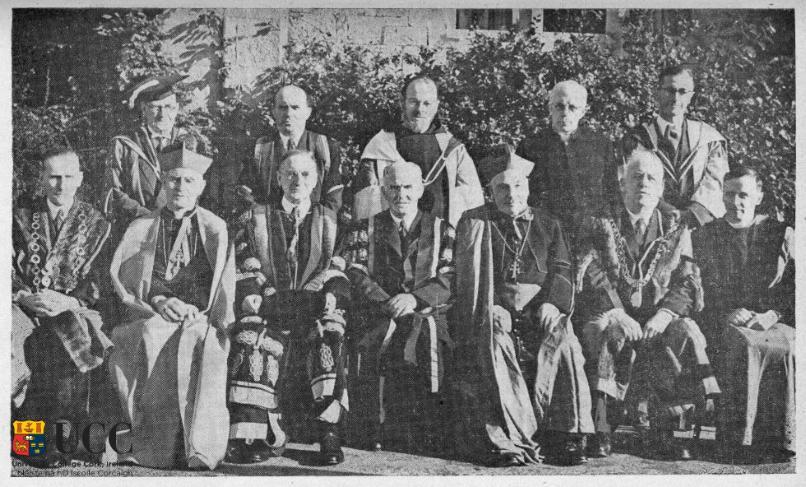 Group photograph taken at the installation of President Atkins (Cork University Record (Summer 1955)
Front row (l-r): The Mayor of Limerick; Most Rev. Bishop Cornelius Lucey; Eamon de Valera, Chancellor of the National University of Ireland; President of UCC, Henry St J. Atkins; Most Rev. Archbishop Jeremiah Kinane; The Lord Mayor of Cork; Right Rev. Bishop George O. Simms.
Back row (l-r): Professor Diarmuid Ó Murchú (UCG); Dr Seumas Wilmot, Registrar of the National University of Ireland; Very Rev. Prof. Father James O'Mahony, OFM Cap.; Very Rev. T. Canon Duggan (Maynooth); Prof. Seán P. Ó Riordáin (UCD).
Atkins retired from the Presidency on 18 October 1963 after seven years in office and enjoyed a lengthy retirement. He had a keen interest in sport, playing Gaelic football and hurling with Cork county, winning a junior All-Ireland hurling medal in 1917[7] and he also played with Collegians.[8] Atkins was president of Douglas Golf Club and enjoyed angling.
He married Elizabeth Agnes O'Regan, medical doctor, in 1929 at the Honan Chapel and both their children, Una and Michael, were also medical doctors. After his first wife's decease in 1960, Prof. Atkins married Dr Nuala Murphy, surgeon at the Eye and Ear Hospital, Cork, in 1962.[9] He died on 12 October 1987, aged 91, and is buried at St Finbarr's cemetery, Cork. The portrait of Henry St J. Atkins hangs in the Aula Maxima, UCC.
Sources
'Installation of the new president', Cork University Record 30 (Summer 1955), 1-8
Linde Lunney, 'Atkins, Henry St John', Dictionary of Irish Biography
John A. Murphy, The College: a history of Queen's / University College Cork (Cork: Cork University Press, 1995)
References
[1] Birth certificate name is given as 'Henry St Joseph Atkins': irishgenealogy.ie Group Registration ID 10037737.
[2] 'Portrait gallery: Henry St J. Atkins', Irish Times, 5 March 1955, p.8.
[3] This part was the former exercise yard of the gaol. Acquisition of this site resulted in a new entrance from College Road.
[4] 'Installation of the new president', Cork University Record 30 (Summer 1955), 1.
[5] John A. Murphy, The College, 296.
[6] UCC Record 34 (Easter 1959), 34.
[7] 'U.C.C. president tenders his resignation', Irish Press, 18 July 1963, 1.
[8] 'Portrait gallery: Henry St. J. Atkins' (with photo), The Irish Times, 5 Mar 1955, 8
[9] 'President of U.C.C. marries', Sunday Independent, 18 November 1962, 6.
University College Cork © 2020