Iris Ashley Cummins BE BSc
Iris Ashley Cummins BE BSc
First female graduate in Engineering at UCC
(Probably) first woman land surveyor employed by the Irish Land Commission
First female Associate Member of the Institution of Civil Engineers of Ireland
Irish hockey international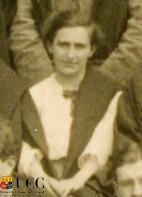 Detail from photo of the 1913-14 Engineering Class at UCC (UCC University Archives, OCLA, UCC).
Biography
Iris Ashley Cummins was born on 6 June 1894 in Woodville, Glanmire, Co. Cork. Her parents were William Edward Ashley Cummins, MD (Professor of Practice of Medicine, QCC) and Jane Constable Hall. She had ten siblings: brothers Major Arthur Aylmer Cummins (Royal Garrison Artillery); William Ashley Cummins (solicitor); Dr Robert Constable Cummins; Henry Jackson Cummins (5th Gurkha Rifles); Nicholas Marshall Cummins MD FRCPI (UCC graduate); Fenton King Cummins; sisters Geraldine Dorothy Cummins (playwright); Dr Mary Ellice Thorne Hearn FRCPI (first female fellow of RCPI, gynaecologist); Dr Jane Grace Cummins (Colonial Medical Service); and Phyllis Aylmer Cummins. Her uncle was Prof. Henry Alfred Cummins (Botany, UCC).
She was educated privately as her mother did not believe in further education for women.[1] Despite Mrs Cummins' objection, both Iris and her sister Mary attended university. In 1915 July, Iris graduated as Bachelor of Engineering (NUI) at UCC. Alice Perry qualified BE in 1906 at Queen's College Galway becoming Ireland's first female engineering graduate. After World War One, Iris was awarded BSc Honoris Causa (War degree);[2] conferred 27 April 1918.[3]
Iris Ashley Cummins died on 30 April 30/04/1968 at Adelaide Hospital, Dublin,[4] and is buried in the graveyard of St Lappan's Church, Little Island, Co. Cork. In the same grave as sister Geraldine Dorothy Cummins.[5] Their parents are also buried in the same graveyard.
Career
Civil engineer; retired 1954.
During World War I worked at Royal Naval Dockyard Rosyth on the Firth of Forth, Scotland.[6] Also during the war worked in munitions production at the Royal Arsenal, Woolwich, London; and during 1916-17 at Vickers in Erith, Kent.[7] In 1917, she worked in the Admiralty Department, Haulbowline Dockyard, followed by a period running the family farm from 1918-1924.[8] She then began her own private practice in Cork in land surveying in 1924.[9] Cummins was a member of the Women's Engineering Society (using post nominal letters MWES) and presented a lecture to 5th Annual Conference of the Women's Engineering Society (founded 1919), on 17 September 1927, on "The Shannon Scheme"; paper published in The Woman Engineer (see publications). In 1927, Cummins was appointed first female land surveyor (outdoor staff) for the Irish Land Commission.[10] This was not a permanent position, for which she received only a small pension.[11] In 1929, she apparently attempted to set up own business, accompanying publicity photo for a firm of electrical engineers formed by British women to electrify rural districts.[12] It is unclear as to whether this venture took off. She retired in 1954.
In 1928, Iris Cummins was elected an associate member of the Institution of Civil Engineers of Ireland – the first woman associate member[13] (but not the first full female member of Institution of Civil Engineers in England). Further research could be done looking into the records of Engineers Ireland.
Sport
Iris Cummins was a keen hockey player. She gained first cap in hockey in 1911 when she was 15 and played in all international matches from then until 1929 (except in 1911 and 1921), playing left half, right half and centre half and, at the end of her international career with Monkstown club, as goalkeeper.
She began as a senior player in 1910 with Cork Ladies. In her first season Cummins played on the Munster Interprovincial side. During her time as undergraduate, she played on the UCC Ladies Hockey team. In 1914 she was captain of the team that won the Munster Cup [photo, UCC Official Gazette, Vol. 4 No 12 (June 1914)].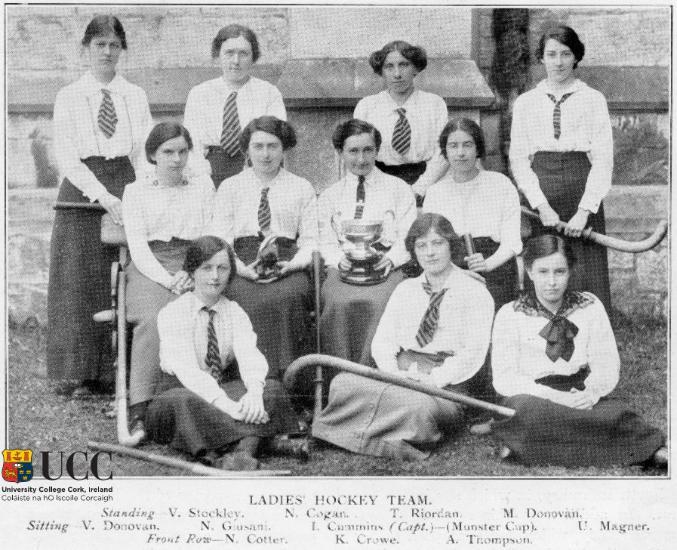 Photo: UCC Official Gazette, Vol. 4 No 12 (June 1914). Iris Cummins, who was the Captain of this team, is holding the Munster Cup.
Cummins retired from international hockey in 1939.[14] Three of her sisters also played hockey for Ireland. She was President of the Irish Ladies Hockey Union for the years 1922-23 and 1924-25. Captain of the Irish team on several occasions.
As an Irish Hockey International, she captained the team that travelled to USA in 1925. Read the article about the visit of the team in Vassar Miscellany News 10:6 (14 October 1925):[15]
Sailed on the Baltic arriving in New York about October 18. Their schedule is as follows: October 24 —The U. S. Overseas Team of 1928 in Philadelphia. October 28 —Vassar College. October 31 —New York. November 4 —Fairchester at Greenwich. November 7 —Bryn Mawr College. November 11 —Philadelphia at the Merion Cricket Club. November 14 —Chicago. November 18—Madison. November 28—Wellesley College. November 26 —Boston at Wellesley, November 19—U. S. Team of 1928 at Wellesley. December 1 —Baltimore-Washington at Baltimore. December 8 —Richmond, Va. November 20 will be spent at Niagara Falls which is the one place the visitors requested to be allowed a chance to see. They return to England December 5.
With the team Cummins went to the White House at the invitation of President Calvin Coolidge.
Publications
'The training of a civil engineer', The Woman Engineer 1 (Dec 1919), 3-4
'Water-power and the electrification of the Irish Free State', The Woman Engineer 2:12 (Sept 1927), 236-243
Access The Woman Engineer online [open access]
Sources
Newspapers: Cork Examiner, Irish Independent, Irish Times, Vassar Miscellany News, The Woman Engineer, UCC Official Gazette, etc.
National Archives of Ireland: 1901 and 1911 Census, 1956 Will Calendar
IrishGenealogy.ie: General Register Office records
UCC Calendar 1919-1920
UCC University Archives, Roll Book
Dictionary of Irish Architects
Earner-Byrne, Lindsey, 'Cummins, Iris Ashley', Dictionary of Irish Biography (accessed 16/07/2019)
Ó hÓgartaigh, Margaret, 'Women engineers in early 20th century Ireland', Engineer's Journal (Dec. 2002), 48–9
Notes
[1] Margaret Ó hÓgartaigh, 'Women engineers in early 20th century Ireland', Engineer's Journal (Dec. 2002).
[2] UCC Calendar 1919-1920, p.323.
[3] University Archives, OCLA, Roll Book
[4] Irish Times, 01/05/1968, p.18.
[5] Latitude: 51.901335; Longitude: -8.3521483333333. historicgraves.com.
[6] Birmingham Daily Gazette 05/03/1927.
[7] Ó hÓgartaigh (2002)
[8] Ó hÓgartaigh (2002)
[9] Ó hÓgartaigh (2002)
[10] Many newspapers covered this story including Birmingham Daily Gazette 05/03/1927, Nottingham Journal 05/03/1927, Vote 15/04/1927 and International Woman Suffrage News 01/04/1927, but no Irish newspapers found to date
[11] Ó hÓgartaigh (2002)
[12] Photo for sale on ebay.
[13] International Woman Suffrage News, 04/05/1928, p.2; Vote, 11/05/1928, p.2; The Woman Engineer 2:15 (Jun 1928), p.1.
[14] '1910-1939—Famous Lady Hockey Player Retired', Irish Independent, 14/11/1939, p.10.
[15] Vassar Miscellany News (accessed 16/07/2019).
© University College Cork 2020