Dora E. Allman MB BCh BAO
Dora E. Allman MB BCh BAO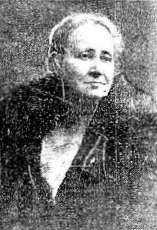 First female medical graduate at Cork (the second, Dr Lucy Smith, graduated five months later in the same year); apparently first woman to be appointed a chief medical officer at a mental hospital in Great Britain or Ireland. She encouraged patients to engage in physical work and to this end Castle Dillon farm was purchased in 1929 by Armagh Council and used for rehabilitation therapy via agriculture and horticulture of suitable patients from St. Luke's Asylum.
The Dr Dora Allman Room on the fourth floor of The Hub, UCC, is named in her honour. Allman studied in this building when a student.
Dora Allman was born probably in 1871 in Bandon, Co. Cork (in 1901 Census she is aged 29) (her parents' eldest child born in 1871 was female but unnamed in the register). Her parents were Samuel Allman, teacher and later Schools Inspector (c. 1843 Bandon-24/03/1913 Dublin), and Annie Elizabeth Nicol (born c. 1850 Windsor, Berkshire). They were married in Brigown Church of Ireland Church, Mitchelstown, on 18 April 1870. Dora's siblings were Henrietta Hope Allman, Janet Thompson Allman, Emily Kathleen Allman, Anna Louisa Allman, Ethel Maud Allman, Rev. William Brown Allman and David George Allman.
Dr Allman died on 25 February 1955 at 'Karavanagh', 52 Sandymount Avenue, Dublin, aged 83. Probate on her estate in Ireland of £3,511 was granted on 4 April 1955 to her executor, Provincial Bank of Ireland; probate was also taken out in London on 13 May 1955 for her estate in England, valued at £699 15s. Obituaries were published in the Cork Examiner, Irish Times and UCC Record.[1]
She is buried in Deansgrange Cemetery, St. Nessan's Part 3, Deansgrange, Co. Dublin. The gravestone inscription is:
In Loving Memory of DORA E. ALLMAN, M.B. Late Resident Medical Superintendent of Armagh Mental Hospital died 25th February 1955 "Let not your heart be troubled neither let it be afraid".
This family appear to have been related to that of Richard Lane Allman (d. 1904) and his wife Fannie (Frances) Splaine. Richard Lane Allman was a member of the family who ran Overton Mills and Allman's Distillery in Bandon. Richard and Fannie's daughter Frances Christiana Vernon Allman (b. 1864) married James McDaniels in 1885 at London. According to a newspaper report that lists some of those who attended Dora Allman's funeral, Mrs C. V. McDaniels of Bandon was there, as was Dora's brother Rev. W. B. Allman and his son Claude T. Allman, both from Dublin.
Education
Dora Allman was registered in Arts at Queen's College Cork (QCC) in Arts for the year 1890-91 (aged 19). In the following year, 1891-92, she was registered at QCC in Medicine;[2] Dora applied to the Trustees of the South Charitable Infirmary to be admitted as a member of the clinical class during 1892-3, pointing out that if women were not permitted this facility then they would have to go elsewhere for their medical studies;[3] after a campaign supported by senior QCC professors, this was permitted. In the Spring of 1898 she passed the medical degrees examinations.[4]
On 18 May 1898 Dora Allman was conferred MB BCh BAO, being the first woman to graduate in medicine at Cork.[5]
Career
Allman became Assistant Medical Officer/ Superintendent at the District Asylum in Armagh (1899).[6] During the First World War, Dr Allman served as temporary Resident Medical Officer while the RMS, Dr Robert G. Lawless FRCSI, was serving in the Royal Army Medical Corps.
Later she was Acting Resident Medical Superintendent (March 1931) and was appointed Resident Medical Superintendent on 13 April 1931[7] at the District Asylum in Armagh, later named St Luke's Mental Hospital. In 1934 her salary was £17 a week or £700 a year, considered exorbitant by the Portadown taxpayers:[8] at this stage she was in charge of 600 patients. She submitted her resignation to the Board on 30 July 1936.[9] She retired on 15 October 1936.[10]
Dr Allman was elected member of British Medical Association in 1913.[11]
Other information
Allman was a supporter of the Gaelic League; member, Royal Society of Antiquarians of Ireland; member, University Women's Graduate Association.
Sources
Newspapers and serials: Belfast News-Letter, British Medical Journal, Cork Examiner, Irish Times, Portadown News, Skibbereen Eagle
National Archives of Ireland: 1901 and 1911 Census, 1955 Will Calendar
Probate Service, UK: 1955 Will Calendar
IrishGenealogy.ie: General Register Office records
UCC Archives, Roll Book, 1890-1 Matriculated Students
Froggatt, Peter, 'Competing philosophies: the 'Preparatory' medical schools of the Royal Belfast Academical Institution and the Catholic University of Ireland, 1835-1909', in Greta Jones, Elizabeth Malcolm (eds), Medicine, Disease and the State in Ireland, 1650-1940 (Cork University Press, 1999), 59-84 (p.75)
Kelly, Laura, Irish women in medicine, c.1880-1920s: origins, education and careers (Manchester UP, 2013). Based on her PhD thesis, Irish Medical Women c.1880s-1920s: the origins, education and careers of early women medical graduates from Irish institutions, NUIG 2010.
O'Donnell, Andrew, 'Dora Allman (1871-1955) – an early female medical graduate'. Bandon Historical Journal 29 (2013), 61-62
There is no entry in Dictionary of Irish Biography as of 09/07/2019.
References
Photo: Cork Examiner, 15/10/1936, p.6.
[1] Cork Examiner, 26/02/1955, p.8; Irish Times, 26/02/1955, p.7; U. C. C. Record 31 (Easter, 1956), p.16.
[2] QCC Admissions Registers, UCC University Archives, OCLA, UCC.
[3] Cork Examiner, 10/09/1892, p.4.
[4] Royal University of Ireland Calendar 1899, p454.
[5] RUI Calendar 1899, p.407; reported in Skibbereen Eagle 14/05/1898, p.2.
[6] Mentioned in Resident Medical Superintendent annual report, Portadown News, 17/02/1900, p.8.
[7] Belfast News-Letter, 14/04/1931, p.11; Vote, 01/05/1931, p.2; Common Cause, 08/05/1931, p.2.
[8] Belfast News-Letter, 14/08/1934, p.12.
[9] Belfast News-Letter, 31/07/1936, p.5.
[10] Cork Examiner, 15/10/1936, p.6.
[11] 'Members elected to the British Medical Association (January 1st To March 13th, 1913)', British Medical Journal 1:2726 (Mar. 29, 1913), p.290.
© University College Cork 2020