News
News
Cycling to Campus – what's new?
Cycling to Campus – what's new?
Covered bike parking at the HUB
Plans for a larger scale covered bike parking area north of the HUB are well advanced. A first stage will be realised this autumn. The facility shall eventually have a capacity of up to 50 spaces, including some covered spaces for cargo-bikes.
New bike parking at South Lodge
In the courtyard of the South Lodge, formerly home to the DSS, additional spaces for 20 bikes will become available soon. At least half of them will get a cover in the short term. The area shall eventually be secured with a swipe lock.
Public Pump
The two public bicycle pumps that were installed on Main Campus (opposite Reception) and the WGB have suffered severe damage from the elements over time and had to be removed. We plan to replace them with purpose built outdoor pumps.
Campus Bikes
While Campus has been largely dormant, so were the CampusBikes. The bikes that are available for staff during the working day in 6 locations are getting back into service on a phased basis after having received in depth maintenance checks.
Additional bike parking installed
Since last year already, additional bike parking has been made available (10 spaces each) outside the Student Centre, at the side of the Kane Building (near Campus Kitchen) and at Brighton Villas / Lucan Place on Western Road.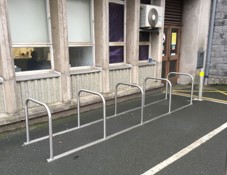 BioSci Bike cage
Completed shortly before we went into lock-down, the bicycle cage in the Biosciences underground car park might not be known to a wider audience yet. It offers space for 45 bicycles, covered from the elements and secured by a swipe-locked gate. 18 mash lockers are also available for wet gear there.
Campus Cycle Weeks
After one and a half very quiet years with almost no life on Campus, UCC in cooperation with Cork Cycling Campaign will revive the formerly established Campus Cycle Week, which usually takes place once a semester. With a number of cycling promotion events, Campus Cycle Week took place in the past simultaneously in MTU (then CIT) and St John's Central College. We hope to get them on board again.
New Cycling route between Glasheen Rd and UCC
Since last December, a new cycling route is being set up between the UCC Main Gates (Western Rd) and Glasheen Rd, which eventually shall continue to CUH. Donovans Rd now has a segregated bike lane uphill. The greenway along the Glasheen River near Dennehy's Cross car park to Glasheen Rd / Clashduv Rd ('Schoolboy Lane') is currently getting a new surface and lighting, while on College Rd, in the absence of dedicated cycling infrastructure, bicycle stencils on the carriageway now indicate 'shared lane' use to drivers. The route is part of the so called Cork Hospitals Route, that Irish Doctors for the Environment have been lobbying for in summer 2020.
New Cycling Infrastructure in the City
Along with the pedestrianisation of several city centre streets, Cork City Council has progressed the set-up of dedicated cycling infrastructure in the city. The most prominent part would be the completion of a continuous segregated cycle route from the Marina to City Hall and up to the Grand Parade in the heart of the city, including a segregated 2-way cycle path along the South Mall. Together with the Blackrock-Passage greenway (old railway line) this results in a continuous, segregated cycle route from Passage West via Rochestown, Mahon, Blackrock, Marina, City Hall to Grand Parade, which forms a substantial part of the proposed Lee-to-Sea Greenway.
Public BikeSharing (formerly CokeBikes):
Run by the National Transport Authority, Cork's BikeSharing scheme is being extended to further locations around UCC and further to the West (up to CUH and MTU/CIT). New bike stations in the UCC area are on Connaught Avenue (near Donovans Rd), College View (opposite the Boole/ORB Archway), opposite Dennehy's Cross satellite car park and at the Mardyke Arena. While the fixed installations are being completed, we expect the stations to become operational this autumn.
For an annual fee of only €10, the bikes are available for up to 30mins with no additional charge. www.bikeshare.ie